By Anna Pas on 7 Mar 2018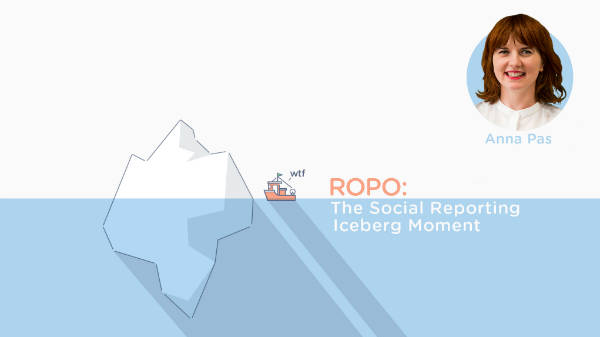 Just under a year ago, myself and Team Social started getting to grips with an acronym. At the time, we didn't realise just how powerful the four letters "ROPO" would be in the digital marketing world. We've seen ROPO completely reshape marketing budgets for multichannel retailers, shifting ad spend from bricks to clicks, as the complete customer journey becomes more transparent for those adopting ROPO reporting.
Last year, I showed you "How to Track In-Store Sales with Facebook Ads" and now I'm going to show you what happens when you do.
What is ROPO?
ROPO stands for Research Online Purchase Offline and relates to a reporting practice which provides greater insight into the complete customer journey by measuring in-store sales by customers who were influenced by online advertising; whether it be social media or PPC.
We're more connected to the web than ever before and much of a customer's journey towards a purchase is spent researching products online or looking for trust indicators like reviews from other consumers. However, shoppers won't always take that final step online and make a purchase. Our own research suggests the willingness to shop online is always on the up, but when it comes to bigger items such as televisions or clothes that need to be tried on, sometimes a store visit is preferred.
This means all that hard work in raising awareness online prior to an in-store purchase goes unrewarded in terms of attribution for the digital marketer. This is where ROPO reporting comes in.
ROPO: Filling in the Blanks
We looked at applying Facebook's Offline Event Reporting for one of our clients. We found their business had 95% of sales taking place in store. That's a massive black hole in our data which ROPO reporting could help us learn more about.
From those customers that did shop in store, we knew 70% were availing of our client's loyalty card scheme. These loyalty cards are tied to the customers' email addresses; music to a would be ROPO reporters ears.
With this data we could, guide the client through the uploading of their transaction and loyalty card data to Facebook, subsequently activating Offline Event Tracking. After uploading this data we got a 68% match rate to real Facebook profiles. The next step is a quick cross-reference with our campaigns and bingo! We've got ourselves a ROPO report. We're able to see a healthy selection of data on how many customers converted after seeing a Facebook ad.
The ROPO Under-report
I do feel it's important to highlight that ROPO reporting is still a very modest method of understanding the full customer journey. Facebook's attribution model allows to report on data based on both post-click and post-view basis, and matches data within a 1-day, 7-day or 28-day timeframe, which allows to customise reporting in line with the particular business model represented by your client.
For this particular client, we apply the 7-day post-click attribution model (no post-view results are being reported on). However, after trawling through our client's Google Analytics account, the Time Lag report told us that over 43% of overall transactions occur after more than 10 days, and over 33% of transactions take more than five interactions before a conversion (online sale) is completed. With these insights in hand, we updated our ROPO reporting window on Facebook, to discover that the 28-day post-click post-click attribution model reports on 146% more in-store conversions than 7 day post-click conversions. This indicates that the users take more than 7 days since their first interaction (click) on the ad, before they visit the store to buy their dream dress or a handbag.
Also, we can't ignore the fact that there are customers who don't use a loyalty card or who don't get matched in Facebook, the latter likely caused by using different email addresses.
This makes ROPO reporting quite modest when it comes to results, but post-click attribution at least means the people who are included actually clicked an ad. We strive to be 100% accurate at all times, but when in doubt we rather under-report and over-deliver.
The Results: An Iceberg Moment
The vast majority of an iceberg lies below the water, out of sight and out of mind. This is where we get the phrase "just the tip of the iceberg". If you're a multichannel business, your online sales are just the tip of the iceberg when it comes to the impact of your online activity.
Thanks to ROPO reporting, we could see a Facebook contributed to a ROAS of 27:1. That means for every €1 spent, our client was earning €27 in store from Facebook activity. Before ROPO reporting, social's significant contribution to in-store sales would have gone unnoticed and spend continued to be distributed towards the channels businesses believed were driving sales. With some light shone into the reporting black hole that is in store sales, businesses can now allocate budget more efficiently towards online channels.
The Wolfgang Essential Takeaway
While still in its infancy, ROPO reporting has the power and ability to completely reshape marketing budgets in multichannel businesses by providing greater insight into the influence of your digital channels. If you are a multichannel business running paid social campaigns or AdWords campaigns and feel you need these insights, it's important to get some of the following set up to create a digital touch point in-store.
e-receipts
loyalty card
warranty email
With this touch point, you can begin building your own ROPO report finally give your digital channel the credit it deserves - along with the budget too.
Wolfgang Bites: The Most Important Report For The Multichannel Marketer
Share This Article