By Alan Coleman on 5 Sep 2018
Wolfgang Bites: Watch - Email Your Website Visitors, All Of Them, Really You Can Do This Now

Wolfgang Bites: Read - Email Your Website Visitors, All Of Them, Really You Can Do This Now
Today, I want to talk to you about a brilliant new innovation from Google AdWords. This innovation allows you to get to the inbox of all your website visitors. Okay? Anybody who's come to your website, you can then create another touch point by getting into their Gmail inbox. So what's happened here is Google AdWords remarketing lists are now available in conjunction with Google, with Gmail Sponsored Promotions. What this means is you can take any Google AdWords audience and then target those people with an ad in their Gmail inbox.
So up until this point, there has been some really nifty tech out there, which if somebody gets on your website and gets so far into your conversion funnel that they've left an email address, but didn't check out, you could email those people, but that's a very small portion of your website traffic, and the rest you didn't have the ability to do this for. For me, this is the advertising that Gmail Sponsored Promotions was built to deliver. I think this is phenomenal.
The most basic was of doing this would just be to take all your website traffic from the last month, for example, and give them a generic ad text in their Gmail inbox. But the smarter way of doing this is to start segmenting that traffic. Perhaps if people have been to certain pages, you know, they're higher value. Maybe if you're a hotel, and this is a page specific to people who will be doing a longer stay, perhaps start coming from the States all the way to Europe, then you can specifically target those high-value potential bookers, creating that additional twitch point in their Gmail inbox.
Perhaps you're an e-commerce retailer, and certain products have very high margin for you. So once again, you can create an AdWords audience for those high margin products, and then give those people a specific ad text in their Gmail inbox.
One of the things we've learned through the years with advertising to audiences like this through marketing is one of the best ways of ramping up your click-through rates, ramping up your conversion rates, is to make sure the ad copy speaks specifically to the audience. So if you're advertising specifically to potential long-haul bookers, say that in the ad text. If you're advertising specifically to U.S. citizens, say that in the ad text. Oftentimes, people's fear is that the audience will find this creepy. We've always found click-through rates multiply, conversion rates multiply, when you make it personalized like that.
The reason, I think, this is a really valuable innovation for a lot of people, for European digital marketers right now is GDPR is coming down the tracks, and this is a brilliant way that you can sidestep the onslaught of GDPR, and get back in people's inboxes. So a problem a lot of people will be facing is they need to get an opt-in for their email lists to send those people an email. What a lot of marketers might find is they don't get as many, you know, not all of their list is willing to get emails from them anymore, so they're emailing a much smaller group of people.
These remarketing audiences are cookie-based. Okay? So because they're cookies, it's anonymized data, no personal data. So this is not within the scope of GDPR from us as the digital marketers creating the campaigns. We don't have to worry about GDPR. So this enhanced reach is really, really valuable, really, really timely, and as I say, I think this is the type of advertising Google Sponsored Promotions, which are out a number of years now, I think this specific type of advertising is the best thing you can do with them.
So, I'd love to hear your thoughts. The hashtag for conversations on Twitter is WolfgangBites. I'll be there all day Wednesday, Thursday, and I hope to talk to you there.
If You Liked That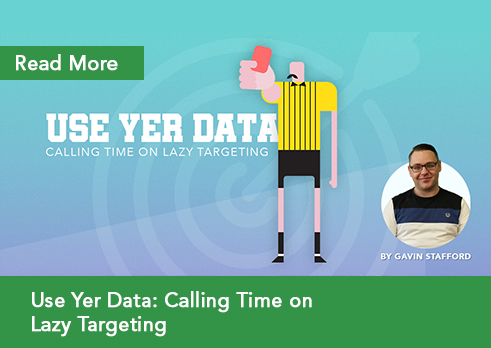 Share This Article