By Shreya Barua on 14 Jun 2023

In a dramatically evolving digital marketing landscape, first-party data has emerged as a golden nugget of information. This treasure trove, derived directly from your customers, provides invaluable insights into their preferences, behaviour, and needs, paving the way for highly personalised and effective marketing strategies.
But, the winds of change are blowing once again. With the imminent phasing out of third-party cookies, marketers are staring down the barrel of a cookie-less future. This seismic shift is set to fundamentally alter how businesses approach online advertising, with limited retargeting capabilities significantly impacting digital marketing strategies.
However, amidst this challenging backdrop, email marketing has stood the test of time, emerging as a tried and true channel for customer engagement. Boasting one of the highest ROI and conversion rates across digital marketing channels, email continues to reign supreme.
Why?

Because in an increasingly privacy-focused world, email serves as a consent-based platform where customers willingly engage, enhancing trust, and in turn, fostering strong customer relationships.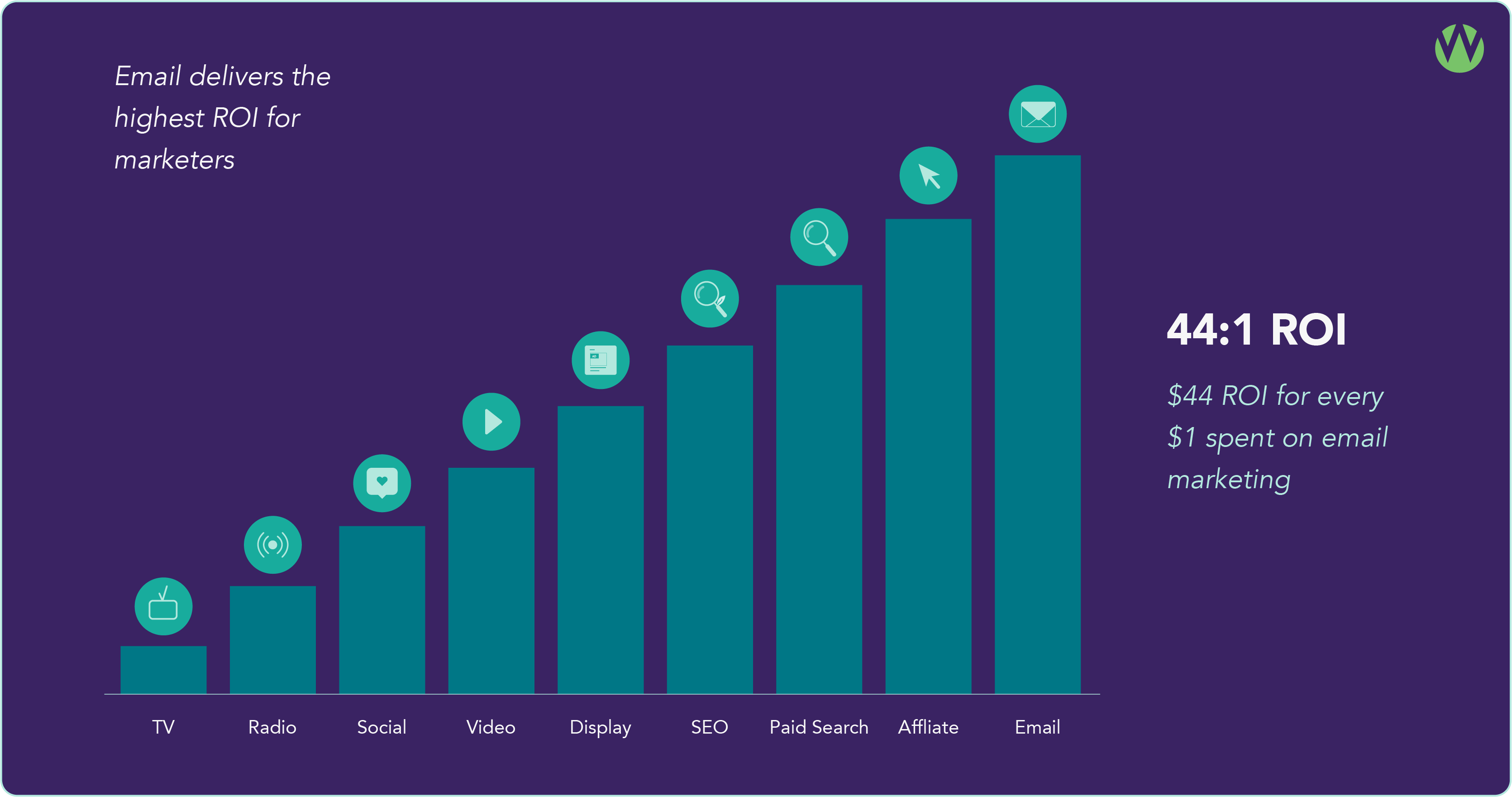 The future is private and having a robust Customer Relationship Management system (CRMs) that has the capabilities to manage and use first party data effectively is the only way to get ahead of the curve.
These platforms not only streamline operations but can also revolutionise your marketing efforts, maximise your data usage, and ultimately, increase your bottom line. However, with so many CRM and email marketing platforms available, the decision can feel overwhelming.
At Wolfgang, we have a unique advantage in being familiar with many of these platforms and using them to drive performance for our clients. We took the time to analyse the top 5 platforms – Klaviyo, HubSpot, Salesforce, Zoho CRM, and ActiveCampaign – to help you make an informed decision for your business.
But first! Take our custom tool for a spin to help uncover the best CRM option for your business. Then read on below to learn more about your perfect match.
Klaviyo
Key Features:
Klaviyo is a dynamo in the realm of email marketing with some CRM capabilities added to the mix. This platform shines when it comes to email automation, segmentation, website tracking, analytics, and SMS marketing. Its advanced features are some of the best in the industry.
While it doesn't fit the bill as a comprehensive CRM solution, it's a darling for e-commerce businesses thanks to its seamless integration with popular platforms, such as Shopify, Magento, and WooCommerce.
Wolfgang Digital is a Klaviyo partner which means that we have dedicated access to account and technical support along with early access to product launches. Is it worth adding here and early access to product launches?
Best For:
Klaviyo makes a compelling choice if your heart is set on driving personalised email marketing campaigns and automations. It is ideal for small to midsize businesses and e-commerce companies looking for a detailed, customer-centric view that helps in personalising email marketing campaigns. Businesses that require in-depth insights into their audience would benefit from the platform's reporting dashboards and the ability to generate custom reports.
Where it truly stands out is its advanced segmentation abilities, allowing for razor-sharp, targeted marketing campaigns. Furthermore, it's a champ at managing first-party data, which spells better targeting and segmentation. To top it off, Klaviyo's pre-built flows, dynamic content and automation capabilities are a marketer's dream.
Not the Best Option For:
If you're a small business requiring basic email marketing capabilities or on the hunt for an all-inclusive CRM solution that has pre-built sales capabilities, Klaviyo might not fit the mould.
Integration with Other Platforms:
Excellent integration capabilities with e-commerce platforms, and also integrates with CRMs, helpdesk software, marketing platforms like Meta and Google Ads, and more. Klaviyo's built-in integrations with platforms like Shopify are plug-and-play and can be set up easily within minutes.
Costs:
Pricing is based on the number of contacts. It starts free for up to 250 contacts, with tiered pricing plans available as your business grows.
HubSpot
Key Features:
With HubSpot, we're dealing with an all-singing, all-dancing marketing platform featuring an integrated CRM. Although the price tag may be a tad steep, especially for more advanced features, it makes up for it by offering a broad spectrum of capabilities, including email marketing, automations, lead generation, analytics, SEO tools, social media, and blogging, making it a one-stop-shop for many businesses.
It integrates smoothly with a wide array of third-party platforms, and its reporting capabilities along with its data collection and management system, particularly for inbound marketing, is quite robust.
Best For:
HubSpot is ideal for small to midsize businesses. It can also serve larger businesses with its scalable features. It's the best option for businesses looking for a comprehensive marketing and sales solution and lead scoring capabilities. Also great for content and inbound marketing.
Not the Best Option For:
Very small businesses or startups may find HubSpot costly, especially when you start adding more advanced features.
Integration with Other Platforms:
HubSpot has excellent integration capabilities, with a whopping array of over 500 integrations available. HubSpot also has a pre-built CMS platform that is capable of hosting a website if needed.
Costs:
The CRM is free. The Marketing Hub, Sales Hub, and Service Hub all have different pricing plans based on the size of your business. Onboarding training for 6 weeks with a member of the HubSpot team comes at an added cost.
Salesforce
Key Features:
A CRM solution that caters to businesses across the spectrum, though it's the apple of the eye for larger enterprises. Boasting advanced customisation for email campaigns and a cornucopia of integrations, the learning curve can be rather steep, and potentially intimidating for small businesses.
Salesforce offers advanced CRM capabilities, such as detailed customer profiling, task tracking, team collaboration tools, workflow automation, comprehensive reporting, sales management, customer service, marketing automation, partner relationship management, and more.
Best For:
Salesforce is a robust platform suitable for businesses of all sizes, from small businesses to large enterprises. However, due to its comprehensive features and somewhat complex setup, it is often more favoured by medium to large-sized companies.
It's ideal for businesses that need an advanced, feature-rich CRM solution with extensive customisation and integration options. Also, Salesforce's Email Studio might be a viable option for those who want to manage complex email campaigns across multiple channels.
Not the Best Option For:
Smaller businesses or those without a dedicated IT team may find Salesforce complex and potentially overwhelming.
Integration with Other Platforms:
Salesforce offers a vast array of integrations across various software categories via their AppExchange marketplace.However, these can cost extra in some plans.
Costs:
Salesforce's Sales Cloud starts at €25/month), and the Marketing Cloud (which includes Email Studio) pricing is customisable, where prices can increase drastically for more advanced features. Advertising studio comes with an additional cost to the marketing cloud and enables a lot of integrations e.g., audience sharing, etc.
Zoho CRM
Key Features:
Zoho CRM offers lead and contact management, salesforce automation, omnichannel communications, analytics, and more. Its CRM Plus also includes email marketing capabilities. Zoho allows for detailed segmentation based on a range of contact data. Personalisation in email campaigns is also available, though it's not as advanced as some other platforms.
Notably affordable, it integrates well with other Zoho products and external software while managing first-party data effectively.
Best For:
Zoho CRM is a good fit for small to midsize businesses looking for a cost-effective yet powerful CRM solution. It is an ideal option for companies needing a comprehensive CRM with integrated email marketing and sales automation features.
Not the Best Option For:
Businesses needing highly advanced CRM features or deep customisations may find Zoho CRM a bit lacking. For email automations and advanced email marketing capabilities, you will have to make use of Zoho Campaigns, which will come at an additional cost.
Integration with Other Platforms:
Zoho offers integrations with other Zoho products and external software like Microsoft 365, Google Workspace, and more.
Costs:
Zoho CRM is one of the cheaper platforms in comparison and has pricing plans based on the size of your business and the need for different advanced features.
ActiveCampaign
Key Features:
This platform is a gem for businesses with a focus on email marketing and automation. While its CRM capabilities may not be as comprehensive as others, it excels in email campaign customization, segmentation, and integrates well with third-party platforms, all at an affordable price.
Its advanced automation workflows, lead scoring, and the ability to track customer behaviour on your site are standout features.
Best For:
ActiveCampaign is an excellent option if your business heavily relies on automation and email marketing. The platform offers a user-friendly CRM with advanced segmentation and personalization capabilities, enhancing your marketing efforts. It's ideally suited for small to midsize businesses focused on these areas.
Not the Best Option For:
Businesses that need extensive CRM features or advanced reporting might find ActiveCampaign's CRM features a bit lacking.
Integration with Other Platforms:
ActiveCampaign has a range of integrations with over 870+ apps and services, including popular platforms such as Shopify, WordPress, and Salesforce. This makes it easier for businesses to incorporate the CRM and email marketing services into their existing technology stack.
Costs:
ActiveCampaign starts at $49/month with more pricing plans available for larger teams.
Your CRM Options in Summary
Your ideal CRM and email marketing platform orbits around your unique business requirements, resources, and needs. Whether your heart is set on cutting-edge automation, granular customisation, meticulous data management, or integrating with existing platforms, the world is your oyster with a solution tailor-made for your business needs.
Consider ActiveCampaign as your knight in shining armour if automation and email marketing sit at the helm of your business strategy. On the other hand, e-commerce businesses looking to weave CRM seamlessly into their existing platforms may find their match in Klaviyo. Its superior segmentation capabilities can turn your email marketing efforts up a notch.
Businesses sailing the seas of content and inbound marketing can discover their treasure in HubSpot's comprehensive, all-encompassing platform. Its CRM interweaves effortlessly with its marketing, sales, and service hubs, concocting a unified customer perspective that's priceless.
If your business leans on a robust, hyper-customisable CRM solution, Salesforce could be your guiding star. Its vast array of features and integrations are broad enough to accommodate businesses of any magnitude. Contrastingly, Zoho CRM steps into the spotlight as a cost-effective, yet potent solution. While it might not boast the most cutting-edge features or profound customisation, it offers a bang for your buck, marking it as an ideal candidate for small to midsize businesses.
The key lies in grasping your business requirements and weighing these platforms on that scale. Keep in mind that the most fitting CRM and email marketing platform is one that aligns seamlessly with your business, enhancing your operations, fortifying your marketing initiatives, and nurturing your customer relationships.
Share This Article