By Rob Beirne on 27 Jul 2015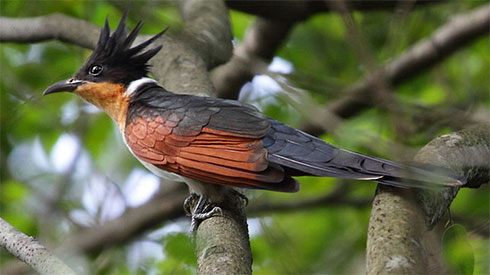 Ah the humble cuckoo… Possessor of one of the most recognisable calls in the animal kingdom and inhabitant of clocks worldwide, many species of cuckoo have also worked out how to get their competitors to do a lot of the hard work for them.
Some cuckoos will surreptitiously place their eggs in the nests of rival birds and leave them there. When the host bird returns to the nest, they care for the cuckoo's egg as if it were their own and nurture the newborn cuckoo, often at the expense of their own offspring. The cuckoo knows how difficult it can be to raise and look after its own young, so if it can find a way to make one of its competitors to do most of the heavy lifting, the cuckoo isn't going to turn its beak up at such an opportunity.
Taking inspiration from the cuckoo, we've been looking at ways to similarly benefit from competitors' hard work and, with Gmail Sponsored Promotions, we've seen some great results in doing just that. We all know how difficult it can be to build up a mailing list of subscribers to which you can then send newsletters, promotional emails and other forms of communication. Everyone is doing it, so what if you could get your own material in front of the people that have signed up for your competitors' newsletter? Gmail Sponsored Promotions allow you to target Gmail users specifically and show ads to them in the Promotions tab of their Gmail account.
Once the user clicks on the ad, it opens out like a normal email and shows the promotion. This can include images, a logo and a button encouraging the reader to click on to your website to find out more. You can also use a large banner-type image. These ads can be targeted in the same ways as all ads on the GDN (interest, topic, remarketing, contextual). We've recently seen some outstanding success from these ads by targeting our competitors' keywords. The idea behind doing this is that we would be able to show our ads to people who have signed up and are receiving emails from our competitors. The beauty of this is that we're able to turn all of our competitors' hard work and the advertising budget they've put into building and maintaining their mailing list to our own advantage.
I've been running these ads for a lead generation client in the education industry. We're promoting a particular type of course and have seen some amazing results from our GSPs targeting competitor keywords. This client seemed like an ideal candidate for this strategy as they had three competitors who were actively communicating to their mailing list offering an extremely similar service to our client. Since we set the GSPs live, they have generated an incremental 18% lead volume. These leads have come at an average cost per lead which is 66% lower than the account average.
The average cost per lead is actually the lowest of any campaign other than our Brand and Priority search campaigns over this period. In addition to the great direct response, the ad is essentially an email so users can save it to their inbox and go back to it later, or can forward it on to a friend who might be interested. Google have given us visibility on this within AdWords so we can report on these metrics too. Google will charge you once someone opens the email, but all of the actions after this are free. There are plenty of other intelligent ways to use Gmail Sponsored Promotions. Targeting complimentary businesses is just one example of another smart tactic.
For example, the Guinness Storehouse could use GSPs to great effect by targeting users in the USA who have received emails from Aer Lingus. Using GSPs as the ultimate competitor targeting tool has shown us the best results so far though and something we'll be looking to utilise much more going forward. Your competitors might not actually be as useless as you like to believe, so why not start taking advantage of all the hard work they've been doing and the marketing money they've been spending? Get Gmail Sponsored Promotions running and start laying your eggs in your competitors' proverbial nest.
[Cover Image: Wm Lee]
Share This Article