By Gerard Hackett on 2 Jun 2023
Our Top 3 Learnings From Google Marketing Live 2023
Google announced multiple changes coming to Google Ads over the next year, so let's dive in and put a spotlight on the top 3 insights from Google Marketing Live 2023.
Artificial Intelligence (AI) programmes such as Chat-GPT have gained immense recognition recently with their ability to streamline complex tasks, answer difficult queries, and improve efficiency for many users across various industries. Many of Google's new updates were centred around AI and how it can improve the creation process for advertisers while also integrating AI with the Search Engine Results Page (SERP).

Google introduces the Search Generative Experience (SGE)
Google Marketing Live opened strong with the new Search Generative Experience (SGE) that will replace the Search Engine Results Page as we know it. Previously disguised under the name "Magi '' during its production phase, the SGE boasts an AI-powered search experience that provides users with more personalised results and putting more relevant content in front of users that are actually searching for your brands or services.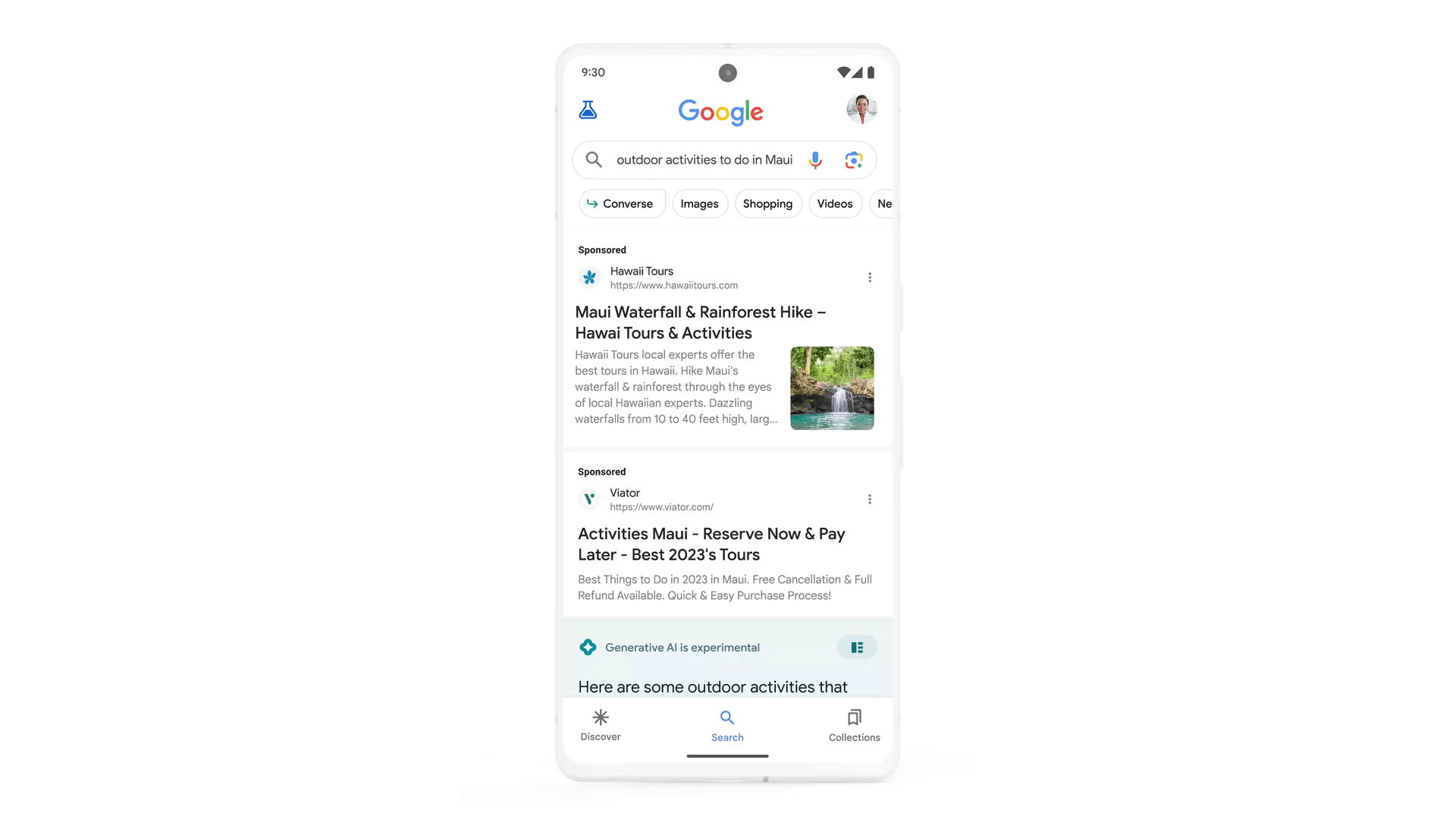 This new and exciting change will allow advertisers to drive more engagement and increase the visibility of their ads by reaching relevant audiences at the right time in their search journey.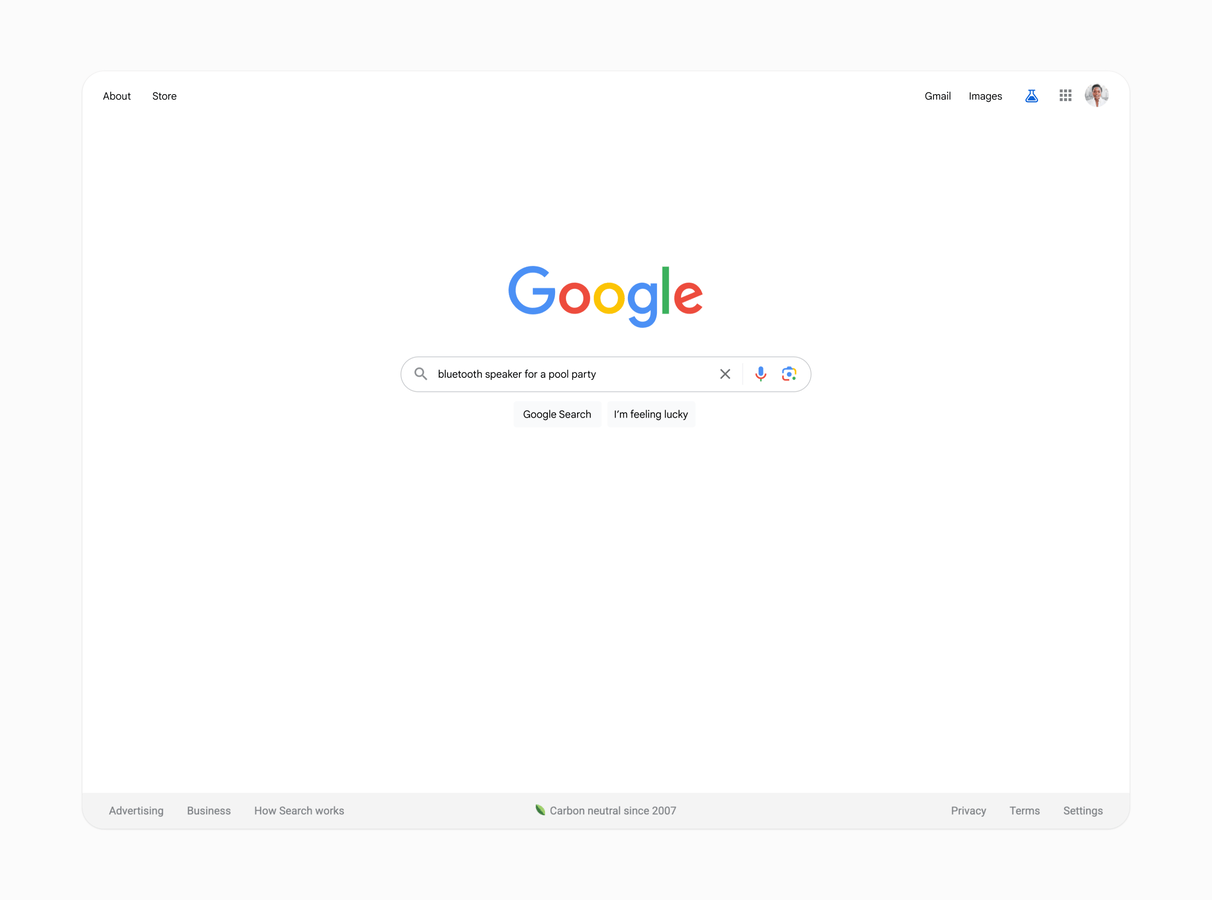 The Search Generative Experience will be available initially to US advertisers. Here at Wolfgang, we are extremely excited to test it out!

AI-Generated Assets From Google Product Studio
An exciting new tool was announced at Google Marketing Live that will make asset acquisition much easier for all users — say hello to Google Product Studio. High-quality image creation has been an issue for the majority of Google advertisers, but it is a vital part of optimising the performance of adverts.
Google Product Studio will allow advertisers to enhance their existing image assets using generative-AI, along with the ability to add or remove image backgrounds, enlarge images with low resolution, and alter images based on prompts provided by the user.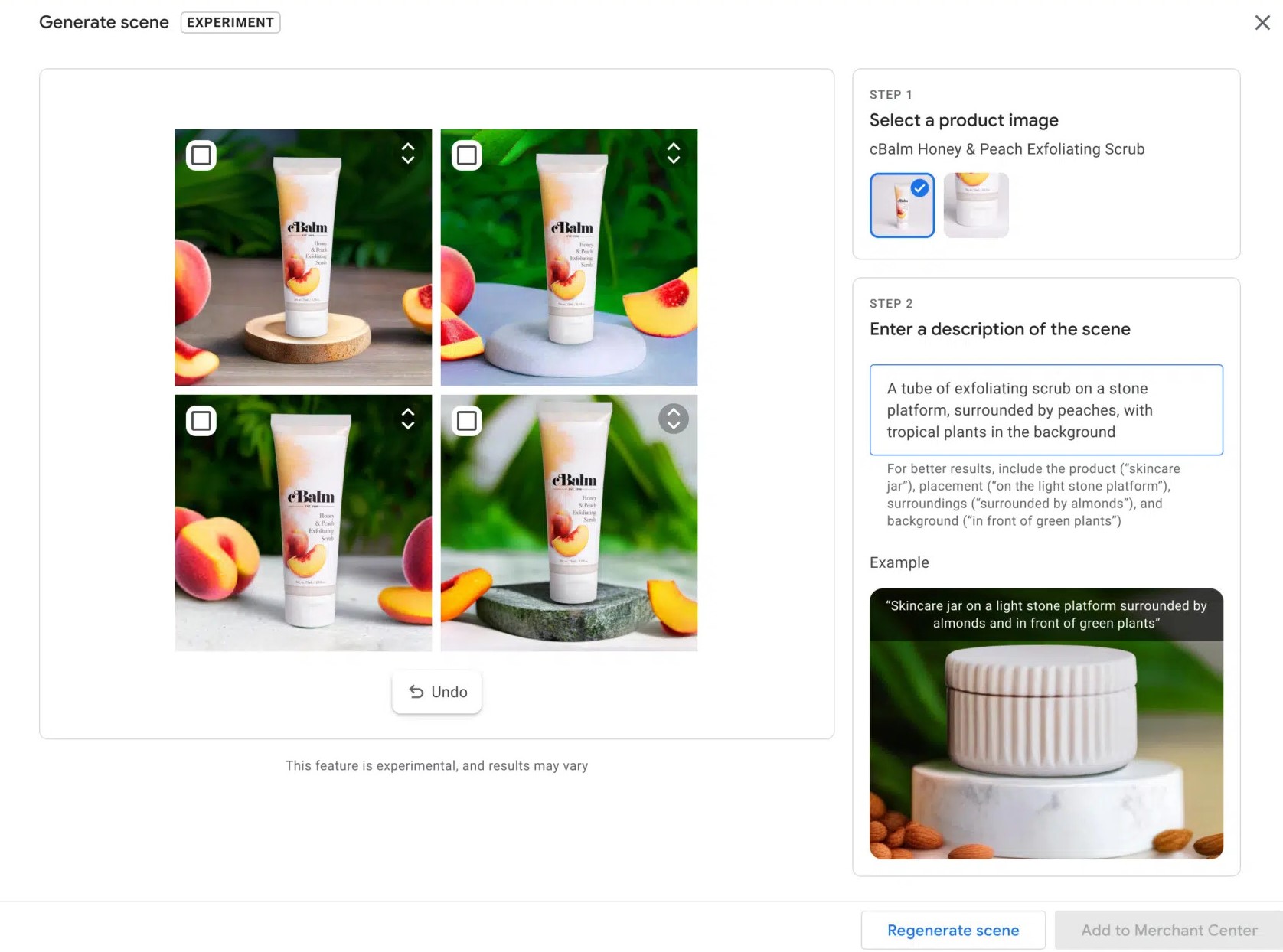 This new creative tool will be important for many advertisers, especially small businesses as it will make asset creation much more accessible.
Google adverts that include multiple product images get 76% more impressions and have seen an increase of 32% more clicks when compared to single image adverts. This feature will give advertisers a massive boost towards attaining higher intent-traffic, along with increasing Click Through Rates (CTR) and overall traffic to their website.
Real-time collaborations with AI in Search & Performance Max campaigns
In the Google Ads interface you will be greeted by a new assistive experience — Google AI.
Google has integrated their own AI into the ad creation process, which will allow the user to input prompts to generate relevant and dynamic assets each time, specific to your inputted queries.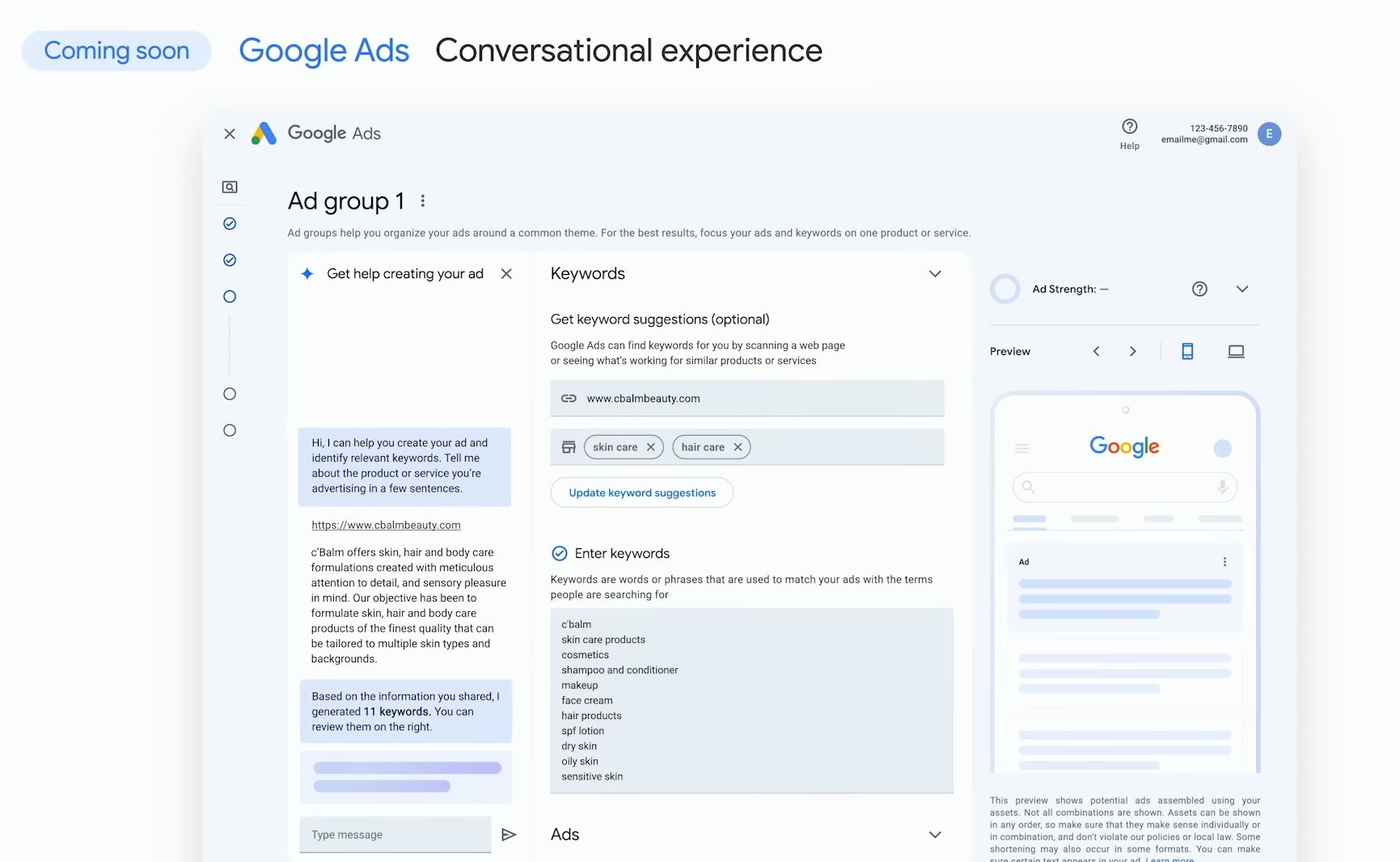 Google AI will help you create all the elements of your advert - ad copy, keywords and image assets in real-time collaboration.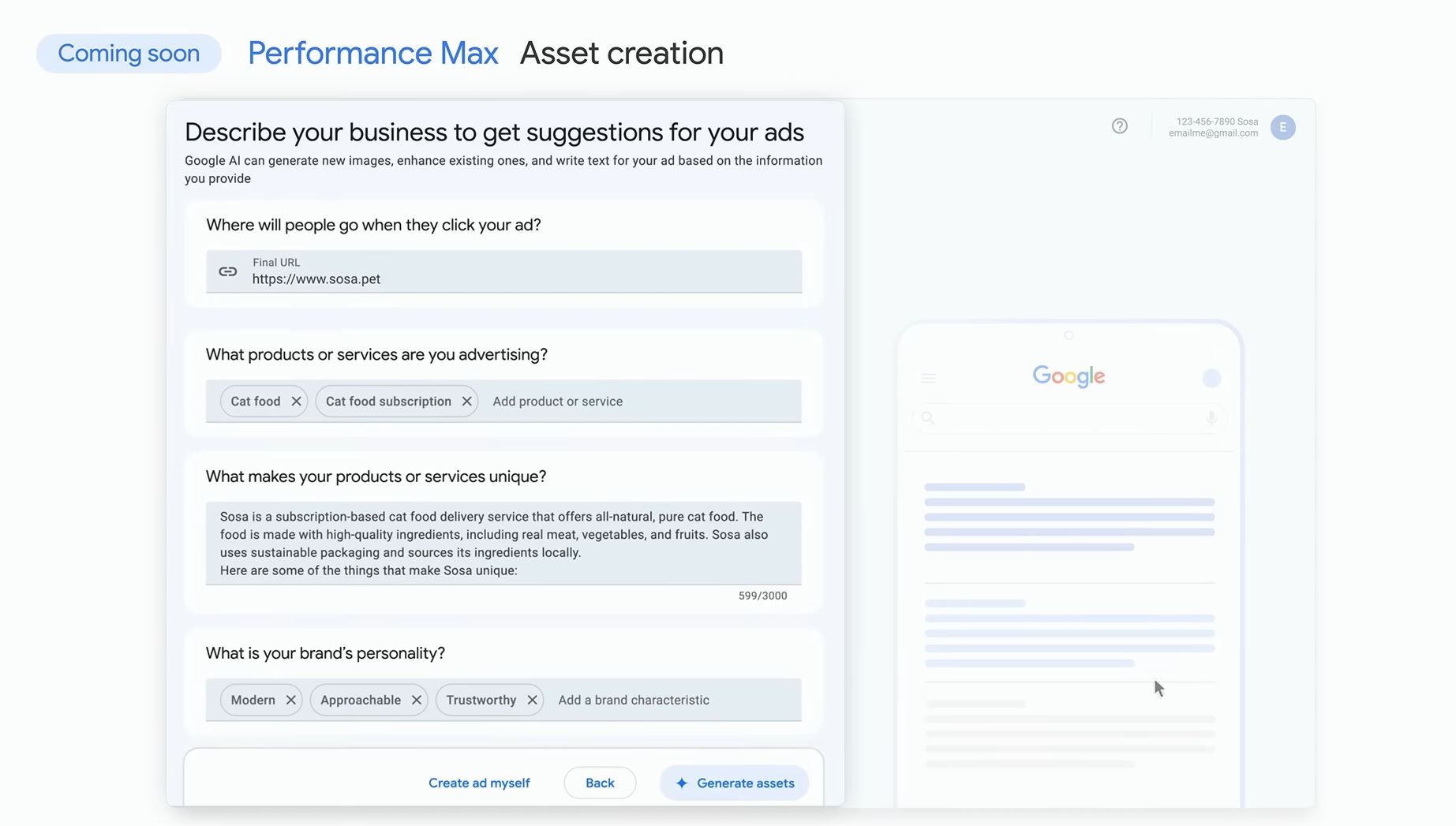 By giving the AI relevant data about your business, it can instantly suggest ad copy, keywords, and assets.
Later this year, Google will be releasing a feature that allows the headlines in adverts to dynamically change and reflect users' queries while staying true to your company's offerings.
AI-created assets will be available for review, to ensure you still have control over your adverts.
AI-enhanced assets is a welcome addition to the Google Ads toolbox as it will reduce campaign creation time significantly and allow a streamlined experience for Google Ads accounts.
Optimise your Google Ads campaigns with AI
The release of AI-powered features within Google Ads marks the start of an exciting new time in Google Advertising and here at Wolfgang, we are extremely excited to test out these new features!
If you are interested in learning how Wolfgang Digital can optimise your digital marketing strategy, please get in touch at [email protected] today!
Share This Article