By Mikie Flood on 9 Dec 2019

Adding Contextual Credibility To Your Instagram Ads
By now you've probably heard about #influencers and the huge effect they are having on marketing, particularly in the retail and cosmetics industries. ​Business Insider​ reported earlier this year that the global influencer marketing industry will be worth an estimated $15 billion by 2020; That's pretty insane! Everyone from Kylie Jenner to Christiano Ronaldo have cashed in on paid partnerships, with the former earning an estimated 1 million (!) US dollars per post. The returns for both the brand and the influencer can be astronomical, with brands offering huge amounts of cash in exchange for reach and promotion, but most importantly: Contextual Credibility. Influencer marketing offers brands a level of trust and advocacy they could not create from traditional advertising or marketing.

Instagram has recently rolled out a way for brands to capatilise even further on the success of their influencer marketing with Branded Content Ads. This new ad format allows marketers to take paid partnership posts created by influencers and amplify them in Facebook Ads Manager beyond the influencer's core following. This is a great way to target new audiences with content that has that sweet sweet seal of contextual credibility. Brands have struggled previously to prove the value of working with influencers, and branded content ads provide a more concrete way to measure the direct impact of influencer activity.
Sounds great... But do they work?
Of course being digital marketing nerds we wanted to try out this new feature and see for ourselves if we could take a slice of the influencer pie. We ran some test campaigns for our client Littlewoods Ireland to see how this new format would perform. We tried it out with one of their partners who is a fashion blogger with over 100k followers. We ran these ads on both Instagram stories and the Instagram feed.
How Did Branded Content Ads Perform?
In terms of revenue, the campaign drove a ROAS that was 135% above the average for other awareness content in the account that month. CPCs were 38% below the average and the CTR was a massive 103% higher than the average (which was already pretty strong to begin with in comparison to the industry average!) We were able to measure the success of our campaign in Ads Manager which is something you can't track from organic influencer posts. This is valuable, particularly from an attribution perspective as you can more concretely prove the value of your influencer activity.
Feed Versus Stories: Which Performed Better?
In terms of Instagram feed versus stories, we have concluded that stories take the crown! Branded Content stories drove 63% cheaper clicks and had a 28% higher CTR. The feed however did have a slightly higher ROAS, so if it's revenue you're after it might be worth testing both and seeing which performs better. But from the tests we have run stories are a sure-fireway to drive both revenue and cheap clicks simultaneously.
Users: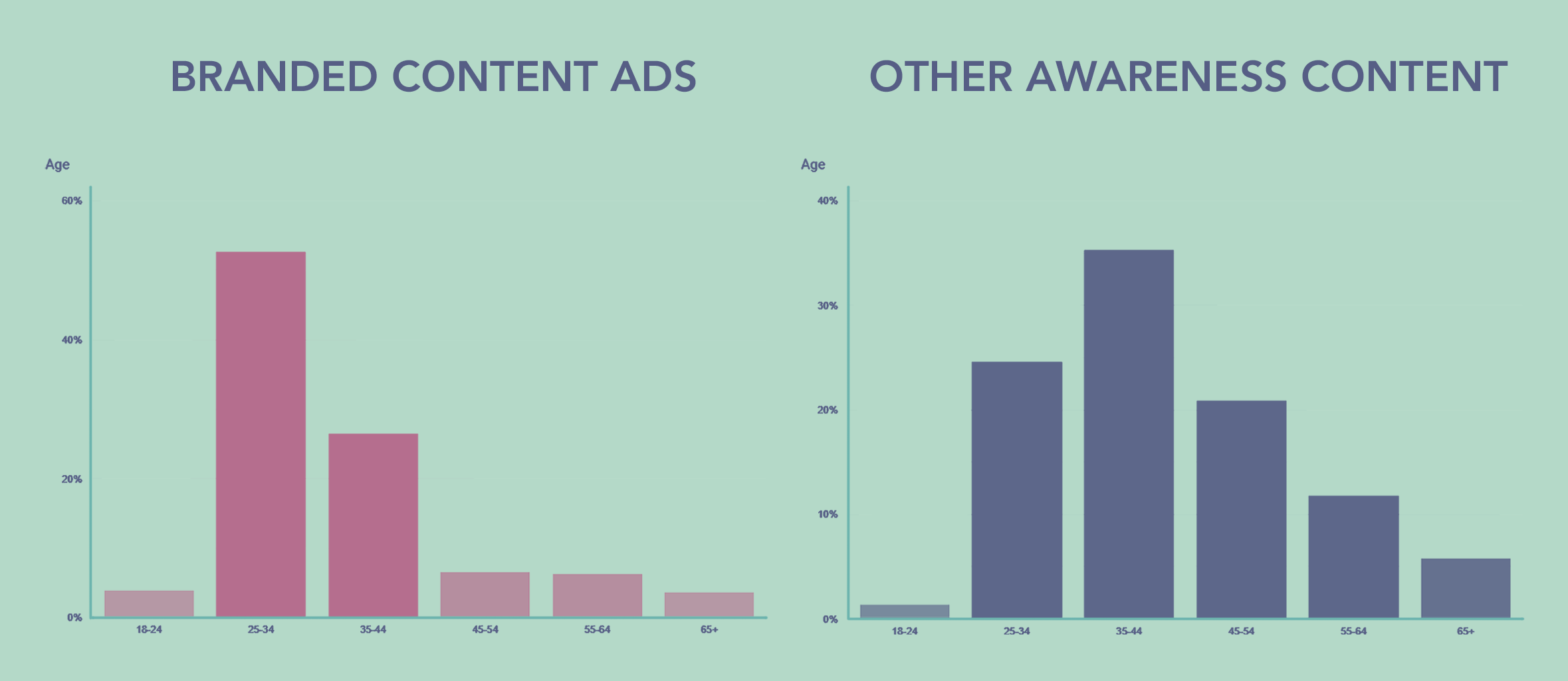 In terms of demographics, the ads resonated best with 25-34 year olds. We targeted people aged 25-45, but the younger end of this bracket were more engaged. Branded Content ads could be very effective if your KPI is seeking out a younger audience.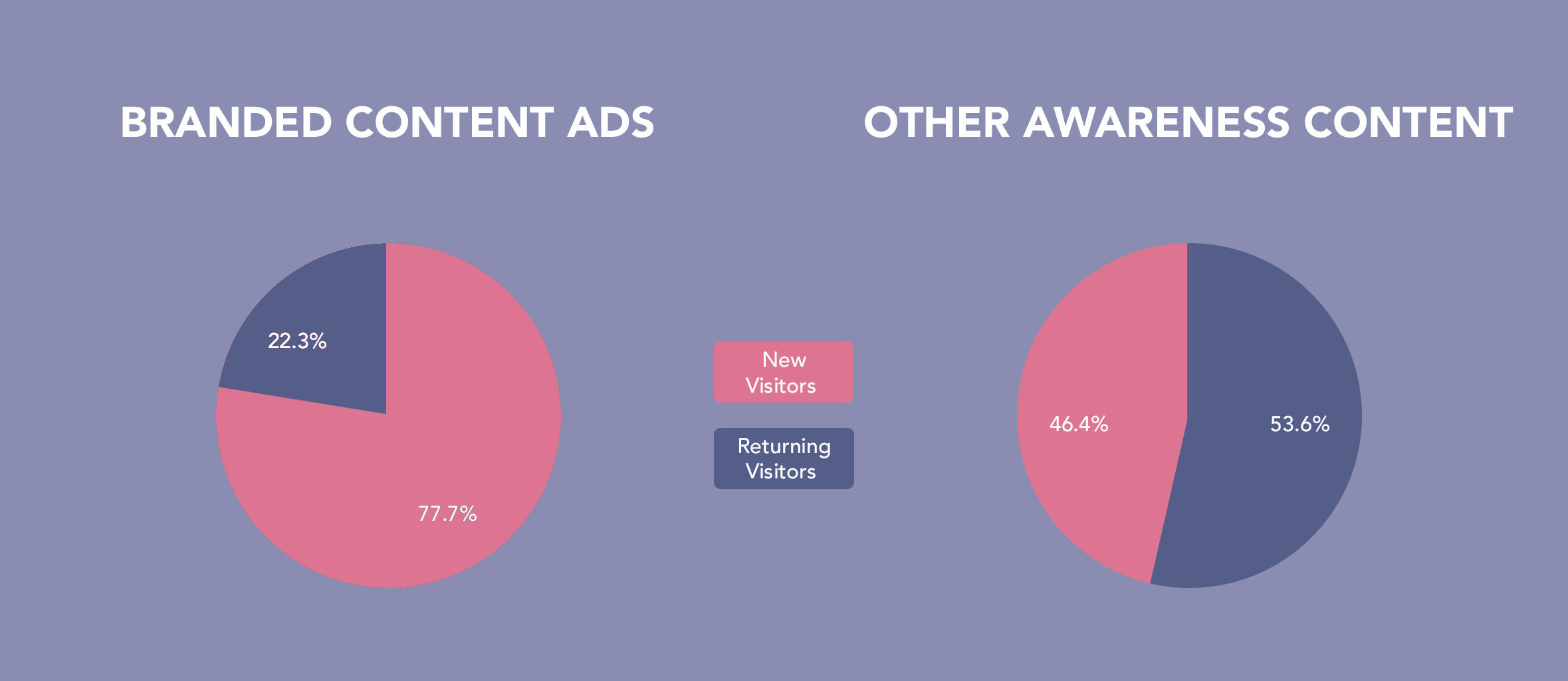 We were able to reach a huge chunk of new users with our branded content posts. While the influencer's organic post was able to drive a huge volume of new users to the site all at once,our Branded Content ads allowed us to extend this prospecting window and reach new users beyond the influencer's core following.
Another powerful thing branded content ads allow you to do is retarget your existing audience with influencer content. We noticed that when we remarketed Branded Content ads to some of our custom audiences, the CPC was just as strong as the prospecting audiences and the conversion rate was 33% higher.
Creative:
In terms of the actual content, we tested multiple different creatives on each placement. The ad that performed best was a video of the influencer trying on an outfit with a simple "swipe up to shop" CTA. Keep your Branded Content ads as simple as possible to entice cold audiences to click-through even if they don't know who the influencer is. This comes back to that contextual credibility we spoke about earlier, and how users are more likely to click on something that is endorsed by an influencer over content created by brands.
Our results showed us that it is 100% worth expanding influencer activity on Instagram with Branded Content ads, as they can work at multiple stages of the funnel to build new audiences,re-engage with existing audiences and drive revenue.Now that you know how effective branded content ads are, let's take a look at how you can create them...
How To Set-Up A Branded Content Ad
If you've never set-up a branded content partnership on Instagram before, ​here's​ some info on how to get the ball rolling. Assuming you already have the branded content you want to boost published and tagged by your partner, let's go ahead and set it up in Ads Manager.
Step 1:​ First you're going to want to create a new campaign. You can run branded content ads under the following objectives: ​traffic, reach, brand awareness, video views and page post engagement​. Once you choose your objective, you can set your budget, targeting etc as you would normally. You won't be able to use any of the influencer's audience lists (unless they provide you with an email list), so you will have the same targeting options as usual.
Step 2: ​When choosing your placements, deselect all other placements aside from either Instagram Stories or Instagram Feed. You can only run the ad in the original placement it was published from.
Step 3:​ At the Ad-level, click on Use Existing Post and click on the Branded Content section.Here you will see all of the branded content posts partnered with your account that are eligible for boosting.

Step 4 (Important!):​ Make clear with your partnered influencer that they must not include any clickable story features in their posts or else you won't be able to sponsor them. This includes stickers, polls, locations, hashtags, etc. It will need to be just the image/ video with text,drawings or gifs on it. Keep it simple!
Step 5:​ Once this is done you will have the option to include a link on your post. Make sure this has a different UTM to the one used in the original post so that you can track them separately in Analytics. You will be able to add UTM parameters just like any other post.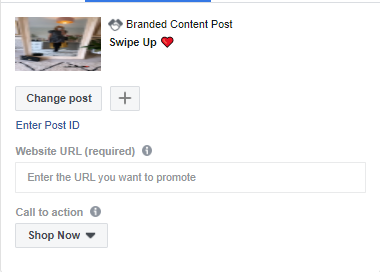 Step 6:​ Once you're done here it's ready to publish! You'll be able to monitor all of your performance in Ads Manager, but won't have the ability to edit the post or delete comments as this power still lies with the influencer. Don't be alarmed if your ad is spending a longer time in review, we've seen that Facebook likes to take their sweet time reviewing branded content!
The Wolfgang Takeaway
As I mentioned at the beginning, influencer marketing is a MASSIVE money making industry these days, so it makes sense for digital marketers to ride the influencer wave too. While brands can use influencer marketing to generate a huge amount of reach and revenue in a short space of time, Instagram Branded Content ads allow marketers to extend the conversion window of these posts and expand their reach to infiltrate new cold audiences. On top of this, they drive revenue!
Here at Wolfgang ROAS is key, so having an ad format that can drive cheap traffic,collect new audiences, re-engage with existing audiences AND drive revenue at the same time is very exciting. If you are already working with influencers this is definitely something that you should test out. Influencer marketing is pricey, so this is a great way to increase your ROI and get some extra bang for your buck!
Share This Article