By Emily Blackburn on 6 Oct 2023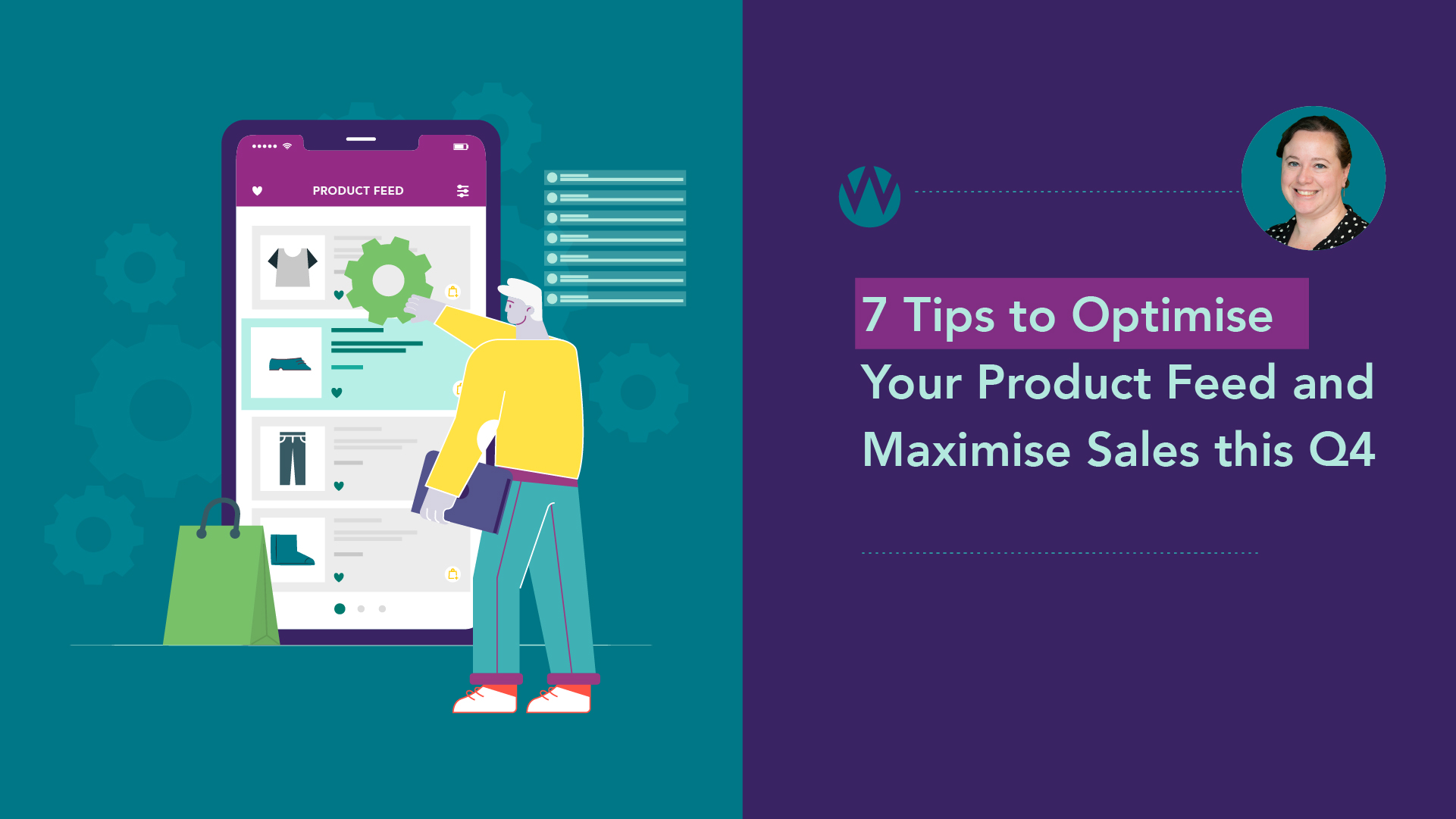 For e-commerce clients, shopping ads are a vital part of any paid digital marketing strategy.
In the last few years, AI / smart-bidding driven PPC strategies have exploded in efficiency and are now the driving force behind most successful Google ads campaigns. In today's shopping ad campaigns, the approach has essentially evolved. Rather than placing emphasis on keywords like before, the primary focus is now largely influenced by product-level data on your website and integrated into your product feed.
This means that if you are running a campaign on Performance Max, your shopping feed is not only running the show in terms of your shopping ads, but also your placements on Display, Youtube, Gmail, Google Maps and Search.
How Do I Know If I Have a Good Feed?
A product feed can be generated any number of ways depending on how your website is hosted, and how your information is stored. There are certain minimum data requirements any product feed is required to have in order to run (a product image, price and title, for a few examples). Once generated and connected through to the Merchant Center, product feeds can be used to power Shopping and Performance Max campaigns.
Outside of your basic Merchant Center recommendations and outright feed disapproval however, it can be hard to assess if your product feed is set up well. After all, there are still all of the usual factors that can impact a campaign's performance (budget, bidding strategy, audience targeting, ad copy, etc).

Product Information Is The Lifeblood of E-Commerce PPC
In this article, we're going to go over some basic tenets on how to make sure your product feed gets its due attention ahead of the upcoming holiday season. Most of these elements will all come back to the same key principle; Make sure you are giving Google as much data as possible.
As Google Ads places less emphasis on search keywords, product information becomes increasingly vital for the success of e-commerce PPC campaigns.
This means:
1. Check What Additional Attributes You Can Include On Your Feed
Depending on your product and where you are advertising, there may be around 9-20 required attributes for a single item to show (title, price, product image, to name a few). However, a single product feed has over 70 potential attributes that can be included on the product feed. These are not all required elements for a functioning campaign. Wherever feasible, it's beneficial to provide Google with as much data and information as you can. As a result, Google can better recognise your product and display to the right audience.
In addition to improved targeting, custom attributes like the custom label feeds can be used to utilise these background attributes (such as the Google Product Category) for advanced levels of segmentation within your Google Ads campaigns. In one example, Wolfgang PPC specialists were able to improve a client's Performance Max campaigns with a 26% increase in revenue, at a 9% boost in ROAS by specialising PMax ad copy to campaign type.
2. Include GTIN or MPN For Your Products
The Global Trade Item Number (GTIN) is the unique product code that can often be found on the barcode of the individual products in your online inventory.
This is a separate metric from the product ID metric - which is a unique identifier to your individual store. The GTIN is a universal identifier for that specific item across multiple sellers. While the GTIN is not a requirement for the product to run, it can serve as an additional thread for Google's AI to better identify what your product is, who else is selling it, who are the ideal purchasing audience for this product, and getting the right ad in front of them at the right time.
3. Ensure Your Product Feed is Pulling In Your Full Inventory
One of the first views you will get in the Merchant Center is an overview of how many products are currently indexing in your feed. Here, you will see right away if you have a large volume of products disapproved and why.
While not all flags to your shopping feed are deal breakers (as not all metrics are required, and may not even be available depending on what you're selling) you do want to keep an eye out for either large volumes of your products being fully disapproved, or not indexing on your product feed at all. A missing product is essentially one that is not going to get any love from your online marketing efforts.
4. Update Your Feed Regularly
Depending on how your feed is being generated, you likely are already getting your feed updated on a daily basis, if not more frequently. If you're not certain what your upload schedule is, it is critical to give this a check before going into the Q4 period. With varying sale periods and potential changes to online stock levels, it is most critical in this period that your product feed accurately reflects the stock levels of your website at all times.
An outdated product feed poses two major risks to your online performance: displaying products that are out of stock and showcasing products with advertising prices that do not align with the price on the landing page. An out-of-date feed, or a misconfigured sale period can quickly cause any product feed (and Shopping or Performance Max campaign) to get taken down even during the most critical sale periods.
5. Why Keeping Your Merchant Center Updated Matters
Aside from the diagnostics tab, which will flag any major issues with your product feed, the Merchant Center is also where you can check to make sure that your business information is both accurate and up-to-date.
This includes:
Shipping Information
Company Brand and Logos
Eligibility For Free Listings Organically In The Google Shopping Tab
An up-to-date and functional Merchant Center is critical to online businesses. It's an essential step in making a better shopping journey for your valued customers and here's why: Up-to-date shipping information will retain and make satisfied customers. Consistency in your branding and logos will build valuable trust with your audience. Through the Merchant Center, you can become eligible for free listings through Google's Shopping Tab. This practically means you can reach new potential customers at no additional costs, reaffirming the importance of maintaining an up-to-date Merchant Center.
6. Optimize Your Images and Titles For Improved Search Visibility
A shopping ad or shopping SERP is about 60-80% product image.
If having the GTIN is key to reaching the right audience, then the image is a key component that will make users pick your ad when it's showing at the top of the search results page. Google will typically flag any egregious violations around the images, but often you'll find images sneaking onto the Shopping results page that don't abide by the basic best practices. For a good product image, make sure;
The product is clearly visible.
A white or uncomplicated background.
No watermarks or other branding.

The product title similarly should be clear and concise, featuring the brand name, product name, and product information without overcrowding or overcomplicating the placement.
Find-and-replace custom feed rules in the Merchant Center can be easily used to swap out or tweak product headlines to make your results more appealing selection on the SERP page. In select instances, this can even be used to fix product disapprovals.
7. Get Your Ads To Stand Out With Seller Ratings
Especially in a competitive environment, star ratings can go a long way to get your ad to stand out. Unlike other elements of your product feed, Google Seller Ratings are added dynamically within the Merchant Center apart from your product information. They are a dynamic extension showing between one and five stars, pulling customer reviews from various Google-trusted sources such as Feefo and Trustpilot.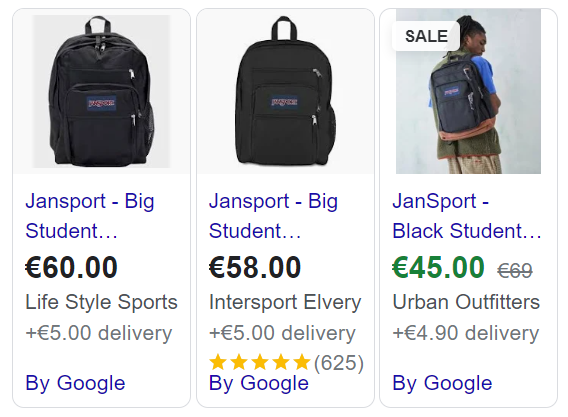 After a successful configuration, it can take Google a period of time to start showing your reviews on Google Ads, making this a key optimisation to configure if you want your ads to stand out for the upcoming holiday season.
Learn more about getting started with Google Seller Ratings.
Bonus Tip! Secure Your E-Commerce Campaigns With a Backup Secondary Feed.
A disapproved product feed at the wrong time can be a disaster for your website's Q4 activity. Disapprovals can happen for a wide variety of reasons, sometimes clashing with otherwise vital parts of day-to-day site maintenance.
At Wolfgang, we've found one of the best ways to ensure that large ecommerce feeds run uninterrupted is to generate a secondary backup feed running parallel - one on Google Shopping and a second on the Comparison Shopping Service.
Set up correctly, this backup feed will exist without causing direct traffic to your primary campaigns. Crucially, this backup feed can give your account a few extra vital days to sort out a surprise account disapproval in your Merchant Center.
If you have any questions on your store's product feed or Performance Max campaigns, reach out today to learn more about how to boost performance on your online ecommerce activity through Google Ads and PPC.
Share This Article