By Gabriela on 10 Jul 2017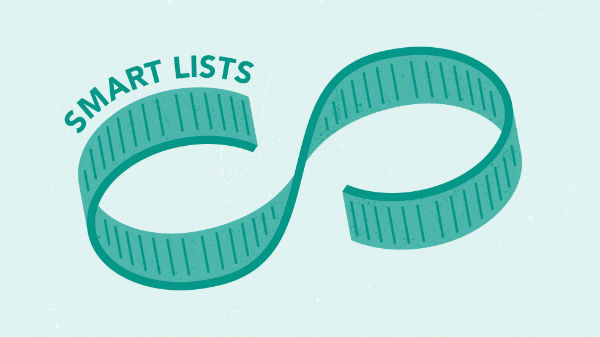 We've been checking out the advertising artillery that Google provides for digital marketers. After recently looking at Similar Audiences for Search, we were bitten by the machine learning bug and decided to take a look at Smart Lists.
What are Smart Lists?
Smart Lists are remarketing lists generated by deep learning powered artificial intelligence. While remarketing is a very simple idea, traditional lists can become bloated with people unlikely to convert. This is a result of the limited criteria available for adding people to remarketing lists with. As the name suggests, a Smart List is a lot smarter and more selective about who gets added to, and removed from, a remarketing list.

Once you meet the minimum criteria, which I'll look at below, Smart Lists draw on Google's incredibly powerful machine learning brain to sort through your site's conversion data. Scanning through this data for specific signals which show people are more likely to convert. The signals analysed by Google include referrer, device, browser, location and visit duration to name but a few. Google analyses this data every day and then adds people to, or removes them from, the Smart List.
But, could machine learning turn out to be a fad?
As digital marketers, we see a lot of trends come and go. It seems like every month we have a new buzz term that everyone is talking about. Machine learning certainly is the talk of the digital marketing world right now, but it's for good reason. In 2016, Google almost doubled their output of machine learning publications: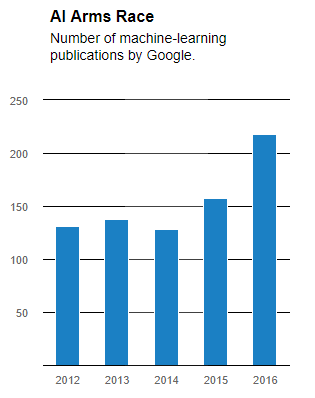 Google's heavy investment in the technology is a huge endorsement and they certainly want to get their money's worth from it. From Google Photos to AdWords, Google is finding practical applications for machine learning and artificial intelligence. A little later, I'll show you the results Smart Lists can deliver, showing machine learning is much more than a passing fad.
What do I need to get started with Smart Lists?
As I mentioned, there are certain data criteria you'll need to meet to get the most from Smart Lists. Your site must be:
An e-commerce site
Generating 500 monthly transactions
Attract 10,000 daily pageviews
Without reaching these numbers you can still use Smart Lists, but they will be based on sites similar to yours and not your own data. As a result, these, slightly less smart, Smart Lists are unlikely to perform as well as a bespoke list.
How do Smart Lists perform?
We tested a Smart List with one of our retail clients. Their site surpassed the minimum requirements to generate a completely tailored smart remarketing list.
This retail Smart List brought increased brand related traffic and attracted converters - lots of converters. The list had an impressive conversion rate of 19% and despite handing some control to the machines, CTR remained high with 50% of people who saw ads compelled to click them. This demonstrates Google's machine learning truly understands your potential audience. That made people within the Smart List 12 times more likely to click ads that others.
We were blown away by the revenue generated from this Smart List, which over a two-week period, brought in three times more than the next best remarketing list. Overall, this automated list delivered a smashing ROAS, as every euro spent in the account on Smart List remarketing, earned our client €625.
I could keep going, but you've probably heard enough and are heading off to try out Smart Lists right now.
The Wolfgang Essential Takeaway
Trusting machine-generated remarketing lists might feel unnatural at first, but those numbers will surely provide comfort to even the most sceptical. Smart Lists are a definite time saver and can generate huge returns, so they're certainly worth testing out.
Share This Article