By Kevin Moore on 6 Apr 2017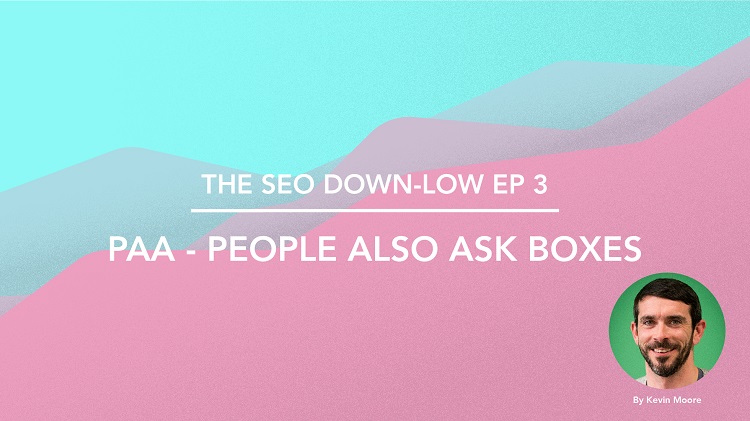 Welcome back to the March edition of the SEO Down Low, where we bring you updates on the latest changes in the land of SEO (Search Engine Optimisation). Having analysed the engagement levels of our two previous long form 'Down Lows', we have decided to change the format and make it more byte sized for those reading it on the fly!
This month we explore the following topics:
DMOZ – Closes its submission doors after 18 years of service
Google Posts – Google testing a new feature to steal back SMB's from Facebook
Algorithm Update – Meet Fred, the latest Google Algorithm update targeting black hat sites
PAA (People Also Ask) boxes – Why businesses need to pay attention to PAA and use them in organic strategies
We hope you enjoy our round-up!
DMOZ Becomes 'The Closed Directory'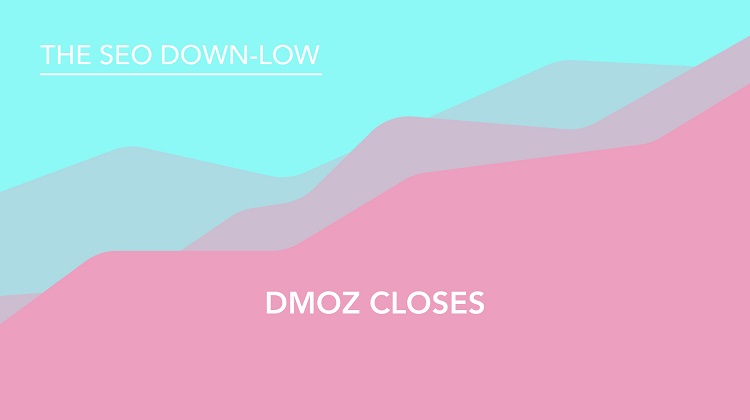 What is DMOZ?
DMOZ also known as 'The Open Directory', was one of the original directories online, founded by Rich Skrenta and Bob Truelin back in 1998 in the early days of the web. Originally called 'Gnuhoo', it went through a number of names before finally settling for DMOZ.
The purpose of DMOZ, was a directory where webmasters and SEO's would submit the URL of their website, to be categorised by the editors who worked voluntarily in an attempt to create a human structure of the World Wide Web.
Due to the strict guidelines and editorial vigilance, DMOZ was the Holy Grail of directories. With a whopping Domain Authority (DA) of 91/100.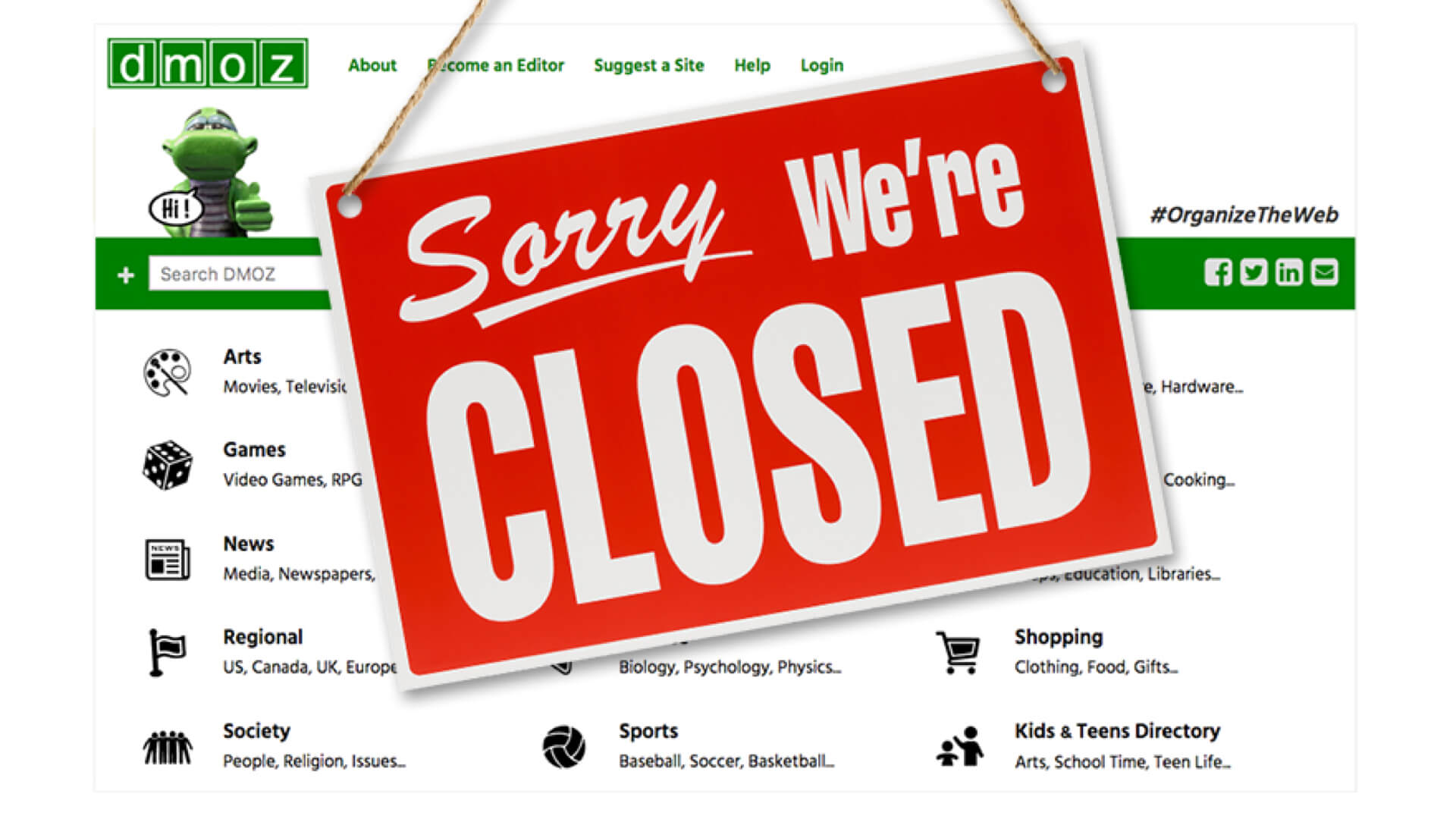 Some DMOZ stats at close of business:
Editors - 91,929
Categories - 1,031,722
Sites - 3,861,210
Languages – 90
So, on the 14th of March, after 18 years of human categorisation, DMOZ became 'The Closed Directory', marking the end of an era for SEOs globally. They have however, created a mirror website which remains live, however, submissions have ceased.
Google Testing SERP Posts in the US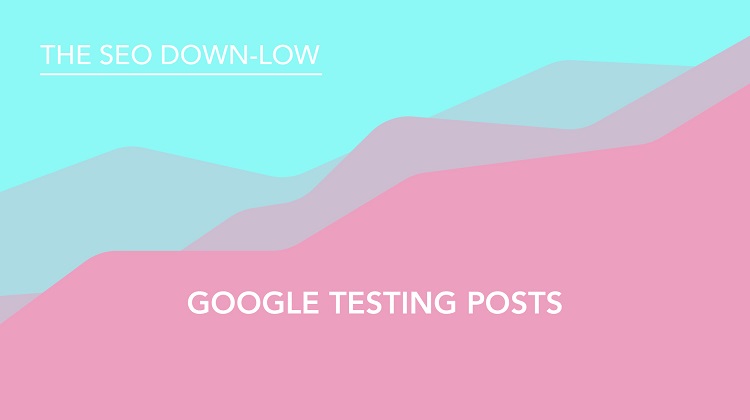 They haven't arrived on our shores yet, but Google have recently began adding a new feature into the ever evolving SERPs. They come in the form of Google Posts: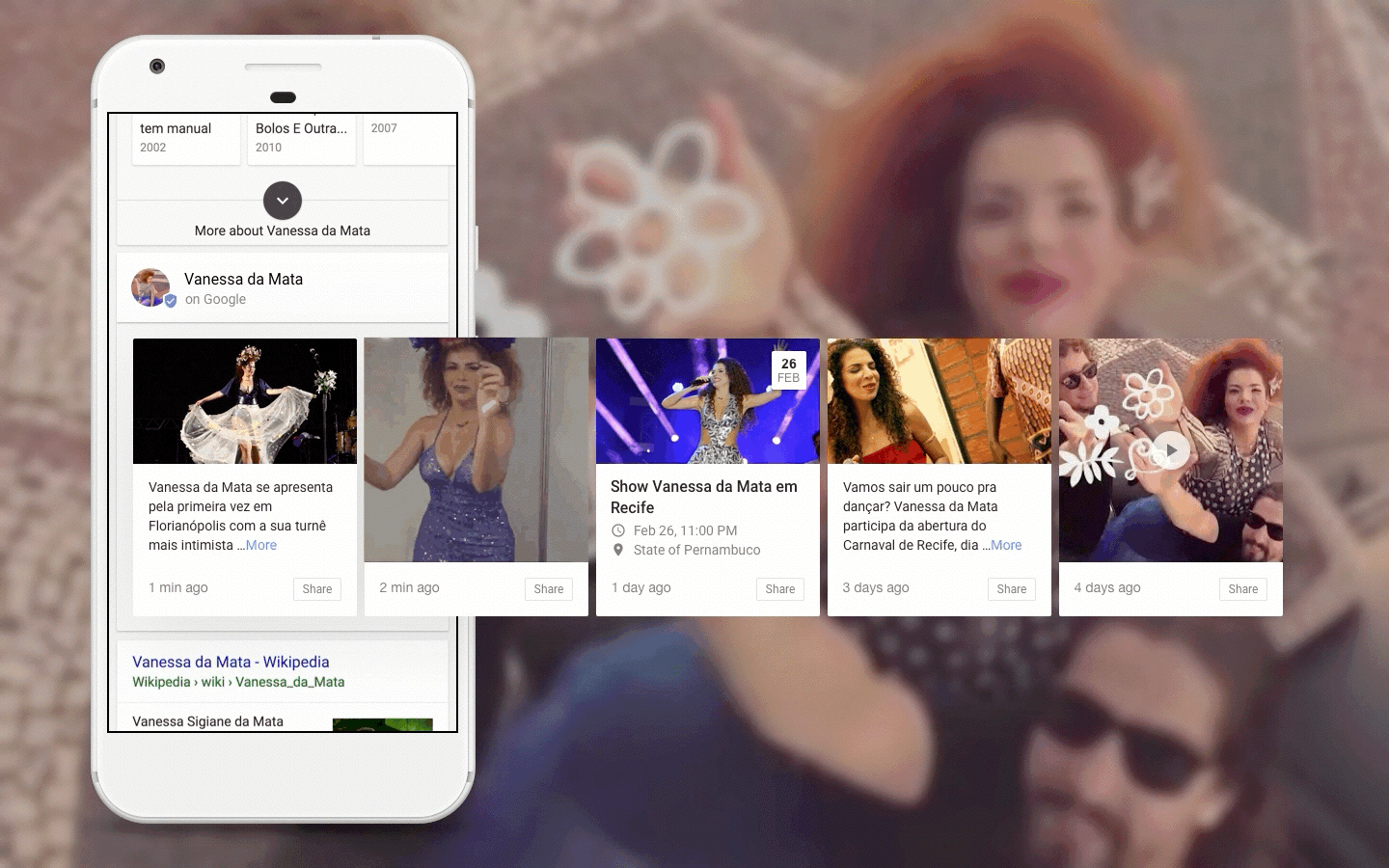 Brazil is one of the test locations for Google Posts. (Google posts from Vanessa da Mata are shown above).
They've been testing Google Posts on and off since the beginning of that shambolic US presidential election in 2016, but in March 2017 we saw a significant change of approach from Google.
Google released a blog post on the 22nd March highlighting their commitment to Google Posts and announced they will be releasing it in Brazil next (over 139 million internet users – ranked 5th globally for internet use in 2016).
"We're taking it to the next step and opening up the application process so that organisations and people within specific categories can post directly on Google".
You can now go to Google Posts and submit an application to be a beta poster for your 'entity' or 'business'. At present, the only geographical options are in the US and Brazil, and the only categories are:
Movie
Museum
Sports Team
Sports League
Other
Google may potentially roll out this feature in Ireland, if more people fill out this form and the Irish market shows an increased level of interest.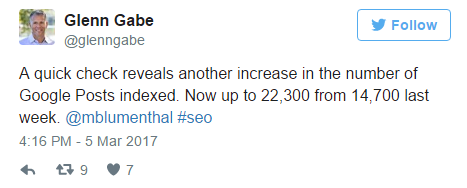 As you can see from both Glenn Gabes tweet in March and our site search in Google, the number of posts indexed in Google has almost doubled since March to 42,100 (based on results shown on the 05-04-2017). When Google Posts are finally introduced globally, it would be the first real Google response to Facebook, that makes sense from an SMB perspective and might even lure some SMB mind share back to Google. Keep your eyes peeled!

Google Fred Update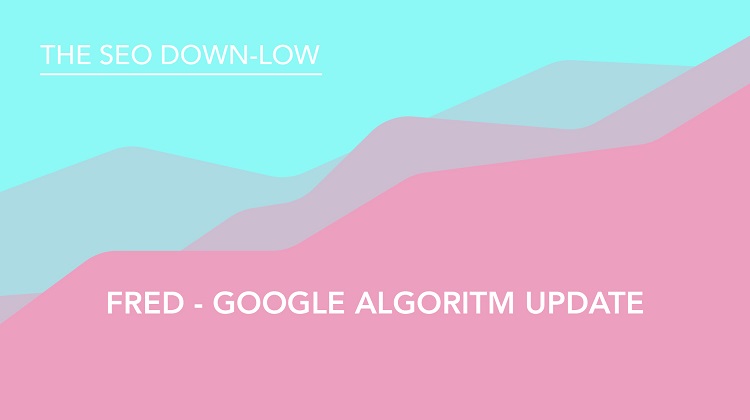 We had more excitement from the depths of Google, as highlighted in an earlier episode of the 'SEO Down Low', with Google striving to make their search results pure quality. They do this by constantly and rigorously updating their core algorithm.

The latest update to cause ripples in the SERPs has been given a friendly name: Fred – named after Google's Gary Illyes joked about the fact that all Google updates should be called Fred (a particular fish he had caught recently!)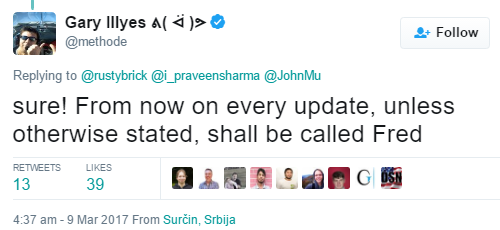 Fred was rolled out between the 8th and 14th March and has not been denied by Google (this is their way of confirming the update). Basically, having spoken to and listened to our SEO peers across the globe, we can see this is an update that yet again targets websites where 'Black Hat' and underhand SEO has been employed. Fred also looks at websites that are low quality, both from a technical and a content perspective, more so those that are focused on clickbaiting. With any algorithm update, there are winners and losers – we are delighted to report that our clients have all been unaffected by this recent update.
The good news is that if your website is experiencing negative ranking movements, the Wolfgang SEO team are skilled at algorithm penalty recovery, simply contact us and we will do a deep dive into your website and help get you back on track.
PAA – People Also Ask Boxes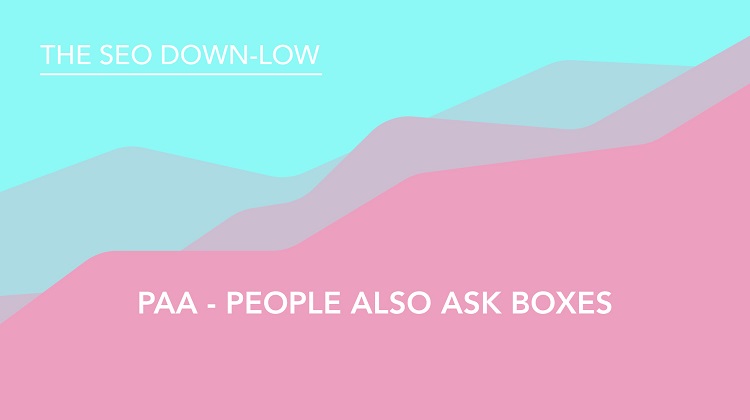 PAA (People Also Ask) boxes are a SERP feature that just keep giving! They have been on the scene for the past two years. So why are you telling us about them now, I hear you ask? Well as an SEO we use the SERPs to help us identify 'low hanging fruit' when it comes to optimising and driving valuable traffic to our client's websites.
PAA boxes have become a more prevalent feature since their first appearance back in 2015, up 1,723% growth in SERPs according to Mozcast. This shows us, they are here to stay.
What is the benefit of PAA boxes for SEO?
Firstly, PAA boxes are being used by Google to keep you engaged on the SERPs. So, you do a search for something, Google then says 'sure while you're here, we have a few more questions you may be interested in', at the end of the day all our kids are growing up speaking the mantra 'Google it'!!
Secondly, PAA boxes are a great insight for SEOs into what people are searching for and want answered. We then look to our client's websites and identify where they can answer these questions and ultimately get them into the PAA boxes.
Finally, Featured Snippets are generally derived from People Also Ask data, Google wants to give the answer within the SERPs, again looking for ways to keep users on their search engine.
So what has changed recently – infinite PAA boxes – that's what!
Check out this simple search for 'how big is ireland'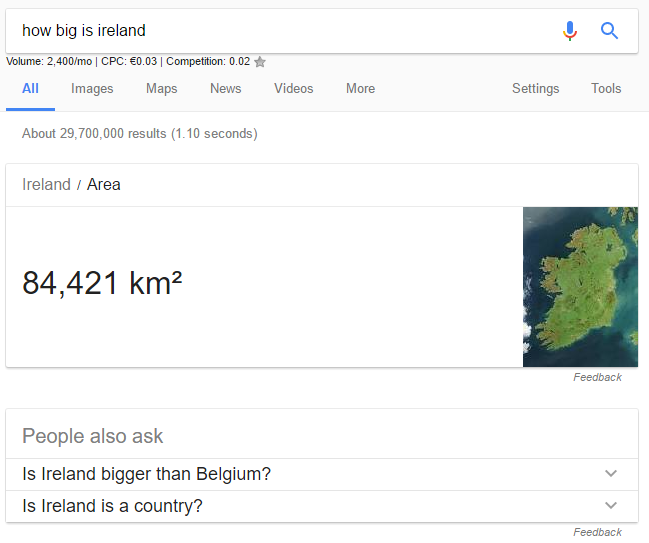 2 more questions.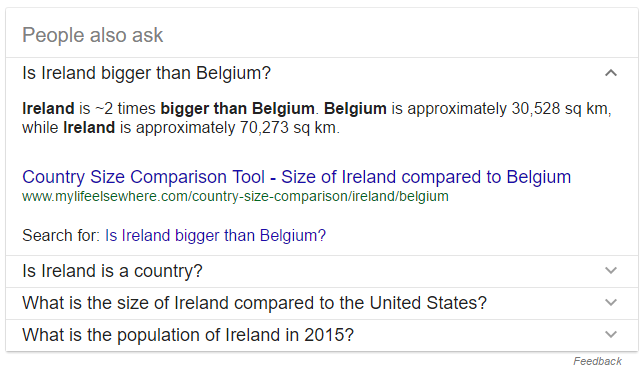 3 more questions.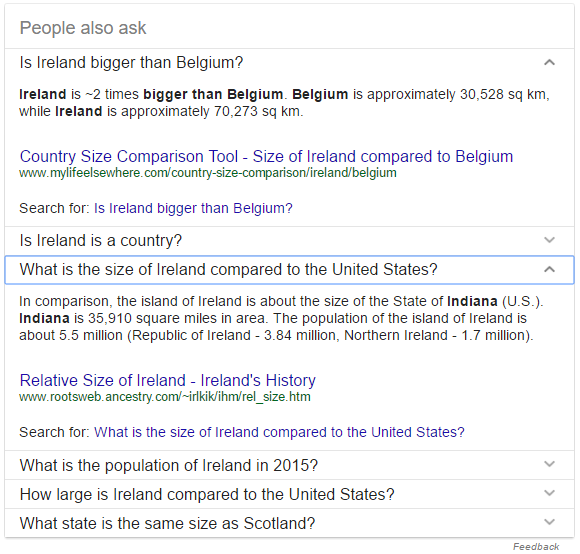 And another three, they just keep coming and coming; Google have reconfirmed our 'Head of SEO' Luke Fitzgerald's joke that "If you want to bury a dead body, get it on page 2 of Google!"
So, without further ado, please share this information far and wide and if you like our blog, please sign up to our newsletter, where you will receive our monthly newsletter 'The Howl', into your inbox every month.
Have a great Q2!
Share This Article