By Jordan Swope on 27 Apr 2021
If there is one metric you need to be watching as an online retailer, it's your conversion rate.
A strong campaign can turn out great results up to the ad click - but if users are bouncing instead of purchasing, and it doesn't meet their expectations, then you're wasting an opportunity.
Your marketing strategy should continue straight through the checkout funnel. This means optimising your pages to provide a frictionless user experience that leads visitors seamlessly through your customer journey.
When you listen to your users and tailor your site to their motivations and needs, you'll not only improve your conversion rates, but build a loyal customer base who keep coming back.
But to understand this, you first need to have a solid understanding of what an ecommerce conversion rate is - and the process of optimisation you should be undertaking on your site to improve yours.
What is Conversion Rate Optimisation?
First things first, a conversion - simply put - is when a visitor to your site does what you want them to do.
Depending on your business objectives, of course. For ecommerce sites, your primary conversion is when a user makes a purchase. So what else can you measure as a conversion?
Increasing your AOV
Gaining more subscriptions
Increasing your customer lifetime value
So what is conversion rate optimisation (CRO)?
Essentially, CRO is the process of increasing the percentage of your visitors that become your customers.
Every touchpoint along the digital customer journey will see users bounce. The objective of CRO is to reduce the number of customers that you're losing at each stage, in turn maximizing the conversions that you will get from your traffic.
Through a mix of analytics, behavioural research, and testing, CRO uses both qualitative and quantitative methods to make conversion funnels that much more efficient.
Why Conversion Rate is the Most Important Metric for Online Retail
Here at Wolfgang, we see conversion rate as the King of KPIs. Retail clients see an average conversion rate of 1.9%. Conversion rate by user comes in at 3.6%, meaning that returning visitors are more likely to convert.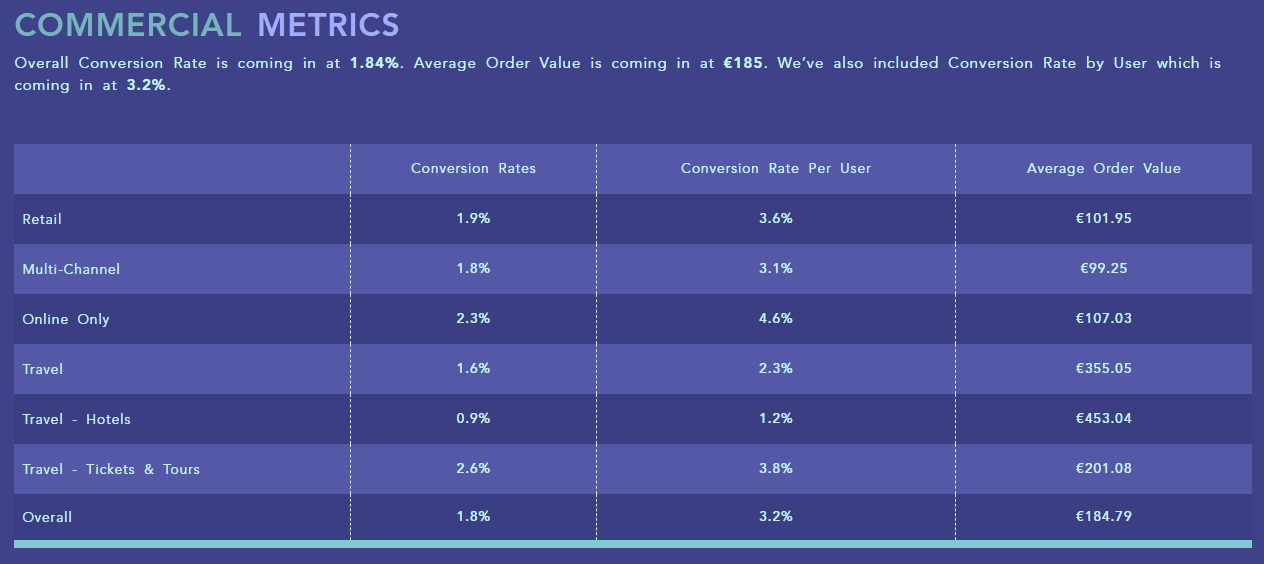 Of all the traffic that you drive to your website each day, how many of those visitors end up purchasing? If the answer is not many, then you're likely leaving money on the table.
Increasing your conversion rates will not only increase your revenue, it'll also give you that edge above your competitors in an oversaturated digital market. Creating a customer experience that users not only want to purchase from but come back to will continue to bring in word-of-mouth traffic as it does ROI. And when your conversion funnel is optimised, it means more money to invest in other marketing campaigns down the road.
Understanding and Undertaking the CRO Process
In order to ensure that your marketing strategy makes an impact, conversion rate optimisation leverages elements of the scientific methodology to drive real results.
Rather than basing decisions on assumptions, CRO will provide valuable data about your brand and users, while helping you make statistically significant improvements to your marketing tactics. Following agile principles, the CRO process continuously works to improve your site over time.
The Wolfgang Conversion Growth Program follows six key steps:
Define goals and KPIs
Conduct data research and user testing
Hypothesize and audit
Prioritize and roadmap
A/B test and validate
Measure, learn and iterate
You shouldn't be waiting for your next redesign to improve your site - you should already be looking for opportunities.
So where to start?
We've created a checklist with seven key steps for undertaking a CRO process to optimise your ecommerce site.
Enter your details below to download the PDF
The Wolfgang Takeaway
Optimising your eCommerce site isn't a one-and-done deal. Rather, having a solid understanding of the CRO process will help you iteratively improve your user experience in a way that continues to increase your conversions.
Get in touch with our CRO team to discuss how an optimisation plan can boost your conversion rates.
Share This Article