By Himani on 28 Apr 2021
As leaders in Paid Search, Wolfgangers are always keen to test out any new search platforms that we can get our hands-on. When one of our hotel clients first asked us if we would be interested in expanding to the popular Russian search engine platform Yandex, I jumped at the thought of expanding to an all-new search platform. We have been looking to expand to Yandex for a while and this was a perfect opportunity for us.
There are a few key things that are different between Google and Yandex that we found out in our research and while working on both the platforms together running campaigns in Russia and CIS.

In order to run Yandex campaigns, you need to have a website in the Russian language. Since our client, Best Western Hotels, a global hotel chain, already had one we were all ready to dig deep into launching our campaigns.
Account SetUp
On Google ads, the account registration and payments setup is a quick process.
Yandex is a Russian firm, any company willing to set up an ad account doesn't have to pay Russian VAT if their company is not registered in Russia. This is great however you need to send documents to Yandex that prove your business is registered outside of Russia. Once they have all the required information they will verify the authenticity of the company before you can start running your ads which can take a few weeks in the process.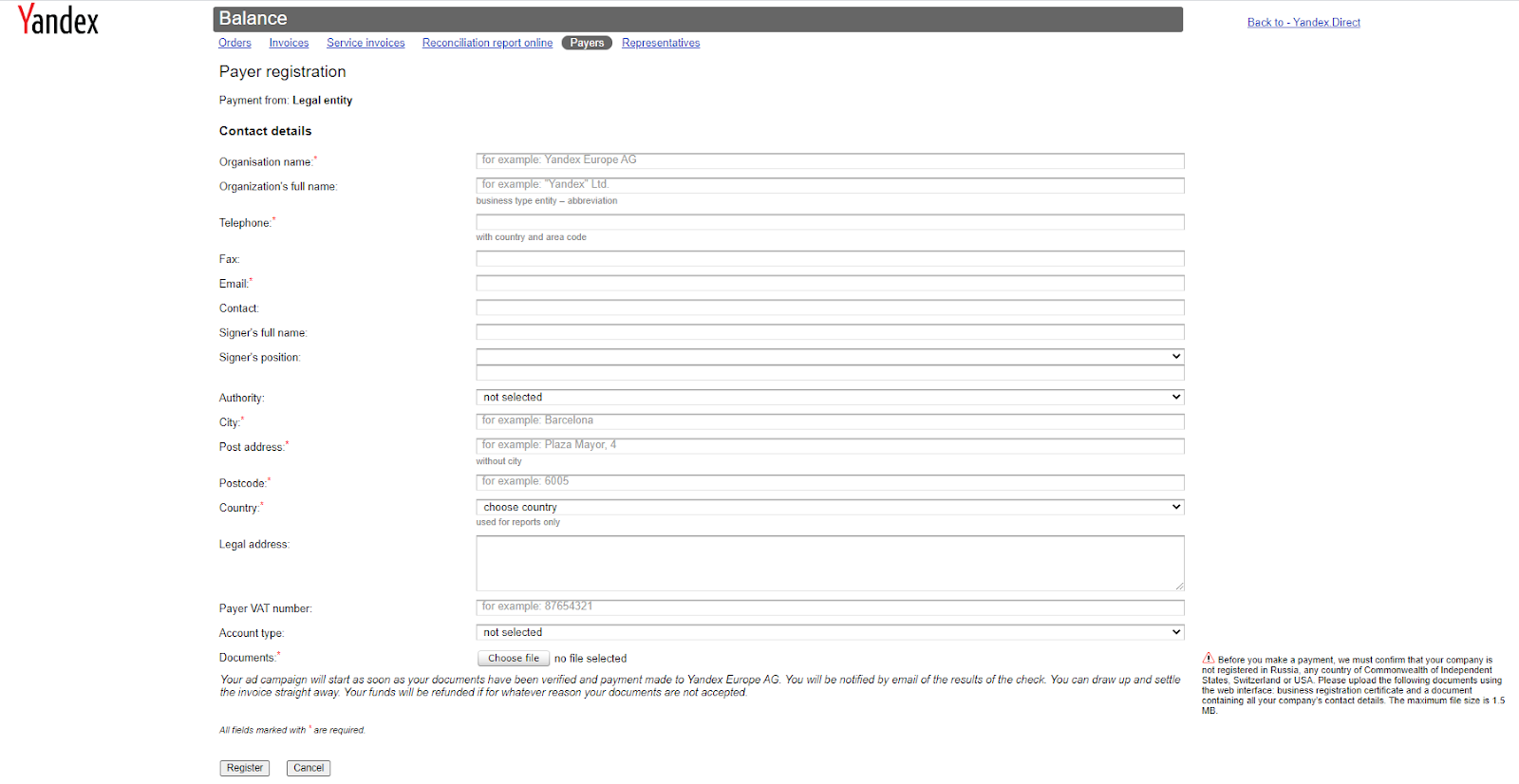 However, this is a once-off thing and once everything is verified you can make quick payments from debit cards which only take a few minutes although any other transfer modes can take much longer. Here's more info on how you can pay on Yandex Direct.
Keyword Match Types
Keywords Match Types are the same as Google however their operators are different which can make things complicated.
By default, keywords without any operators work the same as Broad Match Modifier.
A quotation is an exact match in Yandex as opposed to Google where it is a phrase match.
In Russian grammar, tense, quantity, and gender work differently from English. So, an Exclamation mark before a word helps in fixing the form of the keyword and will only trigger for searches that exactly match the form of the keyword.
Plus symbol is for taking stop words into account like prepositions. It is good for things like flights +to New York where the ad will only trigger for searches that include 'flights to New York' as opposed to 'flights from New York' or 'flights via New York. If the search query does not have the stop word the ad will not appear.
The order of the words in the search query can be flexible, just the stop word would definitely be there in the exact form and others can slightly change like broad match modified match type in Google.
Related Keywords, is a flexible feature in keyword targeting that enables advertisers to utilize Yandex's AI to expand ads reach beyond targeted keywords. This is similar to the pure broad match type in Google. There's an option to apply what % of the campaign budget can be applied to these searches which is great to keep things in check.
Yandex Support explains all the match types, symbols, and operators here.





Bid Wizard
Same as Google, Yandex offers different bid options for search and ad networks for each keyword.
On top of that, Yandex has a unique offering, Bid Wizard, a tool to operate bulk bid changes across multiple ad groups and campaigns. With this tool, bids can be set for a desirable ad position for search and ad networks.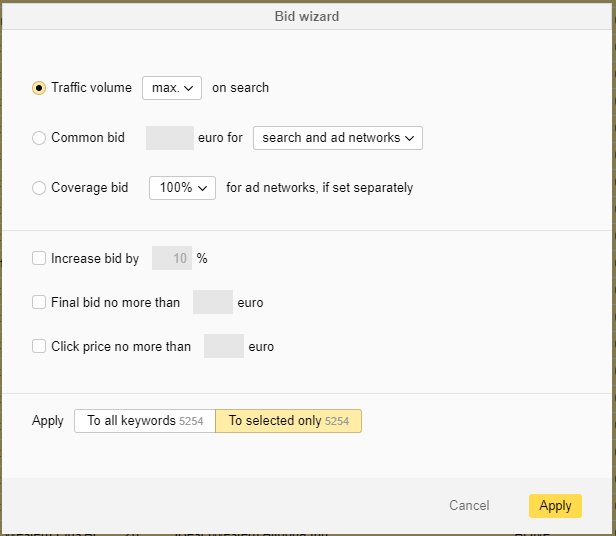 The auctions in Yandex are real-time and values for 'recommended bid' change at different times. Bid wizard only sets bids based on the current time so a set & forget strategy wouldn't work here.
An advanced option within Bid Wizard lets us set a bid and set a % it can be increased by the AI during a placement. This gives the AI a bit of wiggle room and can get the ads into more auctions while only increasing the bids by a small amount.
Bid Adjustment can also be applied to campaigns - audiences, day schedule, hour, devices - similar to Google.
Yandex Metrica
Yandex offers an analytics platform similar to Google analytics called Yandex Metrica, which is similar in setup and reporting as Google analytics.
For instance, the Traffic source report in Yandex is similar to the source/medium report in Google. Yandex offers more data in the user report and offers options to create custom reports which are like segments in GA. This is useful in combining two reports to see how a user from a region performs on a certain device.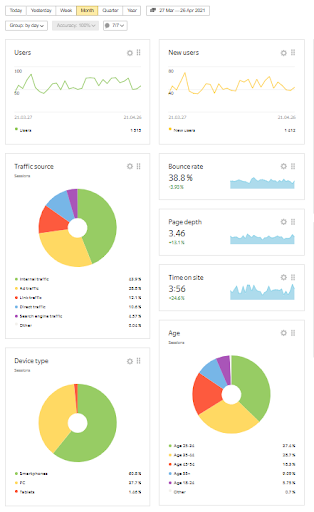 Yandex Direct Commander
Yandex offers an Ads Editor (Direct Commander) in addition to the interface (Yandex Direct) to make bulk changes.
For a long time, both these tools were only available in the Russian language which presented a big challenge for non-native speakers. Fortunately, these tools and Yandex Support are now available in English which allows global advertisers to target Russian users.
Performance
After running search campaigns together on Google and Yandex for the first few months we received some fantastic results.
During this period, Yandex search ads generated 45% of the total PPC bookings.
When compared to Google ads, Yandex search ads showcased: 102% higher conversion rates, 40% lower cost, 20% higher revenue, and 48% higher ROAS.
After getting initial successful results we are now testing automated bidding strategies which have helped in increasing the volume of traffic and sales to the website from Yandex.
The Wolfgang Takeaway
We recommend getting a thorough understanding of the default settings, features, and bidding strategies on Yandex before launching the campaigns.
There will also be a need for constant translation support if you don't have written proficiency in the Russian language.
Yandex is expanding its international support services in English now and offering more learning material in English which will of course be a huge help for global advertisers in the future. If you need help launching SEM campaigns on Yandex Direct for your business, we're here to help.
Share This Article