By Jack O'Connor on 19 Mar 2018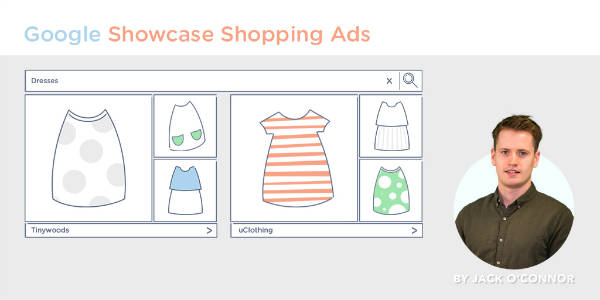 A friendly rivalry has spawned in Wolfgang HQ between the AdWords and Social team. This rivalry takes inspiration from the external battle between Google and Facebook. I'm on Team AdWords and it does hurt a little bit when social get innovations that we don't get, whether it be audience targeting or campaign measurement tools.
The two advertising giants are keeping a close eye on each other though and making sure they stand toe-to-toe. Early last year, Facebook rolled out Collection Ads, much to the delight of Anna from Team Social. Thankfully, Google didn't keep us waiting too long and is rolling out Showcase Shopping Ads to compete. I've been testing these out in a limited environment and here's what you need to know.
What are Google Showcase Shopping Ads?
Google Showcase Shopping Ads began appearing in Google's SERP late in 2017. These ad types depend on your Google Shopping feed and it's important to note that if you do want to use these ads, you can only create them within the new AdWords interface as well as the most recent version of AdWords Editor.
Showcase Shopping Ads display collections of related products in the SERP and reduce the need for a site visit, contributing to top of funnel awareness. Showcase Ads are more likely to appear for broad searches like "dresses" with Google Shopping Product Ads being more suitable for narrower search terms.
Here's what they look like: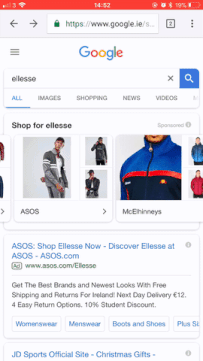 Impact on the SERP
Google has been tinkering with SERPs for ages in an effort to keep you dwelling there longer and longer. Today, when you ask Google a question, you're returned richer content and sometimes featured snippets which reduce the need to click through to a site. If you're shopping for flights, Google will compare prices for you, again reducing the need to visit a site unnecessarily and keeping customers on the SERP. Showcase Shopping ads are another attempt to keep customers on the SERP for a longer period of time, meaning these ads combine two of Google's favourite things:
Keep you in the SERP
Show you rich content
Why You Should Be Excited
Zoran already showed us that rich content like visual sitelinks can increase CTR by 12%, so we know Showcase Shopping Ads are likely to grab attention. Could this news get any better? Actually, yes it can. With rich SERP content likely to increase your clicks, the great news is that the first Showcase Shopping Ad click is free. These ads are charged on a cost per engagement basis, so you'll only pay when shoppers either browse your collection of products for more than 10 seconds or click through to your site.
This all makes for great top of funnel awareness creation, but in the tests I've run so far, I've also seen Showcase Shopping Ads deliver fantastic ROAS to the tune of 27:1. Generally speaking, we've always seen impressive results when we adopt Google innovations early, so I'll be keeping a close eye on the metrics to see if they shift.
What to Expect From Showcase Shopping Ads
It's really early days for Showcase Shopping Ads, but early indicators point towards an ad type which generates great top of funnel awareness while also delivering conversions and fantastic ROAS results. There's also one more massive reason to get on board with these ads early.
In order for these Showcase Ads to appear in search results, a competitor must also appear. To get the ball rolling, Google is automatically creating Showcase Shopping Ads to display collections of products. These automatically generated ads are freebies but they also lack the human touch. If you jump aboard Showcase Shopping Ads and create them yourself, you get a much more compelling ad. Take a look for yourself:
Automatically Created Showcase Ad By Google
Manually Created Showcase Ad By Wolfgang
Here's the manually created Showcase Shopping Ad from earlier.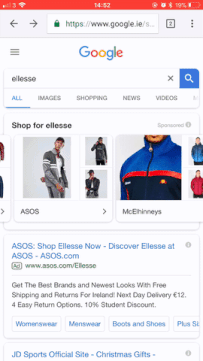 As you can see, the manually created Showcase ads include a CTA, a description with up to 120 characters, a link to a specific landing page and a cover image. These are much more compelling.
Wolfgang Essential Takeaway
People like visuals when it comes to e-commerce. Consumers are 12% more likely to click visual search results. The richer the content, the richer your returns. Google is going to continue rolling out innovations encouraging users to dwell on the SERP. You can either ignore this or take advantage by adopting Google's innovations early and getting an edge on your opponents.
Share This Article