By Jack O'Connor on 13 Oct 2017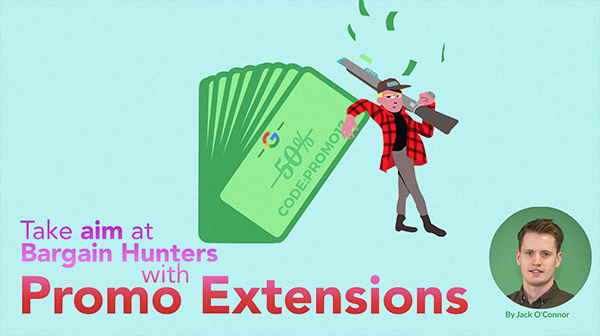 There's no shame in admitting that we all love a good discount. Online shoppers are becoming more savvy, often taking a quick break before checking out to see if they can bag a bargain with a discount code. Just look at the increase in searches for both discount codes or promo codes over the past five years:
Those spikes in interest are savings-mad shoppers looking for promo codes during Black Friday and Cyber Monday - more on that later.
Beyond those spikes, there's an ever-increasing trend of internet users searching for savings. That interest is why we got really excited to hear AdWords was introducing promotion extensions.
What Are AdWords Promotion Extensions
Promotion extensions are one of the latest ad extensions to launch in AdWords. In short, these new extensions appear in your Search ads like regular extensions and display both special offers and the codes customers will need to redeem them. This new ad extension will appear in desktop, tablet and mobile SERPs.
If you're wondering why you haven't seen this option yet, you might still be using the old AdWords interface. Google is trying to lure you into their new interface by limiting certain new features to the new interface. We implemented promotion extensions for the Photovalue's summer sale and determined that it might well be worth moving to the new AdWords console. Here's how they looked in SERPs: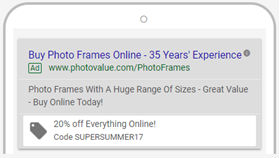 What to Expect With Promotion Extensions
Zoran already showed you the impact of visual sitelinks and in doing so touched on how adopting sitelinks in general often brings increased CTR. Promotion sitelinks have some additional punch as, based on the search trends above, we already know online shoppers like to bag a bargain.
At Wolfgang Essentials, Wil Reynolds highlighted the importance of giving your customer what they're looking for. We've already established that online shoppers are searching for promo codes and discount codes so naturally we were excited to see promotion extensions appear in AdWords.
Everything about this new AdWords innovation seems to make sense, so we set about testing them out. Here are the results.
The Impact of Promotion Extensions
During the period we tested promotion extensions with Photovalue, the account generally saw a 1.54% CTR. During the same period, campaigns with the new promotion extensions brought a massive CTR of 6.12%; up nearly 300%.
With the increased awareness around special offers, promotion extensions also led to a 24% increase in conversion rate versus traffic acquired without this new ad extension.
Promotion Extensions and Black Friday
Remember that graph from earlier that showed interest in promo codes spiking around Black Friday and Cyber Monday? Well, Google has spotted the huge potential with using promotion extensions in and around Black Friday. When creating your ads and adding promotion extensions, you'll have the option of setting an occasion, one of which is Black Friday: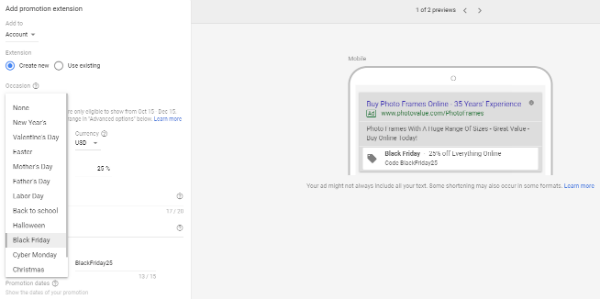 These new extensions should be a definite consideration if your brand is taking part in one of the biggest shopping days of the year.
The Wolfgang Essential Takeaway
Online shoppers spend time looking for bargains. With promotion extensions, you can attract their clicks and give them the bargain they're looking for.
Share This Article