By Ivan Crnomaric on 20 Oct 2022
While often overlooked, internal links can make or break your SEO strategy. They are used across a site to connect pages and Google uses them to discover new pages.
Considering that Google bots are using internal links to navigate / crawl websites, it is fairly safe to assume that their bots are paying attention to surrounding copy and the specific anchor text that is being used to link to a specific page.
What are internal links?
As highlighted in our SEO Glossary, internal links are links from one web page to another on the same website. Search engines give the same strong value to internal links as they do to inbound links. That is why having internal links is considered an SEO best practice. They are also important when it comes to site navigation.
Why do we need an internal linking strategy?
Before we dive into how to do it, let's just take a step back and look at why we need a proper internal linking strategy. These are also the reasons why an internal linking structure is important for every website, regardless of its type and niche:
Using internal links, we are actually building a page structure and a topical map.
They help users and search engines bots discover new and related content.
It can help fight cannibalisation issues on the website.
Internal links help build the topical relevance of the page and the website.
They help us eliminate 'orphan pages' (pages that cannot be found).
Common types of 'bad' internal links
As mentioned above, anchor text is really important when linking pages. Therefore, we should avoid linking to pages using terms such as:
Click here
Learn more
Find out here
Check this out
Other non-descriptive anchor texts.
While we can use these terms on occasion, it's better to avoid using them as anchor text linking to a specific page. As a rule of thumb, anchor texts should be as close to the page title as possible.
What do I need to analyse internal links?
If you are asking yourself what do I need to see my internal links, here is a list of the tools that can help you with your research:
Google Search Console (Free to use)
Google Search Console is Google's free tool that allows you to see how many internal links each of your pages have pointing to them. It can also show you how many internal links to each page Google bots discover when crawling your site.
Log into your GSC property and navigate to links to find a list of pages with the number of internal links.
Unfortunately, GSC does not allow you to analyse anchor text used for those internal links so, you have to use other tools to analyse your internal structure.
Screaming Frog (Freemium)
The Screaming Frog SEO Spider is a website crawler that helps you improve onsite SEO by extracting data and auditing for common SEO issues. You can download and crawl 500 URLs for free, or you can buy a licence to remove the limit and access advanced features.
Crawling your website with Screaming Frog allows you to find all internal links and you are also able to analyse all of their anchor texts.
Sitebulb (Paid)
Similar to the Screaming Frog, Sitebulb can crawl your website and analyse it from a technical point of view. The tool also provides information about discovered issues with potential solutions so you and your dev team can address them.
While there's no free version of this tool, you can download Sitebulb and use a 14 day free trial where you can try out its paid features.
Ahrefs (Paid)
Unlike Screaming Frog or Sitebulb, Ahrefs is an all-in-one SEO toolset that you don't need to download to use. While it provides numerous options (Ahrefs is mainly used to analyse a website's link profile and keyword rankings) to analyse your site, it also allows you to analyse internal links.
How do I analyse my internal linking structure and how do I create an internal linking strategy?
When it comes to internal linking analysis, you can use either Screaming Frog, Sitebulb, or Ahrefs. While each tool has its own benefits, my favourite tool for internal linking analysis is Sitebulb, simply because I find it easier to analyse internal links for a specific page.
Before we jump into 'how to', let's try to prioritise the pages.
We all know that not all pages have the same value, regardless of whether the website is informational or an e-Commerce website. Some pages definitely have a higher value compared to others. These are pages where users are converting, such as making a purchase or filling out the form.
Selecting the priority pages can be as easy or complicated, depending on several factors. However, once you decide what makes the 'high value' page or not, it can help us prioritise our pages.
I'd split this into three potential strategies:
Internal linking analysis per page
Using Google Analytics, we can easily find out which pages bring sessions and conversions. Select the desired date range (within the last 12 months) and take a look at the data to see which pages could be your priority pages.
Aside from Google Analytics, the data can also be extracted from Google Search Console. Focusing on Clicks and Impressions for the desired date range, we are able to determine which landing pages can be our priority pages.
Internal linking analysis per keyword
Depending on industry trends or seasonality, you may want to ignore the data from Google Analytics and just focus on the topic. If you are looking into improving internal linking structure to a specific section of the site, you can focus on keywords or topics that are bringing users to your site.
If you don't know which keywords are important, try to use Google Search Console to analyse keywords that are bringing users to your website.
Alternatively, you can use any keyword tracking tool or software to analyse the keyword performance:
Analyse pages that have experienced decreased rankings positions.
Analyse pages that are ranking for keywords with high search volumes.
Analyse pages where search volume (search trends) is increasing.
Internal linking analysis vis-à-vis a problem
This is probably the best reason why you should look into creating an internal linking strategy. Knowing what problem we are trying to resolve can help us select the page or pages we need to focus on without having to dive into GA or GSC.
The most common problem we are trying to address with internal links is page or keyword cannibalisation. Keyword cannibalisation occurs when several pages on your website are competing for the same keyword or phrase in search results.
As a result of cannibalisation, we often see rankings fluctuations and decreased number of organic traffic to the site.
We are going to use cannibalisation issues as our example below:
Internal linking analysis example
Once we know which pages we want to improve in our internal linking structure, we can start the crawler and wait for it to complete analysing the website. Depending on the size of the website, crawler settings and crawler speed, crawling can take from 15 minutes to a day or two. If it takes more than a day, it's most likely that there are other technical issues to be resolved to improve the crawling rate of the website.
Again, while we will be using Sitebulb for our example, Screaming Frog, Ahrefs or any other tool or software that allows you to analyse internal links on your website (pages and anchor text linking to them) should work just fine.
The two main things we want to find out are:
How many internal links are linking to our priority page/s.
What anchor text is used to link to this or these pages
Once the crawler is finished, navigate to Internal - > Link Explorer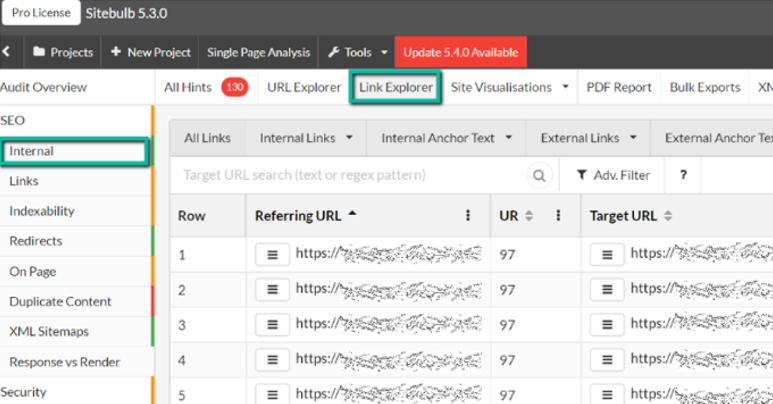 When located in the Link Explorer section, you can use the Search Bar to filter out only selected page/s and export all internal links with their anchor text.
Select the Advanced Filter and select Add Group* (select Add Group if you want to pull the data for multiple pages)
Under 'Use the panel below to set up rules to query URL data' select OR
Choose Target URL (to find all internal links to a specific landing page)
Select your criteria (most likely you want to select equals as some URLs might use similar URL structure)
Type your desired URL or multiple URLs (if you are analysing several pages)
Apply filter
Export to MS Office Excel or Google Sheets for your further analysis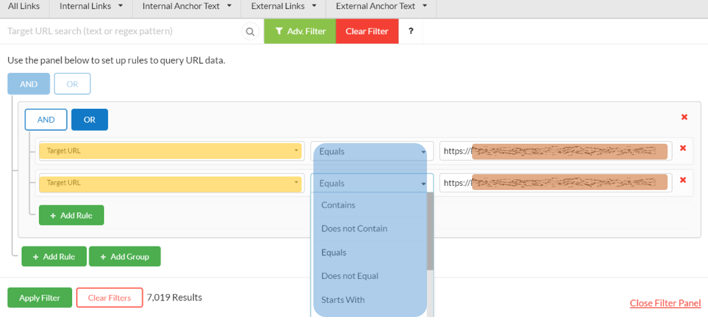 Using MS Office Excel or Google Sheets, we can create a pivot table and see what anchor text is being used and how many times it is being used to internally link to our selected pages. You will also be able to see from where internal links are coming from (main navigation, footer or from the content)
Pivot tables guides:
Pro Tip:
Create a separate Excel working sheet (Excel tab) for each page you are analysing before creating pivot tables as it will allow you to create a pivot table for each page.
Once we have a separate Excel working sheet for each page, creating a pivot table using 'anchor text' field, we are able to see which and how many times each anchor text is being used for internal link to our desired page:
Fields to filter out by: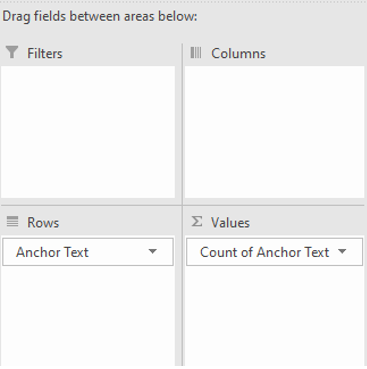 Result:

Using our example pages, we can clearly see that both pages are using the same anchor text, to some extent, when linking to these pages. As a result of that, Google had issues 'knowing' which landing page should actually be ranking for the load balancer and related search terms.
We knew that these pages were cannibalising each other as our tracking tool was reporting constant ranking fluctuations in Google SERPs where the ranking landing page was changing every once in a while.
If you have cannibalisation problems, what do you do next?
First, we need to know which page should rank for the 'load balancer' search term and which page is important for us!
To do that, we need to analyse Google SERPs to see what type of pages are ranking for this search term. Is it ranking for informational or commercial terms? Simply use the incognito window on your favourite browser and search for your targeted keyword. By manually inspecting pages that are ranking in the top 10 organic results, you should get an idea what type of content is ranking, whether it be informational or commercial.
Knowing what type of pages rank in Google's SERPs, we can start working on updating our internal linking structure. To increase the likelihood of organic ranking success, you should look into optimising your pages' content and metadata.
In your previously exported file from Sitebulb, you will have a list of all internal links to Page A and Page B. In our example, we want to increase the number of internal links to Page B using 'load balancer' and related search terms, while decreasing the number of internal links to Page A with related search terms (anchor text).
Unfortunately, this is most likely going to be done manually as we need to visit each page and update the internal links.
If you want to improve anchor text for a specific page (excluding cannibalisation) what do you do next?
Regardless of cannibalisation issues, you'll want to analyse and improve the internal linking structure of your website, right? After all, you want to have a better chance that a specific landing page is ranking for the desired search terms, while giving your customers an easy path to your valuable converting pages.
Using Google Search Console, we are able to find out which search queries are converting to clicks on specific pages. This analysis can help us with drafting a set of potential anchor texts to be used in your internal linking structure.
In Google Search Console, navigate to Performance, set the desired date range and select the page where you want to improve internal links.
Analysing search queries reported in GSC will show you how users are navigating to this page. The total number of impressions and clicks to this page should show you which search terms you could use for your anchor text in your internal linking.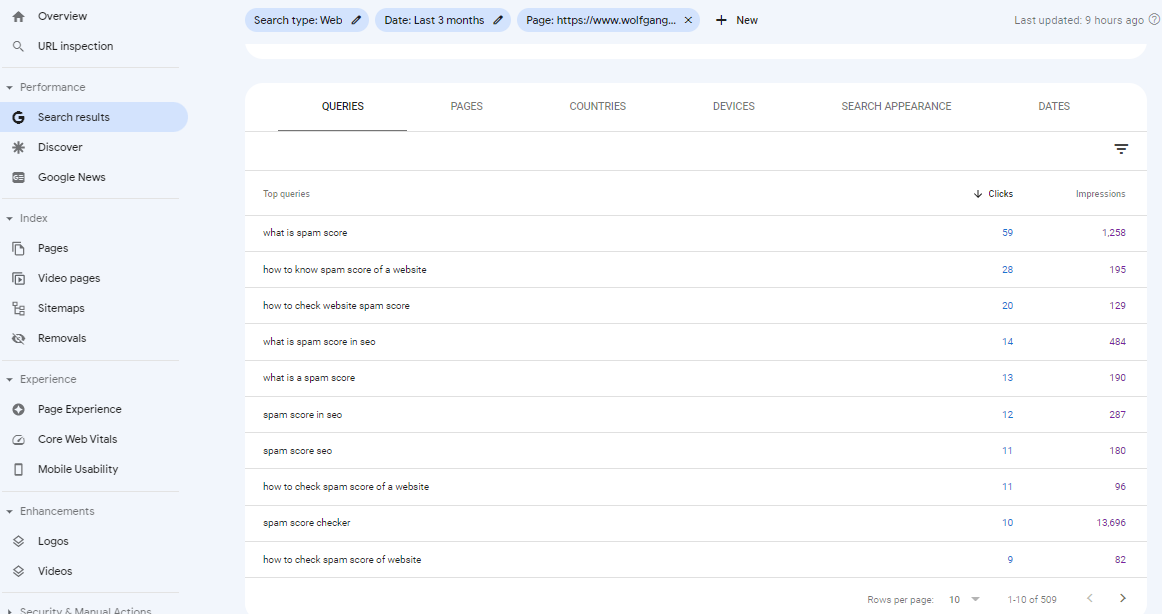 If this seems like an awful lot of trouble to do or if you need a hand putting your internal linking strategy together, just email [email protected] and we'll get back to you as soon as we can!
You can also visit our landing page if you'd like to know more about the different kinds of SEO services that we offer at Wolfgang Digital.
Share This Article