By Brendan Almack on 1 Dec 2021
Retail is Detail
I remember a senior retail leader once telling me that 'Retail is detail'. She had a boss that would quote it in most meetings. And, it's true. Retail is detail. There are so many variables in the battle for customers. Right now, there are some very specific details that all retail marketers should be aware of.
Lately, I've been having the same conversation with lots of retailers about Year-on-Year growth. It seems most CMOs / Marketing Directors / E-Comm Directors are having very similar discussions with their board, which is primarily around challenges in maintaining YoY growth trajectory.
The Wolfgang On the Money Report showed that e-commerce growth in 2020 was +159%, but we all recognise that 2020 was pretty extraordinary and accelerated by external factors. However, CEOs and CFOs won't let us off the hook that easily, so here's some data that might help you navigate these conversations.
The Wolfgang Dataset
We have been analysing our own Wolfgang dataset composed of clients and non-clients up to and including October. As shown below, the vast majority of retailers (94% of them) aren't maintaining YoY growth levels. Only 6% of retailers analysed are actually achieving YoY growth in October.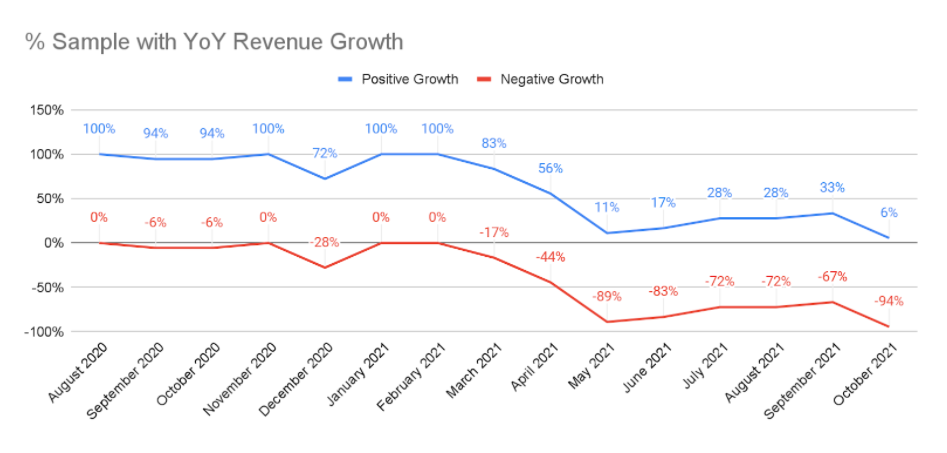 What's even more baffling is that 44% of retailers have increased their media spends YoY in October.
So... What's happening here?
Typically, if you increase your budgets YoY, you expect to grow your revenue. So let's think about the metrics (all driven by various factors) that have the biggest impact on online sales. For most retailers they are typically:
1. Search Volume - How many people are searching for your brand or the products and categories that you stock.
Just a quick reminder that from the beginning of October 2020, Ireland was placed in a Level 3 lockdown which would become a Level 5 lockdown before the end of that month. With this in mind, it's no surprise that YoY search volume is down. Thankfully, this year we're not (yet) stuck in our gaffs.
Using Google Trends and head terms like 'online shopping', 'shop online' or even 'buy' (which were all up in 2020) we can see that there is between a 15-20% decline in volume YoY. So, fewer people are forced to shop online this year vs last year - this is really a function of customer behaviour and increased real world mobility. It's worth noting that these head search terms are still up vs 2019.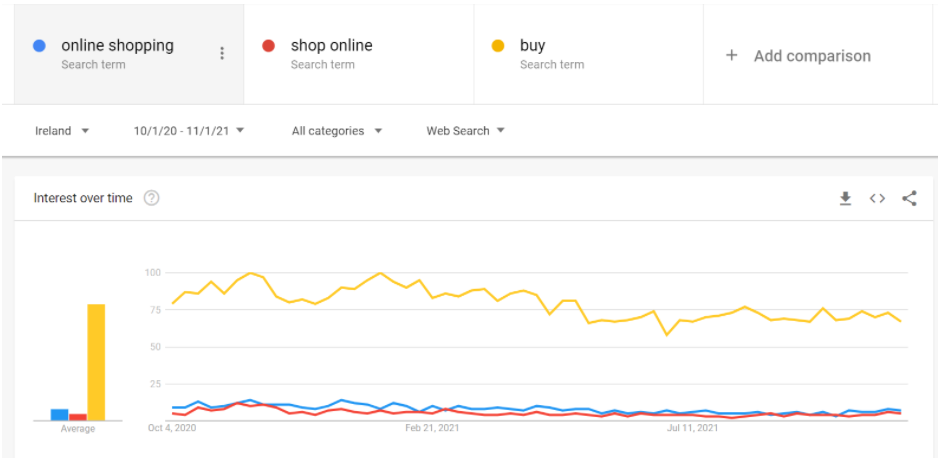 Source: Google Trend
2. Cost of traffic - How much does it cost you to get traffic to your website from the marketing channels that you are using.
Search marketing functions as an auction. When search volume decreases but the number of retailers willing to participate remains static (or even increases), CPCs will inevitably increase. This is simply a function of a more competitive marketplace.
Google has reported a general increase in retail CPCs across EMEA.
The degree of the increase will vary by region and category, but our own dataset suggests a 51% increase in CPC (across search and shopping campaigns) YoY. This effectively means that it's costing retailers 51% more to get search traffic to their website.
Search traffic isn't the only channel experiencing an increase in CPC. It has been widely reported that Meta (née Facebook) CPCs are increasing considerably (almost doubling YoY). This is the result of less ad inventory, as the iOS update has started to bite, combined with increased competition.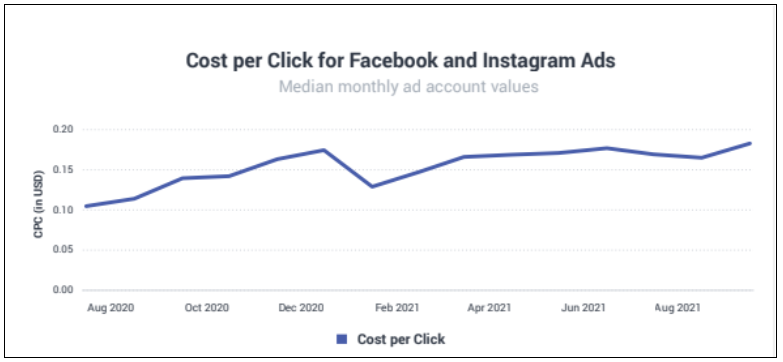 Source: Emplify
3. Conversion Rate - How efficiently can your website convert traffic into a sale/customer?
This is the final part of a perfect storm for retailers. Again, bear in mind that at the beginning of Q4 in 2020 we were experiencing a lockdown so we were forced to shop online in most cases. We can see this YoY lockdown impact reflected within our own dataset where retail conversion rates (online-only and multi-channel) are down on average by 16% YoY, with some retailers experiencing a decrease of >40% YoY.
This doesn't mean that these sales aren't happening, it just means that in some cases they aren't happening online.
Lastly on this point, when we look at conversion rates in October 2021 vs 2019, they are up on average by 60%.
How do you summarise this for your CEO and CFO?
Retail is detail, so bear in mind the nuances for your particular brand, but from a top level, increased customer mobility and increased competition (both external factors) means that it is more expensive to get traffic to your website and it is more difficult to convert that traffic to an online sale.
CEOs don't like problems, they like solutions:
Here are a few areas that you might consider focussing on right now to ensure your brand maximises the full Christmas shopping opportunity:
KPIs - Review your ROAS targets. We got addicted to crack-cocaine-like ROAS figures last year, but in a lot of cases, most retailers can tolerate a lower ROAS if it means that it will drive more customer acquisition. This approach might allow you to make a case for increasing your acquisition budgets.
2019 vs 2021 - There is a strong case to be made for determining online performance progress this year by comparing it to 2019. Comparing current online performance to a time where we were in a level 5 lockdown isn't a meaningful comparison.
In-Store Sales - When budgeting and measuring performance it's critical for multi-channel retailers to measure and consider multi-channel ROAS. In a lot of cases, the searches and the ad clicks are driving sales in-store, but the cost of acquisition is borne online.
Longer term, ensuring that you're continuing to grow your organic traffic (SEO) and investing in channels that will allow you to win the search before it happens (ie brand searches or brand + category searches) such as YouTube will help you mitigate further fluctuations in the digital ecosystem.
Hopefully some of that resonates and helps you iterate and optimise your way through the Christmas shopping season. Best of luck and feel free to reach out if you'd like to discuss in more detail!
Brendan Almack,
Managing Director
Share This Article