By Roisin Linnie on 6 May 2021
TikTok is probably the most exciting new channel that has amassed popularity by the millions. You can't ignore this channel. The latest stats show that it is currently the most engaging platform in Ireland with users spending more than 76 minutes on the app daily, and it was also the most downloaded app in 2020! Its explosive growth means that there is an opportunity for brands to capitilise on its massive reach to drive brand exposure.
So, you are probably now wondering if TikTok is the right channel for you? Here are the top 3 reasons we are recommending that our clients start advertising on this platform immediately (& don't forget to watch our webinar for a more in depth discussion on all things TikTok!)
1. Your Audience is there!
There are currently 1.6 million monthly active users in Ireland & this number is growing rapidly. It has tripled in the last year! You may have thought that TikTok was a platform for the under 17s only, but as you will see from the age demographics below, 78% of TikTok users in Ireland are actually between the ages of 18-34.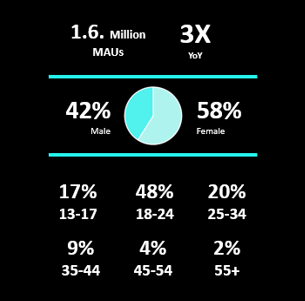 2. Impact on New Users
The impact running TikTok ads will have on driving new users to your website is huge. By advertising here you will reach users who are not on other social platforms. The graph below shows the percentage of unduplicated users from other channels. This is mindblowing! 40% of TikTok users are not on Facebook, 45% are not on Instagram and 60% are not on Twitter!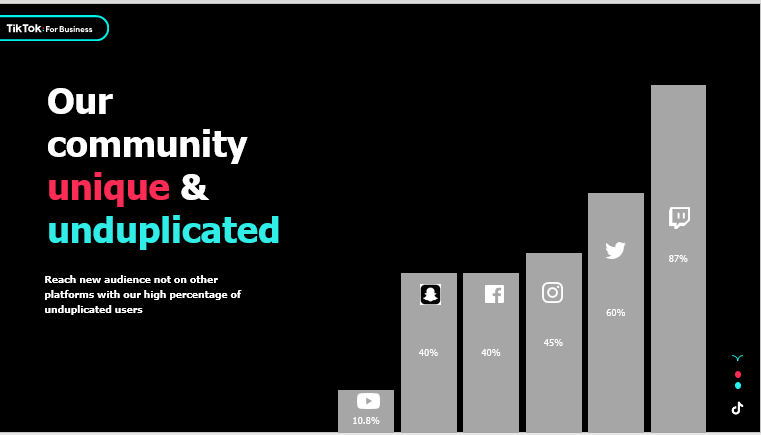 We've seen the new user impact in action ourselves. We recently ran a TikTok campaign for our client Woodies where 90% of users driven from TikTok to their site were new! This is a huge opportunity to get a new audience into your marketing funnel that you are not currently reaching through your other channels.
3. Engaged Audience
So, how does TikTok compare to other social channels when it comes to traffic and engagement? We have seen excellent engagement from our recent campaigns on this platform for our clients. We're seeing a 3% engagement rate, a low CPM of €0.91 and a 1% CTR.
The 1% CTR is really exciting as this is similar to the CTRs you would see in a Facebook campaign. This was surprising to us as initially we thought of TikTok as an excellent brand awareness channel with cheap CPMs. However, we are now seeing that it can work effectively at driving cost effective traffic to site too.

If you are interested in finding out more about TikTok, you can check out the replay of our recent webinar here. We were delighted to be joined by Joel Williams from TikTok to chat about:
The Tik Tok community and how to build your brand presence
Key advertising formats and best practices to maximise reach and drive results
Case studies that work for our clients and international brands
Q&A jam packed with lots of great questions from attendees
If you are interested in running some TikTok campaigns with us, please email [email protected] and we can have a chat.
If you'd like to keep up to date on future webinars, make sure you are signed up to our newsletter.
Share This Article