By Gavin Stafford on 6 Sep 2019

For many social media marketers, Campaign Budget Optimisation (CBO) has become quite a divisive topic. It's become the marmite of Facebook advertising; some users love it, some absolutely loathe it.
However, it's something that we will all need to embrace, as from the start of September, it's being slowly rolled out to become a mandatory function by early 2020. The rationale behind CBO is clear; with improved performance metrics and less time spent on optimisation, advertisers will be able to focus on developing other campaign elements such as creative, audience building and strategic planning.
The platform is banking on the power of its algorithm to deliver killer results at the lowest cost with little effort at all. When CBO was first rolled out as an optional feature in November 2017, Facebook announced it as "An easier way to maximise campaign results"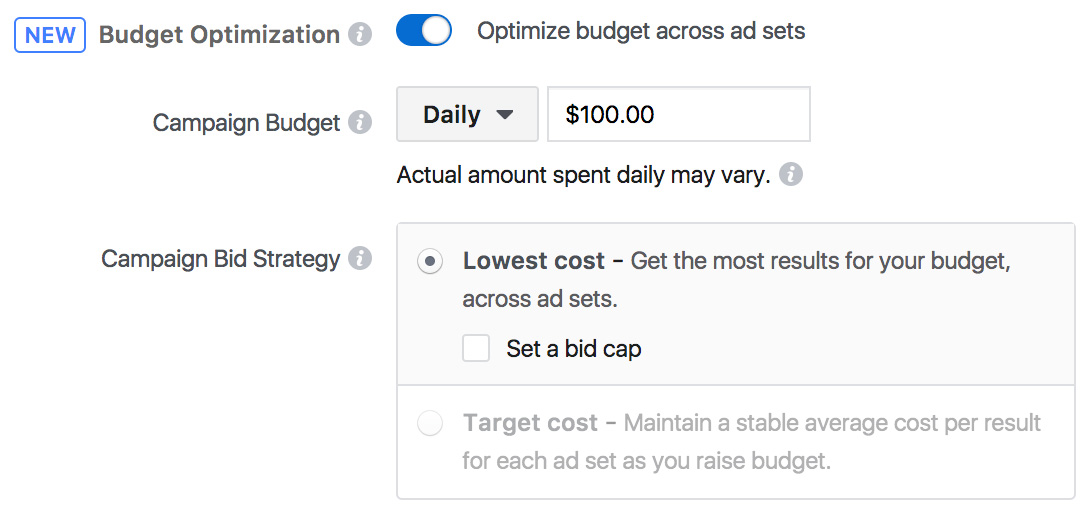 So how does it work?
It all sounded so promising from the start. All advertisers had to do was build their campaign, load up their targeting, set the budget pacing to lifetime or daily pacing and sit back and let the power of Facebook's algorithm do the heavy lifting. Once a campaign is launched, it enters a "learning phase" period where the algorithm begins to spread the budget across all ad sets to discover which audiences are likely to yield the best results.
After the learning phase is completed, the algorithm weights the budget in favour of ad sets that will generate the best results based on your campaign objective.
The purpose of CBO, is to eliminate the need for manual bidding and optimisation which saves the advertiser time to focus on other areas. The algorithm will work as hard as possible to fulfill the optimisation goal that you have set for your campaigns.
If you are the type of advertiser that likes to map out every aspect of their campaign in intricate detail, then CBO won't be something that you will enjoy. However, if you are time sensitive and have a million tasks to do, CBO seems like a winner.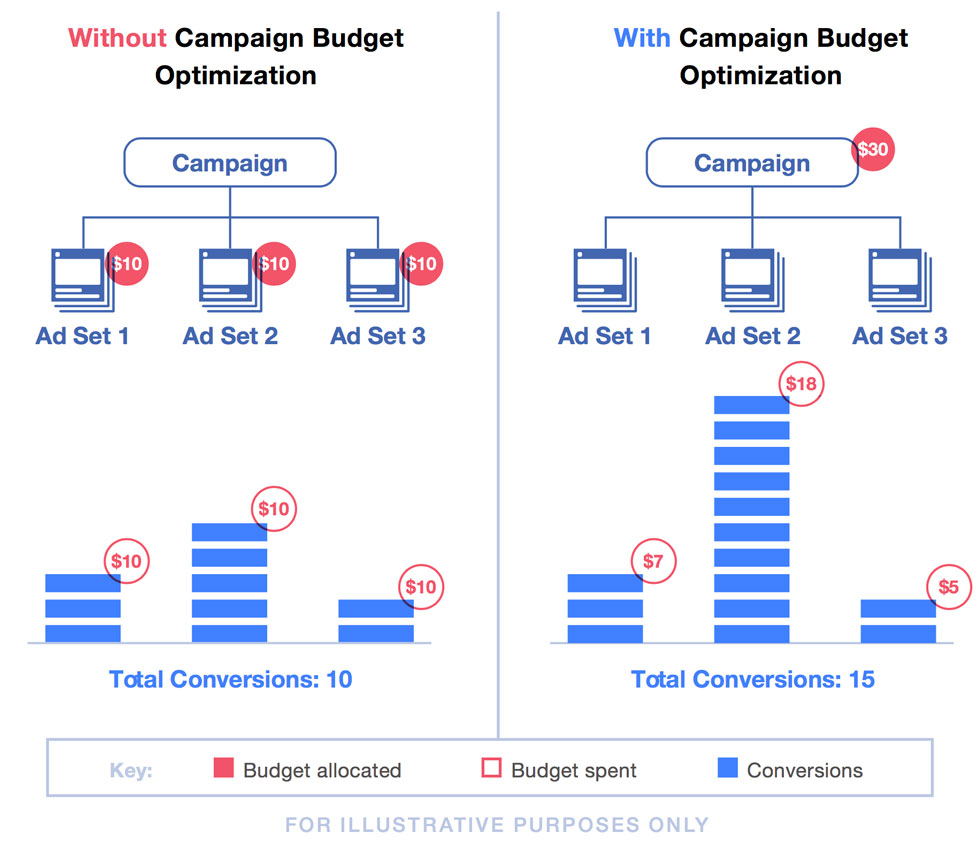 What's the initial opinion?
If you were to read through the countless articles available online, chances are you will come up against a myriad of very different opinions.
There was a general consensus that while CBO could become a powerful resource and something that may greatly help advertisers in the future, it's not without its drawbacks. There were reports of too much budget going towards just one ad set, leaving other without delivery. Day parting is another feature that is unavailable which may affect brick and mortar businesses that open during working hours.
This is a concern for advertisers of course as it limits the use of audiences which had historically performed really well at ad set optimisation level. This is especially relevant to small but potent remarketing audiences which may struggle to deliver within this delivery system.
For such a huge change in the Facebook advertising, there doesn't appear to be much in the way of information around how many advertisers are actually using CBO.
The Funnel Approach
In order for CBO to work effectively, it's important to separate your funnel at campaign level rather than at individual ad sets in one campaign; as many had previously done at ad set optimisation level. This way, you can spread your budget out to ensure all of the audiences within your campaigns deliver effectively. Ensure that the budgets are allocated according to the goal of your campaign. For example, if your intent on driving up the volume of new inbound leads, you should allocate more budget to a prospecting audience who haven't interacted with you before.
TOTF (Top of funnel) : A cold audience who have yet to visit your website
MOFU (Middle of funnel): A warm audience who have entered the funnel but have yet to make a conversion decision
BOFU (Bottom of funnel): A high intent audience who are ready to make a conversion decision
We decided to conduct our own CBO test to discover how effective it really is for delivering results. To do this, we focused on campaigns with two different optimisation goals - traffic and conversions.
We set up test campaigns for a plethora of ecommerce and non ecommerce clients from different industries over the course of June and July. June was the control month where we optimised our campaigns at ad set level. In July, we optimised the same campaigns using CBO. We then compared the results from both months.
The Results
We separated the results by the overall optimisation goal to give a more transparent view on the performance of CBO. We tested ad set optimisation in June against CBO in July for selected traffic and ecommerce conversion campaigns.
For our traffic campaigns, we saw an average -36.5% MoM decrease in cost per landing page views when we switched to CBO in July. The campaigns from the financial services sector actually saw the greatest reduction in cost followed by non-retail B2C.
In terms of ecommerce conversions, we used the last-click attribution model to measure the impact that switching to CBO had on our return on ad spend (ROAS) in July. This is where it got interesting.For our ecomm campaigns with a moderate budget, we saw an average increase of 66.7% in ROAS performance compared to June. However, for campaigns with a larger monthly budget spend, saw a -45.62% decrease in overall last click ROAS in July.
To rule out the possibility of a seasonality impact, we also competed the YoY results of the accounts with the larger budgets. Compared to July 2018 we saw a -47.1% decrease in last-click ROAS performance in these accounts.
The Wolfgang Takeaway
CBO appears to have the potential to be seriously effective in terms of driving low cost metrics for upper funnel content such as blogs, video and general traffic campaigns. However, the jury is still very much out in terms of how effective it is for last click conversions.
For advertisers with smaller budgets and little time for optimisation, CBO seems to be the dream ticket for getting the most from your ad spend. For larger advertisers who need to keep a constant eye on performance and optimise their budgets at scale, CBO is very much a work in progress.
The mixed bag of results indicates that there are a number of kinks that need to be ironed out within CBO in order for it to become an uber efficient resource for advertisers. That said however, there are a number of steps that advertisers can take to avoid some of these potential limitations.
You can set the maximum/minimum amount of budget that you wish to spend on each ad set. This is a very important feature, given the tendency of CBO to bypass ad sets with low audience volumes . By setting a budget control, you are ensuring that each ad set gets a fair crack of the whip in terms of delivery.

One of the most important ways of getting the most from CBO is giving your campaigns ample time to deliver. The algorithm needs space to take a deep dive into each ad set and audience to discover what works. The learning phase is a crucial time so make as few changes as possible in that period to avoid a full reset.
Loading too many ad sets in one campaign is another thing to avoid. Your campaign budget should be large enough to be evenly distributed across all ad sets in your campaign. Too many ad sets will mean that your budget will be spread too thinly and may lead to a decrease in performance.
The delivery system needs at least 50 attributed conversion events from each ad set in order to reach the end of the learning phase. If you are using last-click attribution as your reporting model, it's important to maintain as much control as possible, as CBO can be quite unpredictable in terms of results. One way of doing this is by separating the different audience types (Prospecting, Remarketing) into different campaigns. This will allow you more control at all funnel stages.
Lookalike audiences are another feature which can become incredibly powerful for both prospecting and lower funnel campaigns. By creating a number of lookalike segments with different percentiles (1%, 2%, 3%) and excluding them from each other, you have the potential to reach a huge audience with minimal overlap. With no overlap issues to run into, the delivery system can operate more efficiently and start to deliver conversions very quickly.
Share This Article