By Gavin Stafford on 27 Jan 2020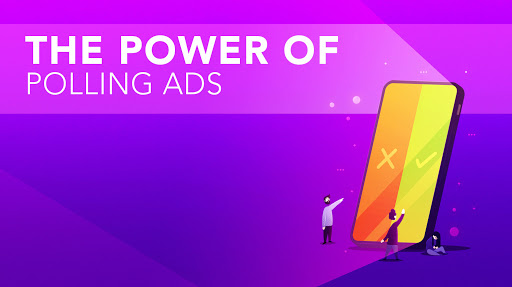 Customer intent. Two words that digital marketing professionals have been trying to figure out for years. Understanding the needs and desires of a target audience is a crucial component of any successful online campaign.
Advertisers generally use data-led insights from previous campaigns and market research to assess the needs and behaviours of their customers. So what if we were to tell you that there was a way you could ask questions to encourage your customers to tell you exactly what they wanted through Facebook. And what if we were also to tell you that you could capture the answers to these questions and create killer remarketing audiences. Are you intrigued? Of course you are!

Tell Me More
2019 was a relatively lean year in terms of new ad formats and innovations from Facebook. One impressive feature which the platform rolled out in Q3 2019 was Video Polling Ads. Simultaneously, Instagram launched an image and video polling advertising option for stories.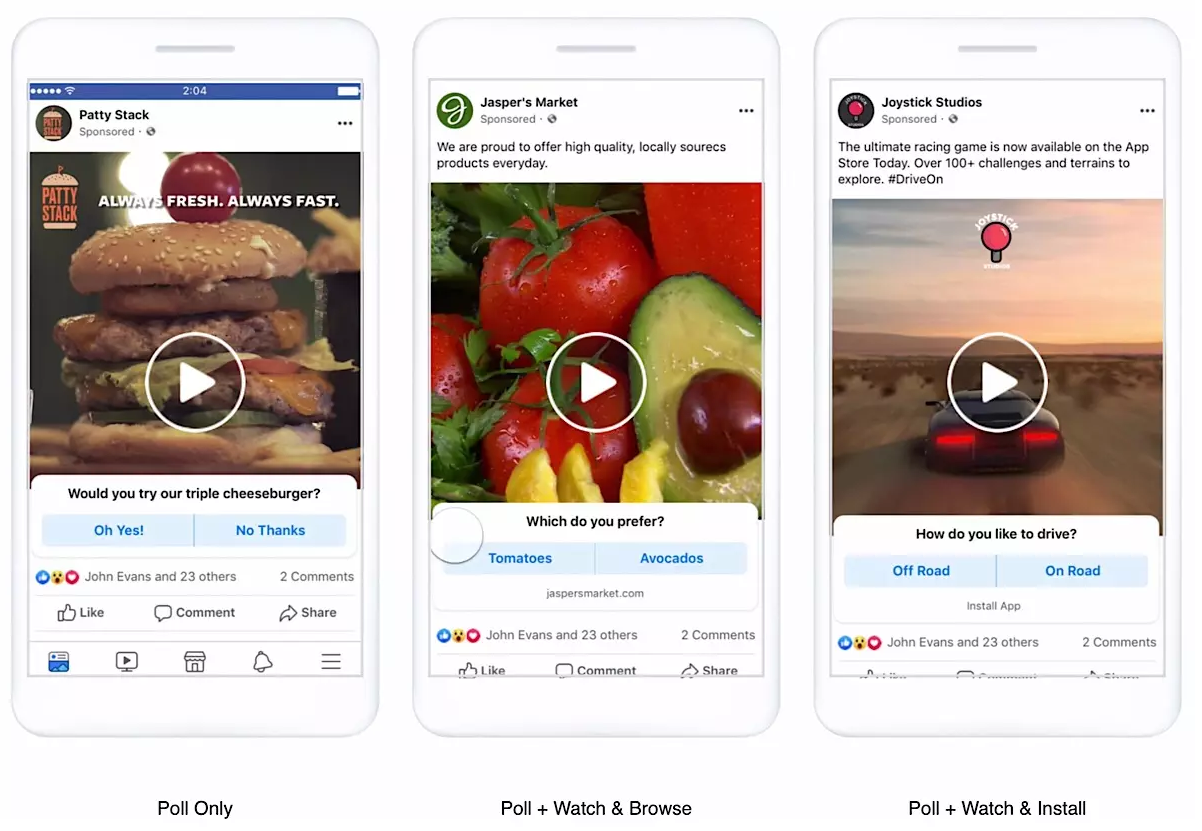 These polling ads allow advertisers to offer their audience the chance to respond to a choice of two specific questions. After the user polls their choice, they then have the opportunity to visit the advertiser's website or download an app.
Advertisers can then extract information around the poll responses to understand how well their targeting is performing and if their content is resonating with this audience. This goal of video polling ads is to offer an interactive and playful approach which will make a specific video more engaging to users. The more appealing the video, the higher the likelihood of user engagement.
Being total data nerds, our social team was extremely excited with the prospect of testing out these polling ads and measuring the results. We identified several accounts which we felt would be ideal for testing this on.
Putting It To The Test
One of these clients was Camino Ways, who offer packaged trips to Camino hiking trails around Europe. For potential customers, choosing which Camino trail to visit is very much a considered decision. So we were using a traditional full-funnel approach to guide users down the path to conversion. We used video for awareness and static and carousel formats for lower-funnel campaigns.
Previously, we were running a standard awareness slideshow video ad which showed imagery of popular trails. While we saw a good average view rate on these videos, the click-through rate and overall engagement level needed improvement.
This made the Camino account an obvious choice to test out the new format, to determine whether it would have an impact on engagement and encourage more users to visit the website.
When setting up the ads, we discovered that we could add relevant landing pages to each polling choice. For example, if a user chose The Portuguese Camino (shown in the example below), they would be directed to this landing page. That allowed us to create highly segmented remarketing audiences based on users choices (see below)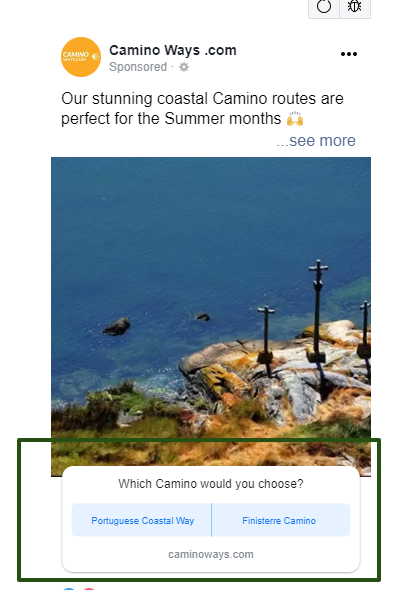 This is quite powerful compared to a standard website remarketing audience, as the user has straight up told us precisely what they are interested in. We were able to view the interactivity results in real-time through the Facebook business manager, which allowed us to make decisions on targeting and content.
After capturing these responses, we could then personalise what content the audience saw next. By choosing which route they preferred, 'Portuguese or Finisterre, we offered the user the power to control the relevancy of the ads they see from Camino Ways. That approach allowed us to capture decision-led data from high intent users that we know may be interested in a specific trail.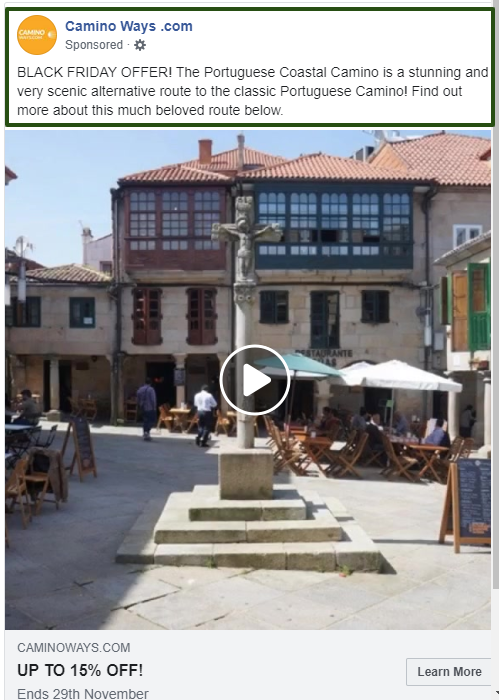 The Results
After just two weeks of testing polling ads for Camino Ways, we saw an impressive 29% lift in engagements compared to the regular video. The average CTR was up by 43% while the average cost per landing page was down by 18%.
With initial results like this, it wasn't long before the rest of the team wanted to start trying these out. We ran polling ads to several B2B and eCommerce accounts. For eCommerce, the polling ads had a 328.9% higher CTR than regular upper funnel videos. In addition to this, there was a 34% increase in video completions from users who engaged with the polling ads compared to regular video viewers.
For business, we also saw a 189% CTR uplift using polling ads over regular video. Furthermore, the average cost per click was 58% cheaper through a video featuring a polling ad than a generic video.
The Wolfgang Takeaway
Interactive adverts will play a vital role in the future of paid social advertising. New formats such as video polling and Augmented Reality ads were developed to give the user the power to control their overall advertising experience and receive promotional content that is relevant to them. According to Facebook's insights, in 5 out of 9 brand lift studies, observed poll ads increased overall awareness of compared to video ads.
Here at Wolfgang, all of our campaigns are developed from real data and actionable insights. So the idea of a user telling us precisely what their conversion intent is and then having the ability to remarket back based on that intent is incredible.
With brands fighting harder than ever before for social advertising space, your ad must stand out as much as possible.
Polling ads can also work wonders for advertisers who are operating on a modest budget but want to focus on awareness as well as lower-funnel objectives. All it takes is a video, a query-based goal and smart targeting. Here is an scenario of how this could be applied.
Let's say your business is an online hardware store. Your main KPI is to drive sales of high-value tools and materials. So you could start by creating an awareness audience and targeting the users with a polling ad featuring a short, branded video with the following poll question.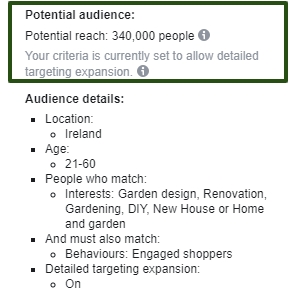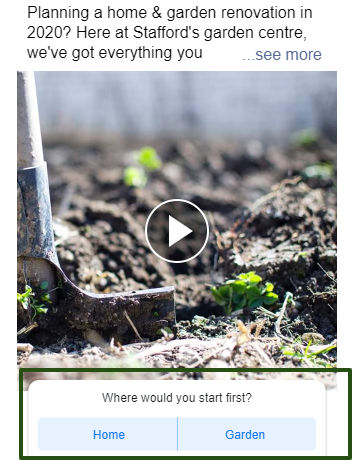 Behind each question lies a link to a category landing page that is relevant to the answer. Once you have enough responses and landing page visits, you can then create your segmented audience and remarket back with products from the very category that the user chose.
Our social team are very excited to see what the future holds for video polling ads and how we can evolve them to become more efficient in terms of driving lower funnel conversions. For brands that wish to maximise their existing video content and conduct free market research into the bargain, polling ads are a no-brainer. They are free to use and simple to set up. Here is a full guide to getting started.
Share This Article