By Iulian Grecu on 29 Jan 2021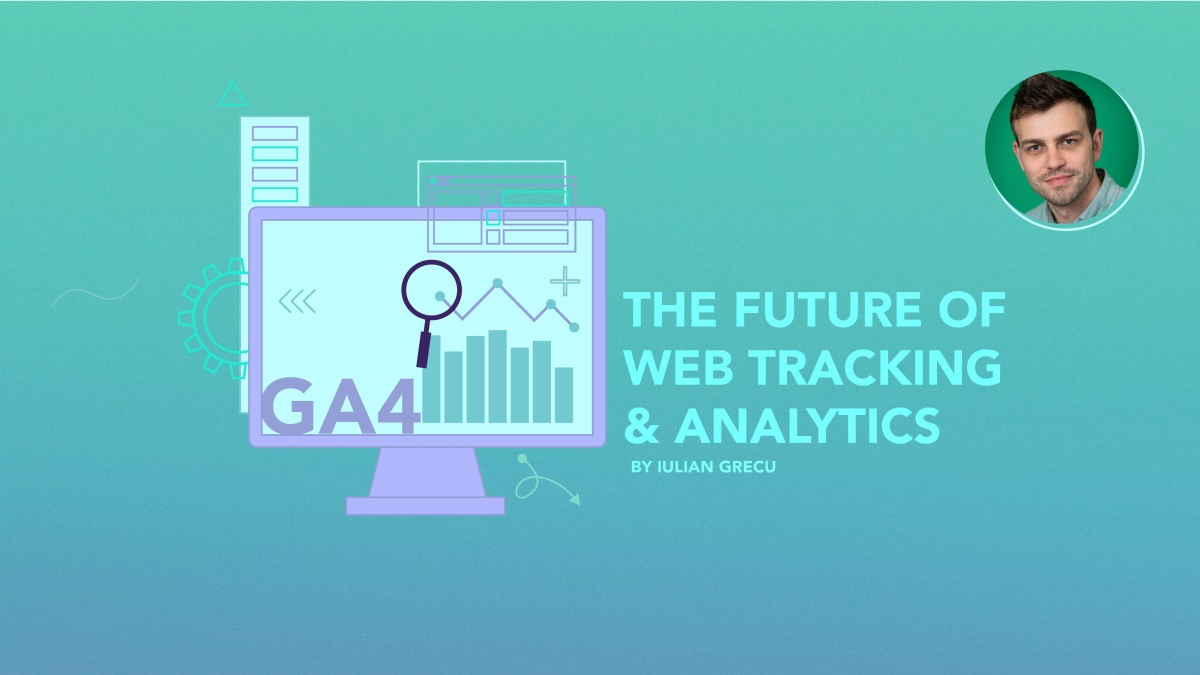 Update March 2022:
You might've heard the news or received an email about Universal Analytics being phased out on July 1st, 2023. UA was a great platform but it was launched almost 10 years ago and with the changes regarding cookies, mobile browsing, and privacy settings, it had a difficult time keeping up.
Google Analytics 4 operates across platforms, does not rely exclusively on cookies and uses an event-based data model to deliver user-centric measurement. (More details here)
You shouldn't wait any longer to transition to GA4 as UA historical data will not be transferred over to GA4. If you still want to continue measuring your digital marketing efforts and have YoY data in 2023, you should get GA4 up and running as soon as possible.
GA4 is a game-changer for website tracking. Even though it has the name Google Analytics, it is not an update to the current GA version, but an entirely new and separate platform. GA4 is a window into the exciting future of how digital marketing is evolving, where machine learning will be leveraged to help us uncover insights and improve marketing performance to ultimately drive business growth.
At Wolfgang, we believe that there are 3 big things driving this change:
Privacy - GA4 gives brands more control over how they collect, process and store the data of their users.
Cookie-less Tracking - GA4 is designed to adapt to a future that doesn't rely on cookie-based tracking.
Customer-centric Measurement - GA4 uses multiple ways of identifying customers to give a more complete view of users during their purchase journey across multiple devices.
"We've reorganized all of the reports that had been in the App + Web beta, added a handful of additions, and now it's organized around the customer lifecycle" Russell Ketchum, Group Product Manager, Google Analytics
GA4 is now the default version when you want to set up a Google Analytics account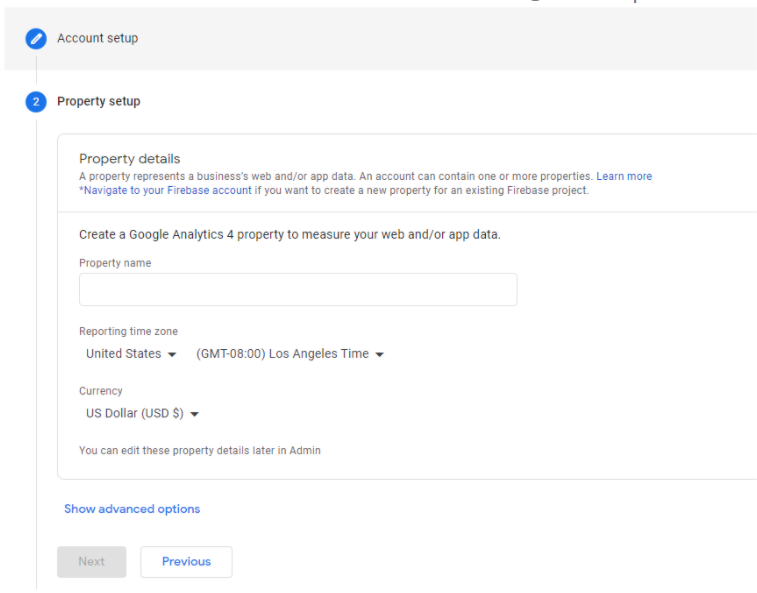 In order to create a UA (Universal Analytics) account, you'll have to go to Advanced options, but you'll be notified it's no longer the recommended option.
Combine Website & App Tracking under one single platform

image source: Google blog
GA4 enables tracking your website and mobile apps under one roof. Cross-device and cross-platform tracking is much easier now!
Automatic Event Tracking
By default, many more event types are now tracked, such as Video engagement, site search or File downloads:

Focus more on users and audiences, not on sessions and pageviews
The new acquisition section comes with two reports: User acquisition and Traffic acquisition.
This is important because you'll be able to get insights into your users and audiences such as finding out what makes them unique, what connections there are between different traffic sources and campaigns and which devices they use. This information will help you to formulate a data-based marketing plan.
New & Improved Search Bar
The search bar now uses machine learning and AI to give you the best answers to your questions, in real time. In the example below, we can see that Google recognised our query and the fact that "phone click" should match the "phone_click" event.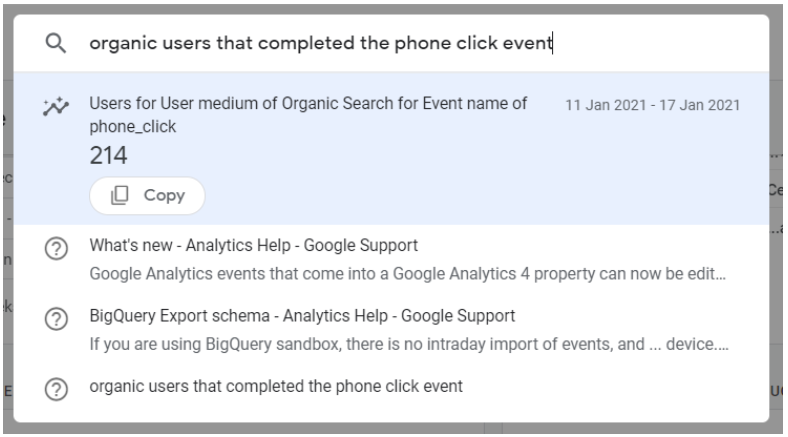 Easier conversions set up
In the new version of Google Analytics, setting up a new conversion means checking a box for any event that should be a conversion. At the same time, you're no longer limited to the 20 goals/view and events can have multiple event parameters and user properties, for more advanced customisations.
Better integration with Google Ads
By default, GA4 creates two audiences for you - All Users and Purchasers. You can be as specific as you want for custom audiences (for example: "iPhone users" from "Dublin" that completed a "contact form" but "haven't purchased", in the last 30 days). Newly created audiences are automatically available in Google Ads if there's a link to GA4.
Robust Reporting & Analysis Tools
The new template gallery makes it easy to create and visualise important business data: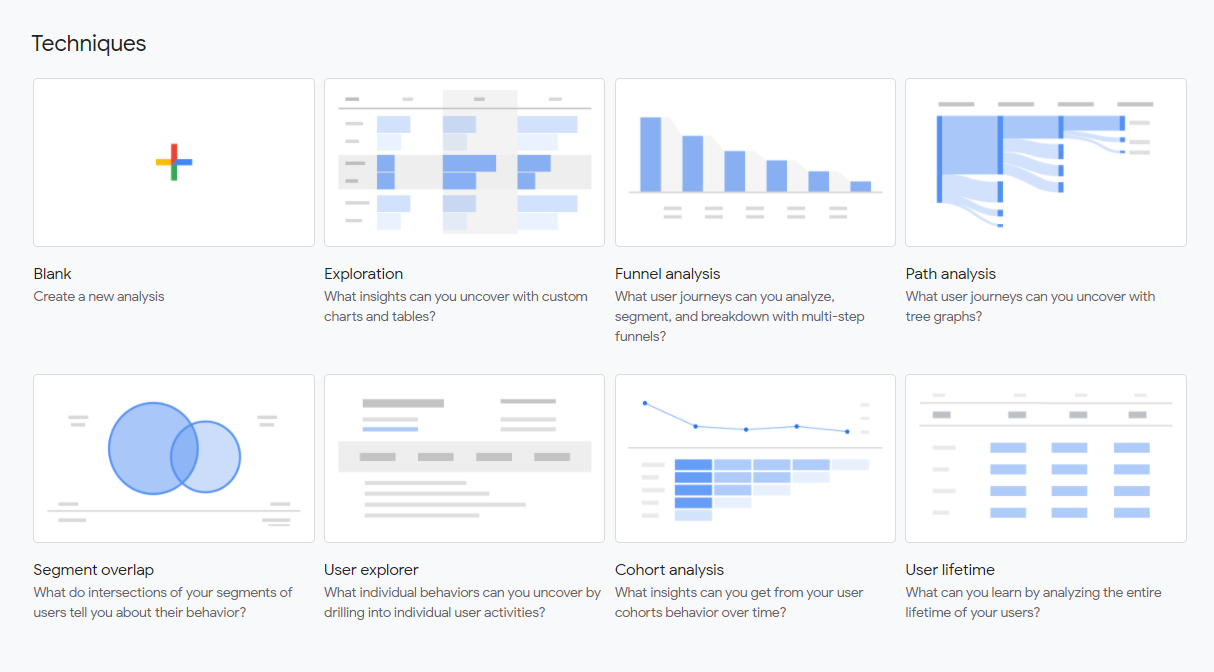 You now have access to a lot of pre-defined templates that allow you to get a better understanding of your business. The Analysis Hub now available in GA4 used to be available only to GA360 users (the paid version of Google Analytics).
One report we find interesting is the User Explorer report, which allows you to see individual user journeys, which actions they have taken on your site and which paths led to conversions. This report also allows you to delete individual users from your report, in case you might need to do that for GDPR purposes.
Should I Set Up GA4 Now?
Definitely! Google's advice is to set it up right now in parallel to your existing Analytics profile and that's what we're helping each of our own clients to do right now. You want to start collecting data as soon as possible, so when Google eventually switches to GA4 only, you're ready to start extracting great insights to make smart marketing decisions.
Furthermore, there are other GA4 benefits that you can leverage now:
It will scale with your business and it is built to be durable and future-proof. It can work with or without cookies or identities. The old GA (UA) will probably receive fewer, if any, updates going forward.
You'll be in a position to make smarter business decisions based on AI/machine learning insights.
You can focus more on users and understanding customer journeys, not on sessions and pageviews. This will provide a more complete understanding of customer journeys across devices.
Our recommendation is to set up GA4 alongside your standard GA (UA) and start collecting data and audiences. You might still need to use the old version until you get used to the new interface and features. If you need help setting up GA4 for your business, we're here to help.
Share This Article