By Martin on 26 Jul 2018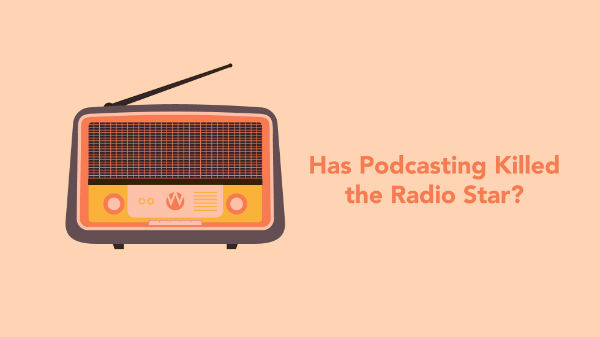 When digital marketing began to steal away budget from traditional advertising, it was the early adopters that won big. While some waited to see if this new advertising channel was worthwhile, fast-acting companies were already reaping in the rewards of first-mover advantage and ever since, vast quantities of marketing spends have shifted away from TV, print and radio towards online. Another disruptive moment is well underway, emphasised by the recent figures on radio listenership in Ireland released by the JNLR, leading me to wonder if podcasting has killed the radio star.
Democratisation of Creativity
At 3XE earlier this year, Wolfgang's CEO Alan Coleman spoke with Blindboy Boatclub of Rubberbandits and The Blindboy Podcast fame. Blindboy has worked hard to create content that engages his audience while only spending a couple of hundred euro on equipment. The reduced barrier to creation is why Blindboy considers podcasting to be such a great example of creativity being democratised.
While that covers the pragmatic side of being creative, podcasting as a medium offers a very different way to connect with an audience versus traditional radio. As Blindboy eloquently puts it:
"Podcasts are not intrusive. Radio is... some prick arrives into your house and starts roaring and shouting"
This really does make sense and to top things off, podcasting has come along within an era of 'cord cutting', where on-demand services like Netflix and Spotify have replaced TV subscriptions and album purchases for many. Podcasts are kind of like on-demand radio, where you get to pick and choose what you want to listen to and when, regardless of the day of the week, month or even year it is.
Blindboy refers to this as being a 'hipsterism', a characteristic of today's digital generation akin to picking out a craft beer in the local offy or grabbing tickets to an indie band. People get a kick out of choosing things for themselves, rather than having it forced upon them.
Some Lad in His Room With a Bag on His Head
Blindboy refers to himself as being "just some lad with a bag on his head", though to be fair most of those who've heard him speak in person or through his podcast knows he's quite possibly the most important mind in Ireland right now. Regardless, the traditional aural media, or radio stations, should be quaking in their boots at what a man in a bag has achieved.
I love Wednesday mornings.

Little bit of fanart for The Blindboy Podcast @Rubberbandits

God Bless, you gammy pan-handler #TheBlindboyPodcast #podcast pic.twitter.com/kKazz3auWI

— Oliver Moore (@revilo_moore) July 23, 2018
The Joint National Listenership Research (JNLR) release quarterly stats and figures for Irish radio stations and their shows' listenership. JNLR day is one, usually, of celebration for Irish radio as they quickly show gains and distract eyes away from losses. I'd argue that this quarter's JNLR day should have been a celebration of podcasting altogether. Some lad in a room with a bag on his head who even had a recent episode where he shouted at his housemate that he was "recording his podcast", has achieved incredible inroads towards grabbing large segments of attention traditionally reserved for Irish radio broadcasters.
Check out this interactive chart for yourself and use the tabs to flick through the data showing Irish listener figures for some of Ireland's top radio shows versus Blindboy's Irish-only listenership figures:
Which one most surprises you the most from this data? Hit the share button and let us know on Twitter.
Perhaps even more impressive is when we compare Blindboy's total listenership for his first six months podcasting with entire radio stations. In six months, Blindboy, using only some basic recording equipment in his Limerick bedroom, had created a listenership similar to that of Lyric FM's 277,000 listenership. RTÉ Radio 1's entire budget for 2016 was over €37 million, but spending only a couple of hundred euro, Blindboy was able to reach a total international audience of a quarter million; 18% the size of RTÉ Radio 1's entire listenership.
That's the power of democratised creativity.
Yet Blindboy Struggled to Get Sponsors
Despite these rather incredible statistics, Blindboy struggled to obtain sponsorship for his show. Whether it was his liberal use of the word c**t or his apparent Republican leanings that put off advertisers, remains unclear but they did stay away. The solution for Blindboy was to adopt an approach that supported creatives back in the renaissance; get patrons.
Simply put, patrons put forward the money to support creativity. The modern-day renaissance is being funded through a website called Patreon, where podcast listeners can make payments to their favourite content creators to support them. Here, we also find another massive Irish success story; Second Captains.
Blindboy regularly thanks his 3k Patreon supports for helping him do what he loves; podcasting. If 3k patrons are supporting Blindboy, imagine what the 11k patrons of Second Captains are providing. In return for patronage, podcast listeners are rewarded with exclusive content, and early access to Second Captains live events, along with even more benefits.
Second Captains, which launched in February 2017 is ranked third most popular, Patreon-supported podcast, earning somewhere between €40k and €85k per month, purely from public funding.
How You Can Profit From Podcasting
Podcasters have a very special following. While some might be worried about sponsoring Blindboy in the fear he'll say something crazy, that's the exact reason why Wolfgang Digital sponsored him. He connected without our office in a way no other creator or sponsorship opportunity did. It also allowed us to reach a sub-segment within an audience we normally wouldn't be able to.
While it can be challenging to create a podcast and snip out a niche for yourself, the rewards are there to be seen. Earlier this year, Reuters Research showed 38% of Irish people surveyed had listened to a podcast in the past month. That means Ireland is only behind South Korea, Hong Kong, Taiwan and Spain in terms of podcast adoption, well ahead of the UK's 18% and wider US' 33% listenership.
The Wolfgang Essential Takeaway
Ireland has always had a special love affair with audio. Whether it be our seanachai storytelling heritage or our obsession with the death notices on the radio. Audio and storytelling have gone hand in hand for years, but with podcasting our heritage is simply moving to a new platform. Be sure you're ready to move with it.
Share This Article