By Martin on 15 Mar 2018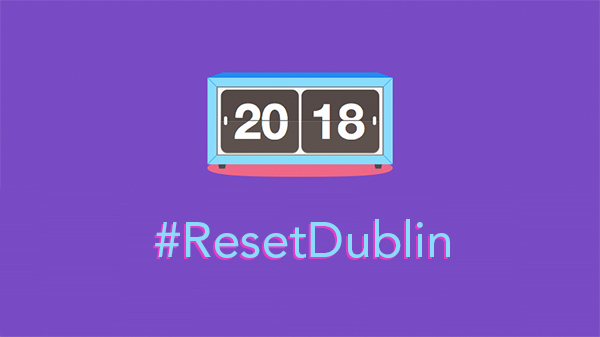 There has been a crazy start to 2018 for the world of social media, brought on by world events and the platforms making big changes themselves. While the headlines have been dominated by Facebook's algorithm change so far, Twitter as a few aces up their sleeve for the battle ahead. We crossed the road and joined Twitter in their EMEA HQ for #ResetDublin to find out what Twitter has planned for 2018.
Michaela: Head of Content
In one way, it's odd to hear one of biggest social media platforms rattle on about video being a major focus; but it's also exciting. Chatting with some of the Twitter heads before the event started, it was interesting to learn that now the company is profitable, they're able to shift budget around and focus on new areas. With that in mind, it's really exciting to think Twitter might be a bit behind but that they're doubling down on catching up.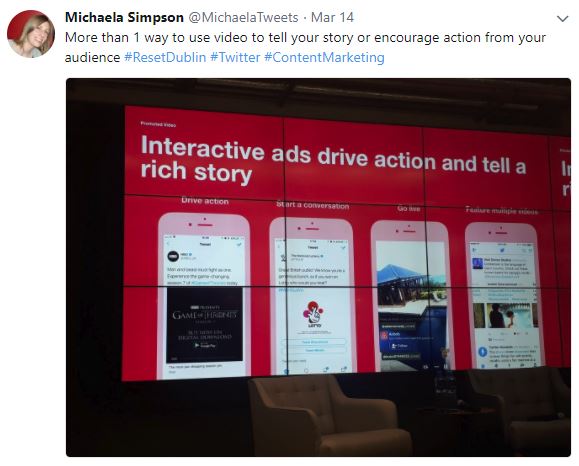 What they're bringing to the table is really exciting for content marketers who are looking to tell a full-funnel story through multiple new video ad formats.
They also, I'm sure completely by accident, let slip just how much influence Twitter has in Ireland, now boasting over 1 million users. If Twitter has become a second class channel in your strategy, now is the time to rethink that.
Finally, I was blown away by what Feargal Purcell from Edelman Ireland had to say: "the press release is dead". I'm completely on-board with this and there are so many ways you can get your message in front of journalists or instead leverage individuals with their own audiences - yes I'm avoiding the word "influencer". Still, to hear Edelman's Director of Public Affairs slate the long-standing relic of public relations, the press release, was incredible.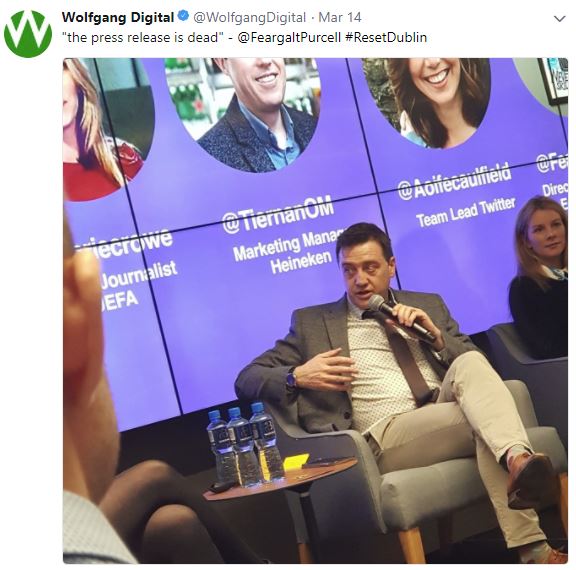 Anna Spyridopoulou: Social Media Executive
It really looks like we're in the middle of a perfect storm right now. Apparently, Facebook ad costs have spiked since their algorithm change and today Twitter told us their promoted video CPCs have decreased by 45% since last year. The maths is pretty simple here and it looks like it's time to invest in your Twitter video campaigns and see what these new formats can do. Airbnb were held up as an example with their video polls encouraging engagement. There's no shortage of reasons to experiment with Twitter's diverse selection of video formats and I'm looking forward to testing the likes of First View, polls, carousels, video website cards and live streaming more and more.
Video website cards are really exciting. These autoplay video ads give people a nice, straight-forward, link to your site while remaining really engaging. Twitter called these out because they deliver twice the CTR of regular mobile video ads.
Marty: Content Marketer
I'm a big fan of Silicon Valley and I remember the guys behind obsessing over Daily Active Users as their key metric. Fast forward a few years and Twitter are at the same craic! It makes a lot of sense for Twitter to join Snapchat in considers DAU as their core metric. By focusing on getting more and more users into their platform every day, Twitter has cleverly created more advertising spots for brands, subsequently reducing CPCs for advertisers.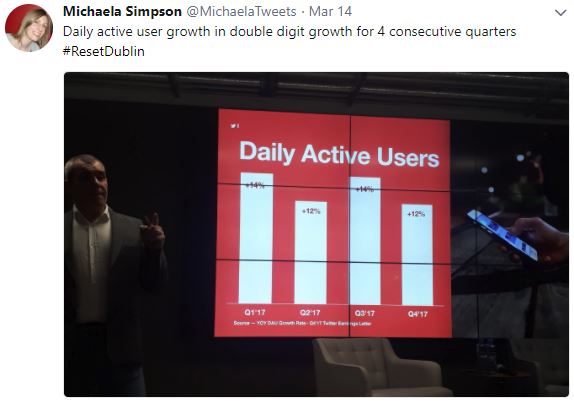 From a much broader viewpoint, it's fascinating to see Twitter and Facebook take such different stances on where they belong in the world. Facebook is tweaking their algorithm to focus on the content created by family and friends. Twitter, on the other hand, are moving towards news and the "what's happening" in the world. I know when a rolling Garda motorcade and a black limo whizzes past my house, Twitter usually has the answer as to who that was.
That's not to say one is a better advertising platform that the other. Instead, I think these are two totally different platforms and if your campaign or message isn't resonating on one, it's a good idea to try the other and diversify your distribution.
Gus: Content Specialist
It's funny how some metrics and numbers can be staring you right in the face, but their weight doesn't hit you. Twitter highlighting that Alan Sugar has more followers than most of the British press put together is an incredible stat. His take on it is brilliant too - he uses his following to correct bullshit stories that get written about him by using his Twitter account. He's a genuine thought leader and through Twitter, you have direct access to media outlets, market influencers and your customers. He reckons more business leaders should be on Twitter.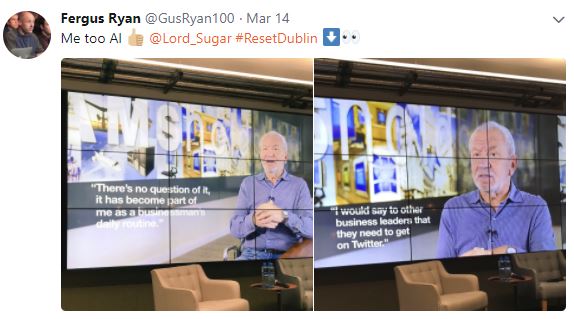 I didn't see too many people chatting on the #ResetDublin hashtag, so maybe this went under the radar a little but Twitter have been making some great tweaks to their timeline. Just like Facebook, it's going to be neigh-on impossible for Twitter to deny their a media company as they are curating content more than ever. The new timeline will rank content and show more balanced opinions on topics regardless of who you are following. Moments have been one of the most noticeable innovations in Twitter's timeline but trending tweets, trending hashtags and the Explore tab are all contributing to a richer Twitter experience.
Finally, during the panel discussion, Tiernan O'Mahony from Heineken said there was a need for corporate marketing teams to learn how to use social and Twitter to get brand messages out. Using your expensive, long-form traditional marketing approach and assets just won't cut it on social. Brands also need to have a budget for planned reactive marketing - just look at how Lidl handled the fallout of Sneachtageddon.
Gavin: Social Media Specialist
With a lot to digest from #ResetDublin this morning Twitter's plans to offer one brand per day the opportunity to own top spot is really exciting. Based on Omnicom research, people's memory response is highest in the first 30-seconds of a Twitter session. Twitter's new product offering allows brands to buy the second spot users will see when they open their Twitter timeline. This will cost brands around €6,000 per day and to sponsor a hashtag will cost more. Even though those prices might seem a little hefty, you will be placing your brand in front of a huge number of Twitter users. Remember, they have 1 million Irish users and now they are focusing on driving Daily Active Users. This could be the best €6k you spend on your marketing budget in quite some time.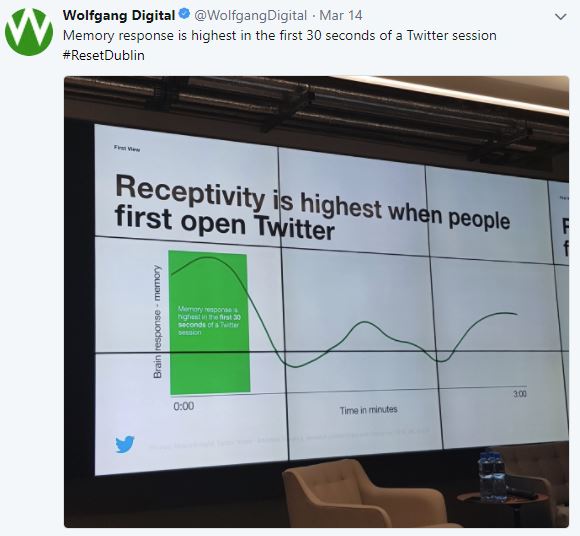 The Wolfgang Essential Takeaway
Twitter is certainly going through a revival right now. They have made a profit and found their unique place in everyone's daily digital lives. Twitter now brings people the "what's happening" of the world and will be driving people towards more content consumption than ever before. Twitter's focus will be video as they seek to deliver content to users who arrive on the platform in a discovery mindset.
For advertisers, Twitter now says 99% of their ads are viewed by humans; following a massive clean-up removed bots and fake accounts.
Have you started to use Twitter more in 2018 and can you see the benefits for your brand? We'd love to hear what you think in the comments below.
Share This Article