By Alan Coleman on 10 Dec 2020
Ireland's Online Economy Q3 2020
During the financial crisis a decade ago, early adopter businesses sprung online in an effort "to do more with less".
Over the next 10 years the middle of the market moved online.
In the Covid crisis we are currently living through, the laggards have been forced online – not just the laggard businesses, but the laggard consumers too. Ireland's wealthiest demographic was also the least likely to shop online, but as a result of Covid, over 65s have learnt to cocoon at home and checkout online.
This mass displacement of supply and demand from the offline to the online economy has meant that at the end of Q3, online revenues for retailers were double pre-Covid levels; that is before cases surged and shops closed once more in October.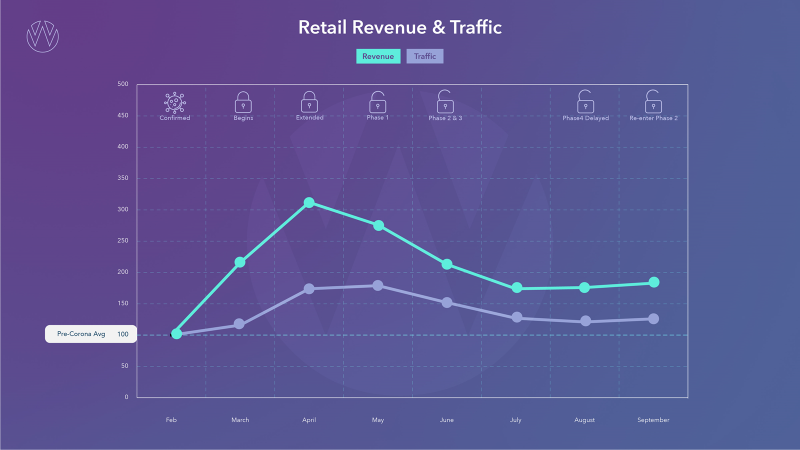 It has been an odd recession. For many consumers, it's not that they don't have the money to spend – it's that they don't have the freedom to spend it. A strange inside-out version of austerity.
Another way it's an unusual recession is that ad spend in certain areas is up. Rub your eyes and read that again: we are living through the sharpest recession on record, and ad spend in places is up!
How has this happened? Have the traditional ad men finally convinced CFOs and CEOs that advertising during a recession is the best time to increase share of "brand voice"?
The real answer is that the part of advertising that's up, is the part of advertising that speaks the language of CEOs and CFOs: cold, hard commercial metrics.
Google and Facebook, the world's biggest performance advertising companies, are up double digits YoY in Q3. Double-digit growth while economies are suffering their sharpest retraction in history.
At Wolfgang, our second favourite metric is ROAS: Return on Ad Spend. It measures money spent on advertising against revenue from that ad spend.
And incredibly, it's not only ad spend that has increased year on year. ROAS on Google and Facebook have increased year on year too, meaning advertisers are getting more bang for their buck from the internet giants than they were a year ago.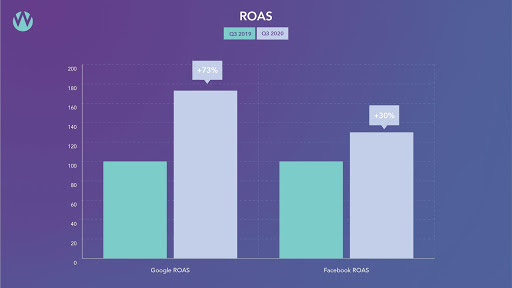 How do we explain the increases in ROAS?
1/ On the cost side, cost per clicks have decreased. Locked down people are spending more time with "face in fone". This has increased ad inventory. The 'real-time bidding' auction mechanism means that an increase in ad inventory will reduced cost per clicks.
2/ On the demand side, conversion rates have increased. The Revenue and Traffic graph earlier in this article illustrates how the post-Covid revenue leap is far greater than the post-Covid traffic leap. This means that revenue per click has increased.
The combination of clicks getting cheaper while simultaneously yielding more revenue has led to a widening of ROAS.
This explanation of the dynamics of Return on Ad Spend demonstrates that the most successful advertising in 2020 speaks the language of Wall Street more than the language of Madison Avenue.
The same language as the CFO and her CEO.
Another question you might ask is why is Google's increase in ROAS so much more pronounced than Facebook's?
The Google Artificial Intelligence machine is the answer.
In 2017 Google announced they were now an "AI first company" – in 2020 their technology caught up with their vision. Google's AI means that advertisers could hand over the management of their campaigns to the Google machine. The machine can see a person's:
Search history
YouTube views
Google Maps locations
Emails
And they can even engage in conversations with them in their home.
You could say these "signals" give the omnipotent machine more knowledge of the person's needs and wants than the person has themselves. Advertisers can now hand over their budget to this machine, input their desired ROAS, and allow the omnipresent machine to go to work placing ad impressions wherever people most likely to convert are found – and Google has ad impressions everywhere.
Incredibly powerful advertising. Scarily powerful advertising.
But when the same machine is available to your competitors, how do you out-market them?
How do you get the machine to work harder for you than for the competition?
In Wolfgang, one of the most successful strategies we've applied to the Google machine is PROAS bidding.
I mentioned ROAS was our second favourite metric; PROAS (Profit Returned on Ad Spend) is our favourite. PROAS is a metric we invented in conjunction with our innovation-hungry client, Littlewoods Ireland. It makes the Google machine work hard to deliver profitable sales. By optimising the information on product profitability that we input into the machine, in this case product feeds, it allows the machine to use all its power and all those signals to grow advertisers' top line, and the bottom line too.
We've learnt that PROAS is favourite metric among our clients too. Unlike some traditional ad metrics, it's appreciated outside the marketing team.
"Brand voice me arse" sniggers the CFO to the CEO.
Share This Article