By Michaela Simpson on 1 Nov 2018
Continuing a tremendous year for awards, Wolfgang Digital has picked up the trophy for Best Marketing & Communications Blog at the Irish Blog Awards last week (October 25th).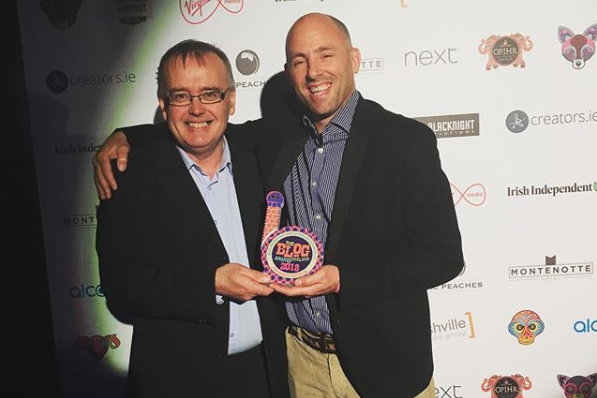 This follows a string of global awards success this year for the independent Irish digital marketing company. Recent digital marketing campaigns won plaudits at the 2018 Content Marketing Awards (where they won for Best Paid Advertising/Content Marketing Integration for their work with Tesco Ireland), as well as bringing home Best Large Integrated Search Agency at the European Search Awards earlier this year and a third consecutive Grand Prix Prize category win at the Search Engine Land Landy awards.
"We're proud of the work we do, of course," said Michaela Simpson, head of content for Wolfgang Digital, "and we invest a lot of our time in keeping bang up to date with the latest innovations in the digital marketing landscape. Rather than keeping this knowledge all to ourselves, our blog is where we've committed to sharing it with the wider digital marketing community. I think our video series, Wolfgang Bites, has been a game changer in allowing us to communicate nerdy numbers and principles in a genuinely entertaining way."
The Irish Blog Awards have been running for the past seven years, showcasing the very best in Irish blogging and online media. Wolfgang's blog triumphed over a thousand other entries in its category.
Sign Up For Monthly Updates
For an innovative, practical and (sometimes) quirky take on what's important in digital marketing right now, you can sign up to the newsletter (scroll down!) to receive the best of the blog, once a month, directly in your inbox.
And if you'd like to pick Wolfgang's brains about digital marketing, SEO, content, AdWords or emerging digital disciplines, feel free to get in touch.
Share This Article