By Roisin Linnie on 5 Apr 2023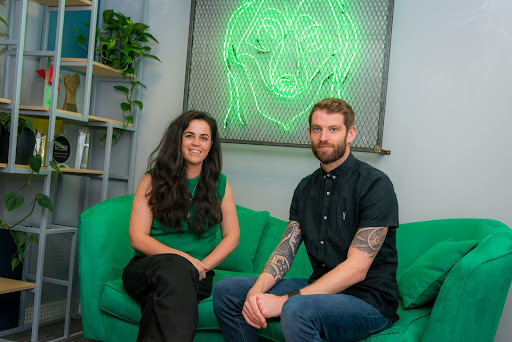 The growth of TikTok has been phenomenal. The user growth that they have achieved in only 4 years, took Facebook almost 7 years.
The challenge for TikTok now (as it was for Facebook and every other social media app) is to make the shift from attracting an audience to attracting enough advertisers to make it a sustainable business. After all, advertising makes the World Wide Web go round.
When we look at our own Wolfgang dataset, we can see that while spend on TikTok has increased by 800% YoY, it's still only a fraction of the amount spent with Meta (5% to be precise). Advertiser adoption has been slow, but is accelerating rapidly.
We've analysed TikTok performance over the last year to see exactly what the advertising opportunity is. Here's the data.
TikTok is cheaper than their competitors
The first opportunity is the cost. Since user growth is outpacing advertiser adoption, there's a massive cost efficiency for advertisers using TikTok. Here's how it compares to Meta (i.e. Facebook & Instagram):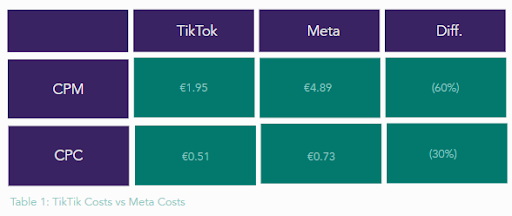 CPM (the cost for 1,000 impressions), which is an indicator of reach, is considerably cheaper on TikTok. In fact, it costs 2.5 times more to reach the same number of people on Meta.
We also looked at the CPC (cost per click) which is typically a proxy for the cost of getting the user to click on the ad and visit your website. Again, TikTok offers value here with CPC's 30% cheaper.
TikTok users are more engaged and less likely to leave the platform
Beyond reach, advertisers are obsessed with how much users engage with their ads (like them, share them, comment on them).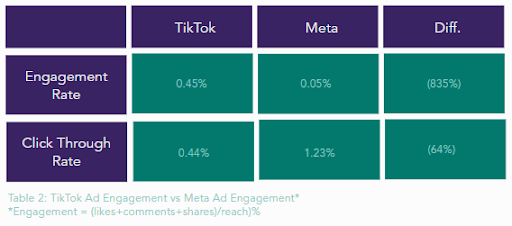 The Engagement rate on TikTok ads is 835% higher than Meta. This is likely due to the authentic nature of the ads on the platform, where they often don't look like ads leading to a much higher opportunity for audience engagement.
Your chances of driving comments and shares are far higher on TikTok but one of the interesting features of our data is that users on Meta are almost 3 times more likely to actually click on an ad. So, why is that?
Part of the reason might have to do with how TikTok ads are designed. TikTok ads appear like any other full-screen video on the platform, so they aren't always immediately discernible as ads. In addition, TikTok's mantra to advertisers in 2022 was - "Don't make ads, make TikToks."
Perhaps another reason is that the TikTok algorithm is particularly good at showing users content they like/want so that users can't bear to leave the app. The TikTok lost hour is real.
TikTok's impact on sales
So, for advertisers, TikTok is cost effective to reach and engage with an audience but more difficult to prise them away from the clutches of the algorithm than that of Meta.
Ultimately though, the main reason advertisers use either of these platforms is to grow sales. How does TikTok perform here?
This is where things get tricky for advertisers. The return on ad spend (ROAS) offered by TikTok ads is 26% less than Meta, but still a very healthy 11x return on an advertiser's investment.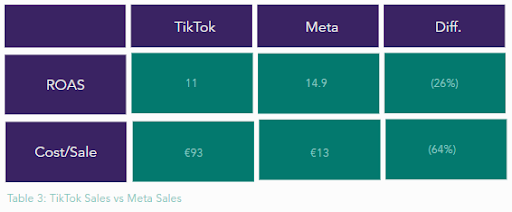 However, we've already outlined how users are less likely to leave the TikTok app (see table 2), which means that when measured directly, the cost per sale for TikTok is 7 times that of Meta.
That doesn't tell us the full story though because we know that users are influenced by the ads that they see (but don't click) on TikTok.
According to recent research, 49% of TikTok users purchase a product or service from a business after seeing it advertised or reviewed on the platform. Take #TikTokMadeMeBuyIt as an example of its influence. This hashtag has over 6 billion views and showcases the vast amount of products that users have been influenced to buy.
Check out this case study to see how we used TikTok to tap into a new demographic and grow client revenue by 30% YoY.
Ways To Measure TikTok's Impact On Sales
At Wolfgang we've been testing alternative ways to measure TikTok's impact on sales. Here's what we have learned:
1. TikTok has a measurable impact on searches for a brand. In one case we measured a 10% increase in brand searches that correlated with initiating TikTok activity. These sales might have been inspired by TikTok, but credit will go to Google search.
2. TikTok has an in-store impact. We tested this with some clients where we selected niche products that were only promoted through TikTok. In store sales uplifts of between 25% and 35% were recorded. (Check out this case study to see how TikTok's in-app shopping experience translated to a 1054% uplift in the number of Add to Cart events).
Neither of the above examples are perfect and there are undoubtedly external immeasurable factors, but our confidence is growing in TikTok's ability to influence sales. The challenge is that current ways of measuring digital marketing performance are unlikely to reveal the full impact.
Ultimately, when you create an app that is designed to keep users on it, the way we measure the advertising impact will need to evolve.
What's the Wolfgang Verdict on TikTok Advertising?
Meta and Google have had a vice-like grip on digital ad spend for a number of years. The wider industry will benefit from the competition that TikTok brings to the ad ecosystem. Every platform will be forced to innovate and get better as a result.
Right now, TikTok offers tremendous value for advertisers to get their brand in front of a highly engaged audience. That won't always be the case as more advertisers join the platform. There is an early adopter advantage here.
If you currently measure the impact of your digital marketing via last click attributed sales in Google Analytics, you'll be disappointed by TikTok performance. In fact, you'll be disappointed by all channels that aren't Google. Expanding your measurement protocols to brand searches, share of search and in-store impact will give you important additional context on TikTok's true performance.
Check out our case studies to find out more.
Share This Article