By Luke Fitzgerald on 1 Jun 2016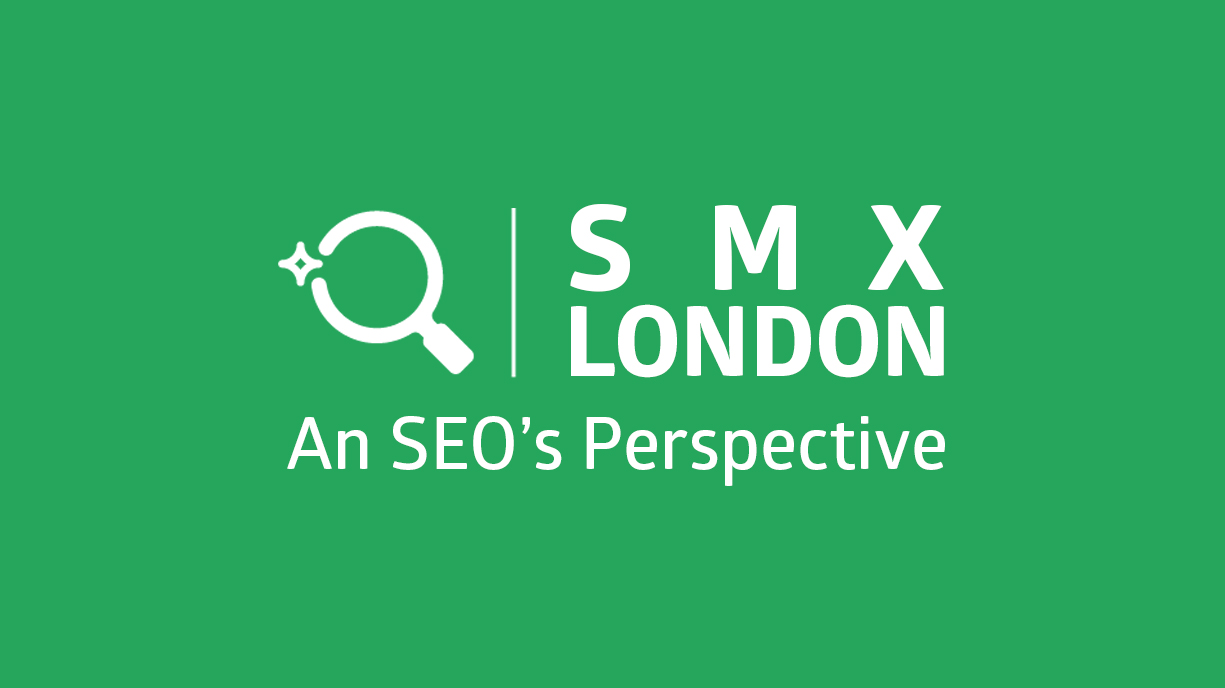 Key Takeaways from SMX London – SEO and Advanced Tracks
Q. What do you get when you send a perennially-injured Irish rugby union star and a prophetic, deceased Beatle to one of Europe's leading Search Marketing Conferences?!
A. Why, Luke Fitzgerald and John Lennon at SMX London, of course!
We were delighted to get the opportunity to rub shoulders with the cream of the crop on the international SEO and PPC circuits less than a fortnight ago and now that I've finally caught up on the work missed while away, I'm delighted to share some of the key takeaways from both days of this distinguished event in the beautiful ETC Venues conference centre in Bishopsgate on May 18th and 19th.
There were three of four top-notch speakers covering each session, with some notable mentions I'll reference at the end - particularly in the technical SEO audit session that warrant more attention - but in the interest of getting some work done today, I'll try and keep this one short and snappy with a summary of some of the topics, slides and personalities I enjoyed the most, whilst also sharing some tools, key learning points and indeed the decks themselves for those keen to dive deeper into the wonderful world of cutting-edge SEO presentations!
Day One
Topic: Content, Keyword Research & The Art of Audience
Speaker: Danny Chadburn
Summary: Interesting theme of bridges as an analogy for pieces of content throughout the deck, with some great examples and smart use of contrast to illustrate the kind of bridges which cost a lot, turn heads and make a real difference in the grand scheme of things versus shoddily-built, low-cost, poorly-executed bodies of work which we've all seen enough of in our time!
Tied into the lovely imagery of course, was solid business data, and the use of SEM Rush 'keyword difficulty' tool to rank how good the competing websites are on a given keyword was both interesting and reassuring as it's something we've been championing here at Wolfgang for a while.
Danny also has his own beard oil company – and a fantastic beard to boot – and despite the shameless plug on his part, did very well bring the bridge theme full circle and illustrate how a good content strategy can work wonders for a brand, in the form of a beard oil recipe generator his firm Ayima have rolled out for Holland & Barrett in recent months to much niche fanfare and of course, some nice backlinks!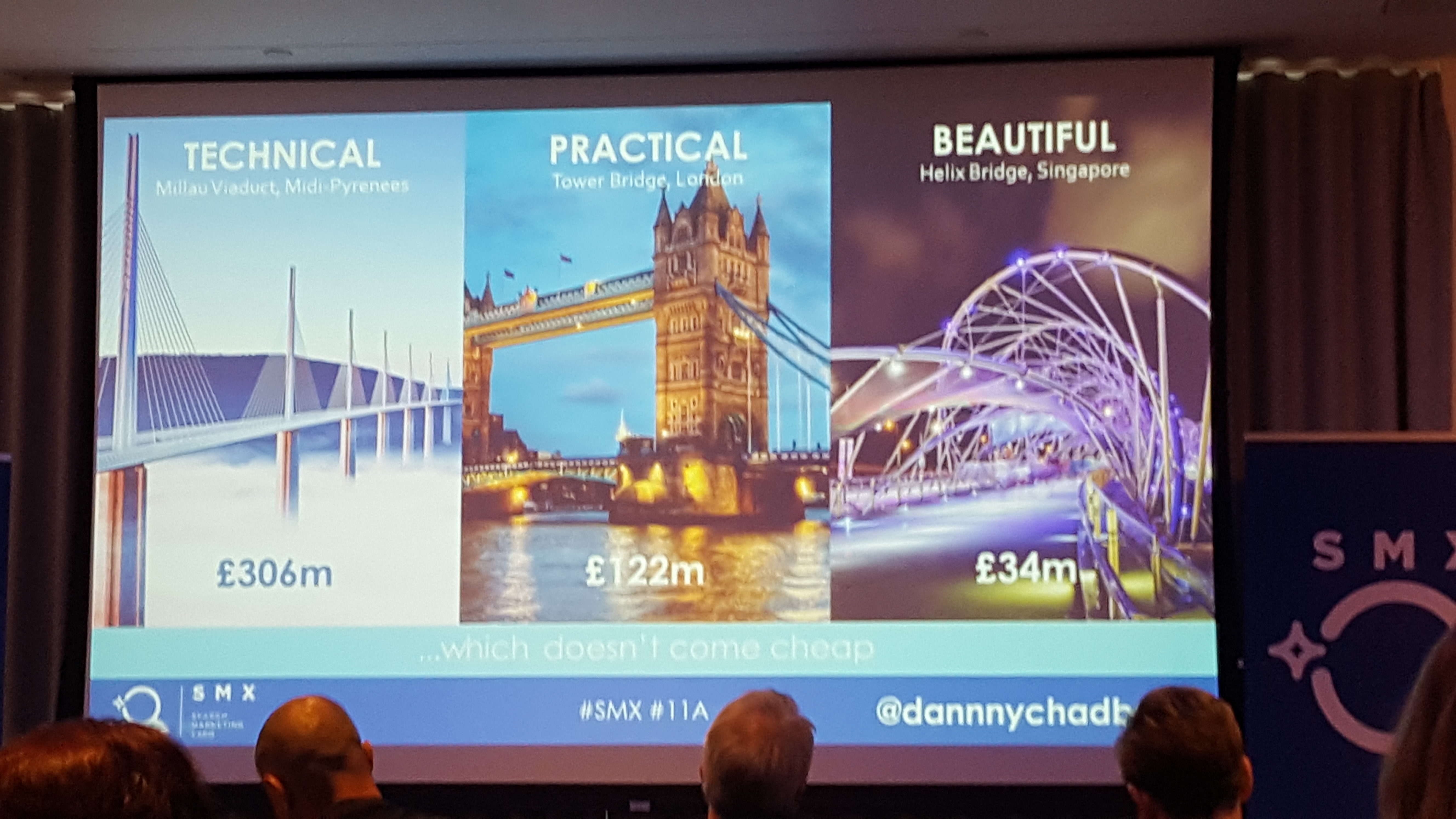 Topic: Link Auditing & Cleanup for Fun and Profit
Speaker: Christoph Cemper
Summary: Christoph is one of these larger-than-life characters you can spot a mile off (even without the distinctive orange jacket he was sporting on both days!). But beneath the quirky exterior is a solid, progressive, brilliant SEO who's spent the guts of two decades developing, continually innovating and investing in his beloved Link Research Tools suite to help link portfolio management - and particularly detoxification in the wake of Penguin penalties- that little bit more bearable for SEOs. In a sense, he was preaching to the converted, as I've had first-hand experience in using his tools to great effect but I'll stop short of plugging him and get back to the deck!
Demonstrating a great blend of old-school SEO know-how on how 'nothing still beats links' and highlighting some of the modern pitfalls at falling victim to negative SEO, this was a really insightful deck for anyone actively engaging in link acquisition work. The notion of 'proactively disavowing' was prominent throughout, stressing the need for monitoring links as they appear in the wake of Google latest and perhaps last ever link-related algorithm update, Penguin 4.0, aka 'Real-Time Penguin'.
The effects of disavow files on crawl budget were interesting, and quite new to me, with evidence suggesting that it can take around 9 months for a disavow file to be turned around in the wake of a link-related manual action notification, hence the need for pro-activity and ensuring you're getting the right kind of link from the outset and periodically disavowing the wrong kind on the fly.
Christoph's firm has recently unveiled the new 'PowerTrust' metric, which looks set to give Moz's Domain Authority and Majestic's TrustFlow a run for its money as SEOs seek an alternative to Toolbar PageRank in their quest for continual re-assurance that what they're doing isn't pure spammy nonsense!
He also highlighted one of the new features his team have been working on which addresses the notion of analysing and measuring the quality of a site's outbound links, to combat Google's recent actions around the topic. This is pretty cutting edge and seems to have given them first-mover advantage on this particular functionality, watch this space for the others to follow suit in the coming months!
You can check out and download this new tool for yourself as well as grab their excellent new Browser Extension for Firefox or Chrome, I was going to post a link but in the wake of this development, I probably shouldn't - it's in the deck below! Bit of a double-edged sword that revelation, Christoph!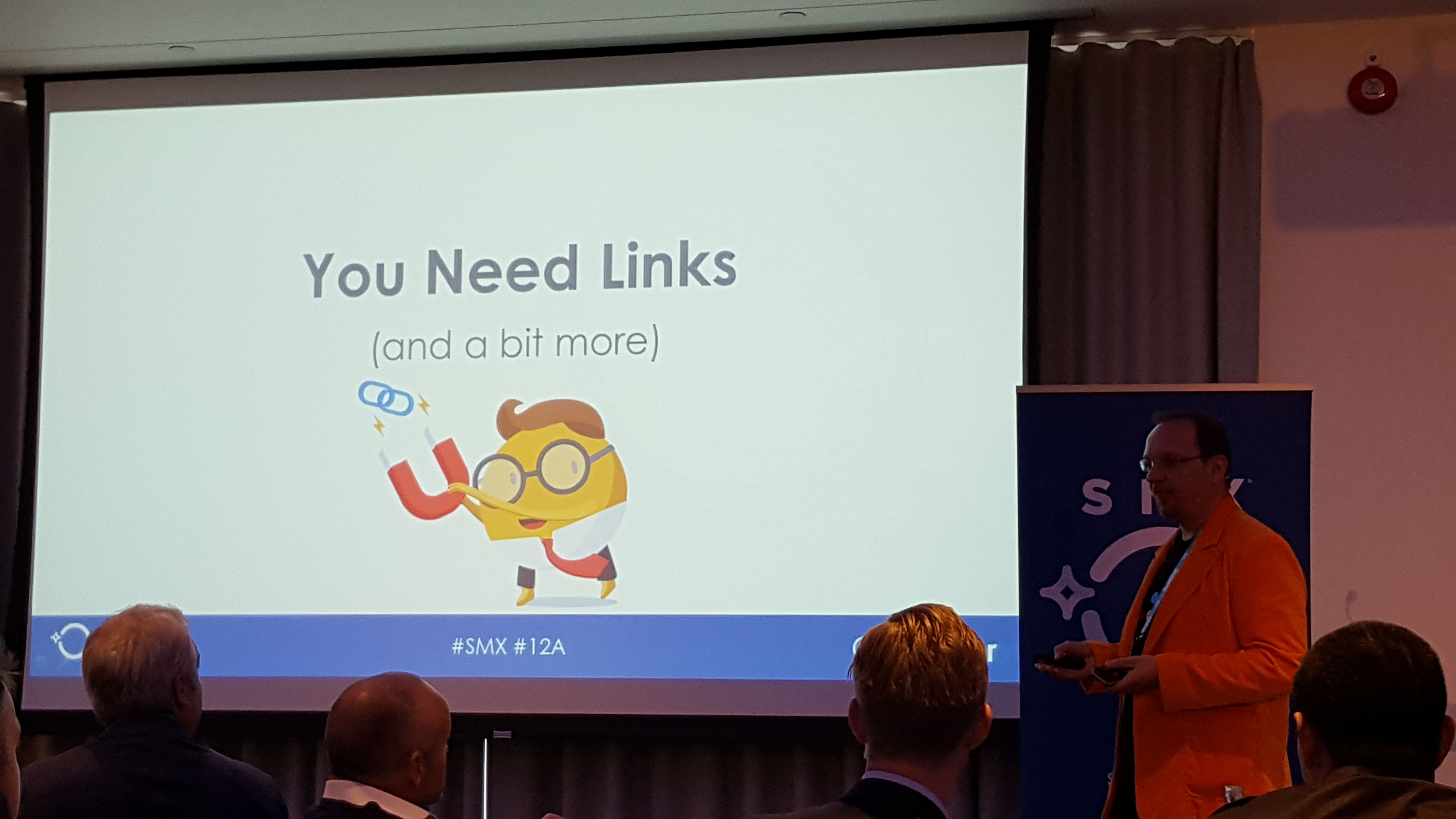 Topic: The Latest in Advanced Technical SEO
Speaker: Aleyda Solis
Summary: This was probably the pick of the bunch for me amidst a really strong showing from pretty much all the speakers on day one of the event. Judging by the sheer volume of scribbled notes I have in relation to this deck and the tools and methodologies contained within, it's definitely the one I've had the most actionable takeaways from and the one which I'm most confident will make me a more accomplished digital marketer if I take even half of it on board!
I've been a huge fan of Aleyda's work for quite some time now, using her excellent, and completely free Hreflang Tag Generator Tool on a frequent basis for implementing robust international SEO strategies for our clients. So it was great to get inside the mind of a proven thought leader and get a glimpse of the kind of methodologies she follows when tasked with auditing a website for the first time. That's a large portion of our SEO team's work here at Wolfgang so I was keen to not only learn more and improve upon what we're currently doing but to validate some of the processes we are currently utilising; I wasn't disappointed on either front.
The most impressive thing about Aleyda, her supreme confidence and excellent presenting skills aside, is the ease at which she's able to communicate some pretty nerdy topics to a broad range of SEOs ranging from newbies to advanced, in a manner that just makes sense and doesn't make the eyes glaze over. Her application of the Screaming Frog Log Analyser was great to see as it's something we've been dabbling with and I now know the level we need to reach to really unleash its full potential to determine where crawl efficiencies can be made.
Aleyda also introduced me to the notion of using log analysis in conjunction with a new cloud-based tool called Loggly which can help compare and contrast log files, analysing gaps between crawl simulations and logs to determine whether bots are expending crawl budget on pages that shouldn't rank or to weed out inconsistent URL status codes; something I'm keen to explore in more granular detail once the next requirement for log analysis lands on my desk!
Other tools covered include OnCrawl and Botify, two other excellent crawling tools we've used here at Wolfgang, but I do like the sound of the Frog/Loggly combo for this kind of work going forward based on Aleyda's expert recommendation.
The notion of improving mobile results with validation was also quite topical, given the constant debate over AMP and mobile page speed throughout the course of the two-day conference. Aleyda stopped short another Mobilegeddon-style announcement on the horizon, but did well to highlight the increasing importance of understanding your mobile SEO results and ensuring that the new 'mobile' features within Search Console are now front-of-mind when it comes to optimising crawl efficiency.
For performing mobile SEO audits using both OnPage.org and URL Profiler, she outlined a sure-fire methodology for enhancing the mobile experience for users ensuring PageSpeed is at the core of the optimisation efforts (using webpagetest.org as a guide, even better than the Google PageSpeed Tool!).
If you only download and study one deck from this year's SMX, make it this one!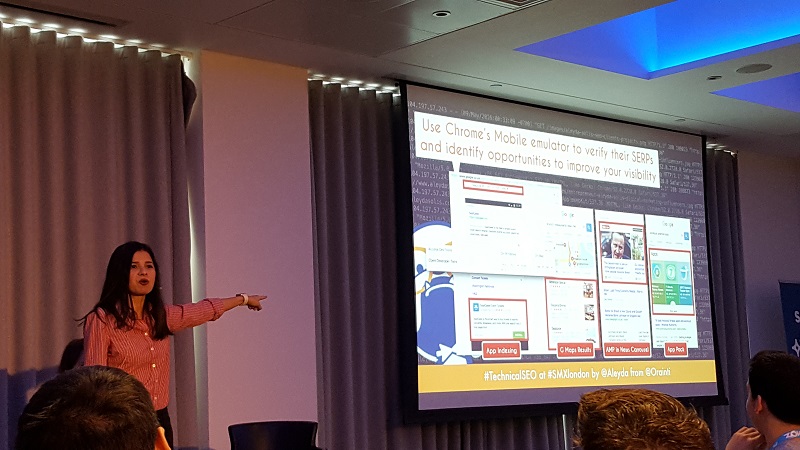 Topic: Essential Steps for Performing and SEO Audit
Speaker: Susan Hallam
Summary: This was the first time I'd encountered Susan and I was kinda kicking myself for not having known about her work a little earlier in life as she's been on the scene for years and it's pretty apparent that she's led some pretty stellar work when it comes to getting down to the nuts and bolts of a good, ol' fashioned SEO audit!
Much of the actual technical processes, tests and checks Susan runs are quite similar to what we've been working on here at Wolfgang, but there's an interesting angle in which she takes in what she describes as 'presenting audit data effectively and powerfully' that we can certainly learn from. In order to frame the audit findings accordingly to ensure the recipient of the work is both engaged and excited by the audit work, she always starts out with these four simple questions:
What is the purpose of the audit?
Who is the audit for?
What are their key drivers?
What's the background and history of the site?
Now, these may seem like fairly standard questions when kicking off an SEO audit, we do well to ask these questions and much more in our own client needs analysis questionnaires, but it's what she does with this information that helps shape how she actually delivers the audit; she builds personas from them and tailors the audit to meet the needs of the specific persona on which her criteria is based upon.
For example, Susan used the case of 'ecommerce Eddie', a fictional web business owner. Depending on how Eddie has answered the initial discovery questions, Susan will then tailor the audit specifically to either Eddie himself, for 'Eddie's Developers', 'or for Eddie's Marketing professionals', a very novel approach and a nice way of bringing persona marketing into the realm of technical SEO.
The assumption here is that Eddie wants a quick fix so can be served with low-hanging fruit as a solution to say, offset high AdWords spend, for example. Eddies Developer is tactical and needs a prioritised list of actions, projects and timelines for implementation, and Eddie's marketing professional wants education, benchmarking, relative scoring metrics and checklists against which to peg progress.
While I don't fully agree entirely with this approach, it was refreshing to see an innovative angle to the common problem of making people care about and take actions upon our recommendations. The reason I didn't fully buy into the persona model is not through any fault in Susan's methodology, but basically because I generally find that our audits are oftentimes tailored for Eddie, Eddie's Developers AND Eddie's Marketers!
We try to meet all three of these needs in the audits we prepare, so presenting different snippets of information based on organisational positioning doesn't necessarily suit when the aim of an SEO audit is to educate, facilitate and effect real change for an entire web dev and marketing team, from the CEO right down to the C-class right through to executive level, rather than specific silos of a functional team. If the CEO and C-class are bought into the notion of effecting real change, then it's a much smoother transition across the board when it comes to twisting a dev team's arm to implement technical changes or for a content team to take a turn in strategic direction with SEO considerations at heart.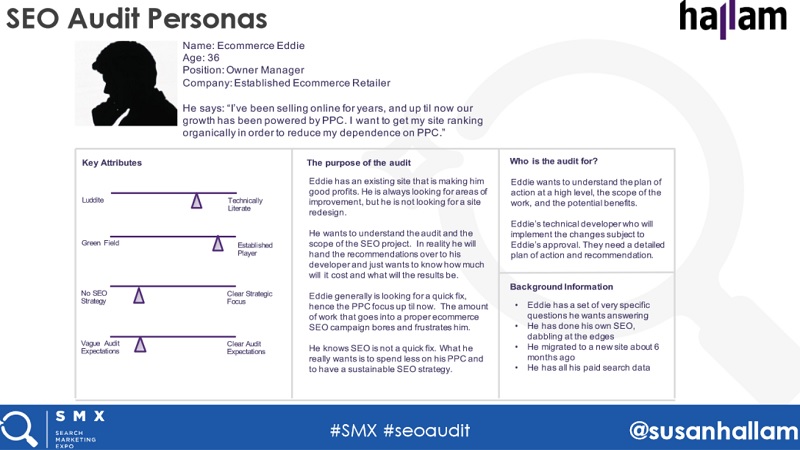 Notable Mentions from Day One
Apologies that I didn't get a chance to do a full write-up on many of the other outstanding speakers from the first day of this year's SMX, some other really great speakers included:
Rob Kerry shared his expert view on the various different link metrics tools and how they can have varying different degrees of reliability, stats and metrics as they're effectively only pulling from a finite portion of the global backlink index (as are Google!). He compared and contrasted Mos. DA, Ahrens Domain Rating and Majestic Trust Flow and Citation Flow and correlated against Google PageRank with some very interesting results; Majestic was the 'winner' if only one of these is an option for you!
Hannah Thorpe had one of the most visually pleasing decks of the day, with loads of nerdy movie references throughout and an awesome Robocop/SEO analogy that hit the nail on the head! She ran through some excellent schema mark-up examples using JSON-LD which I've learnt a lot from and we've already began implementing some of these insights into our Schema / Structured Data best practive guidelines.
Upasna Gautan of Rockfish had the hands-down coolest name of the event, and upon her first visit to Europe delivered some great insight into how she goes about implementing a tiered scoring system when conducting SEO audits.
Nicolaj Mogensen offered a stark reminder that very few stakeholders actually a) care about or b) understand SEO and demonstrated some excellent visualisation methodologies to ensure that a picture paints a thousand words when trying to communicate important SEO messages to those less inclined to sift-through a 100-page plus technical audit document!
You Can Download all the Day One Decks Right Here
Day Two
The second day of the conference was a little more relaxed, with less speakers, longer sessions and probably less attendees than day one, many of whom looked a little tender following the previous night's London SEO drinks reception hosted by Ayima in the gloriously named 'Dirty Dicks' across the road from the venue!
The quality of the talks was in no way compromised however; here's the lowdown on some of my favourite ones.
Topic: Getting AMPed - What You Need to Know About Accelerated Mobile Pages and Google
Speaker: Jono Alderson
Summary: Jono was a very entertaining speaker, someone I've been following on Twitter for quite some time now and had never really envisaged being quite so charismatic in person!
Jono was advocating the early adoption of Accelerated Mobile Pages (AMP) for search as he's seen the first-mover-advantage in action, particularly within the publishing sector whereby those who've developed this form hybrid HTML are seeing the benefits in the form of 'AMP' and a little lightning-bolt associated with it in Google Search Results, resulting in higher CTR and faster page load speed as the more notable benefits.
Jono stresses the need to build a proper business case for investing in AMP and the need to determine its value to the organisation in question. He also highlights the need for both Google Analytics and Search Console to integrate more AMP data which will help marketers better understand its use case and the nuanced relationships between both attribution and forecasting tools that are holding many of us back from making a decision on whether or not it suits our business.
The key to Jono's recommendation on AMP was that it is 'seamless', that it's taken on board as part for your existing web strategy and that it enhances the web-based consumption of editorial content. I found it fascinating the level of details Jono was able to go into on the topic and I've bookmarked the deck for discussing with our publishing clients in the very near future; again, a great example of some directly-applicable actions we can potentially recommend within a real-life context.
However, at present, I'm keen to reserve this for solely high-volume publishers such as news outlets and magazines for the time being; the benefit is a little more vague when it comes to direct applicability to the majority of our clients, so we'll hang fire on widespread recommendations for the time being.
He stressed the importance of roles from major players such as WordPress and Cloudflare and the power they too possess in dictating how AMP evolves from here on in, with Google having drawn the line in the sand, it's time for others to follow suit or come up with alternative, better ways to serve faster mobile content to users.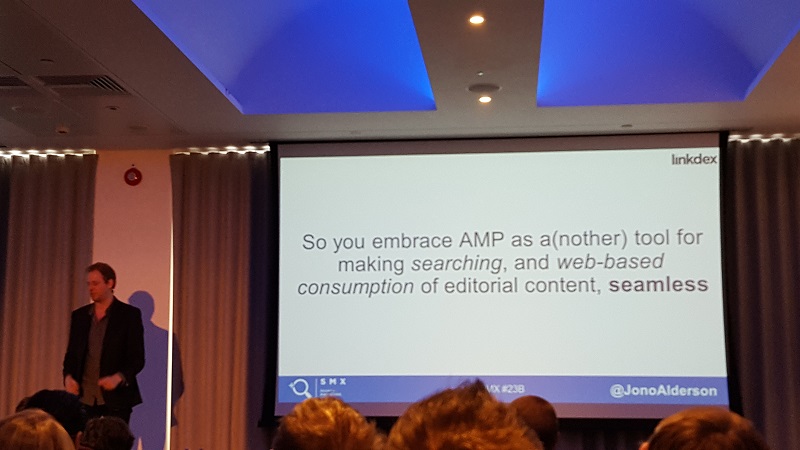 Topic: Solving SEO Problems When Standard Fixes Don't Apply
Speaker: Mikkel deMib Svendson
Summary: One of the great orators of the event, deMib is one of my favourite characters on the SEO scene. His sharp with, insight and slight scepticism of much of what Big G announces (his "Don't Always Trust Google" slide was my pick of the week!) are traits I can personally identify with! Despite our love of tools as SEO's, Mikkel's main word of advice was 'use less tools', but ensure you have the right tools to do the jobs that matter most; namely, links, content and page speed in his view.
'Speed Matters' was the key theme throughout, with a great example of 'Insane Speed Optimisation' and a couple of case studies on how to achieve the holy grail of 100/100 on the Google Page Speed Tool (to the detriment of some usability, it should be noted).
Achieving such high score requires highly skilled programmers and we shouldn't be getting hung up on hitting the highest possible score, but we should focus more on the score relative to our key competitors, benchmarked by industry i.e. if you're in the high eighties and the competition are still in the sixties or seventies, then that is enough to move the dial ever so slightly in your favour.
The recommended tools used for achieving great page speed were the familiar Pingdom but the new (to me, anyway!) notion of using Google's 'secret weapon', the Mod_Pagespeed tool. Basically, it's manna from heaven for an Apache developer (no equivalent yet available for Microsoft servers) to implement "very geeky", on-the-fly compression.
It pretty much allows an experienced dev to implement the exact set of requirements to enable optimal PageSpeed without compromising on UX or any other critical web page elements; I'm dying to get stuck into this kind of project with the next developer who will listen to me on the topic of PageSpeed!
Mikkel further elaborated on the use of Kraken.io for image compression without degrading image quality, confirming our own long-held belief that it's the best in the business for this specific task. "Obsess over page speed, not over tools" was the key message Mikkel wanted to ring home with this deck, and he did so quite eloquently with his broad range of case study examples and theories grounded in real, measurable data.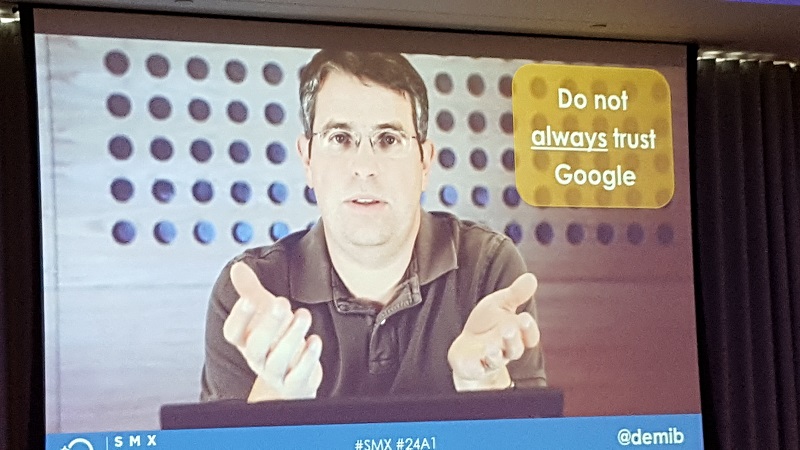 Topic: Better Together - Search and Social
Speaker: Richard Baxter
Summary: My only regret, and I guess my only slight criticism of the event as a whole, is that I missed most of Richard's talk due to the fact that the schedule collided with Mikkel deMib's, above. So I was left with the thankless choice of learning more on advanced technical SEO, or opting for how Search and Social can complement each other beautifully. I opted for the former, but was a bit gutted that I had to make that choice, as the last couple of minutes of Richard's deck were some of the most engaging I'd seen over the two days.
Richard and his team systematically scan sub-Reddits to 'pre qualify' content ideas based on upvotes rather than sitting in a room brainstorming ideas came as a bit of a 'Eureka' moment to me and is exactly the kind of thing we marketers come to these conferences for. Content ideation is inherently hard, but a simple, smart, almost infinite idea generation tool is sitting right in front of us, for free, we just need to learn to leverage existing user-generated media to our advantage and that's what using Richard's methodologies enables.
Similar use of Quora, Pinterest Suggest, AMAs and the use of advanced search operators within Twitter search are just a couple of the other great ways of tapping into social data which can complement search marketing. I'm a huge fan of the helpful, free tool that Richard's firm BuiltVisible have been providing real value to us search marketers for the past number of years and his introduction to their excellent content strategy helper was music to my ears once I'd seen what it can do!
I'm looking forward to running through these concepts with our social and content teams at our next learning meetings to see what they can pull from this prime example of 'out-of-the-box' thinking and I'm confident we'll have a more robust blended marketing methodology in place as a direct result of this insight.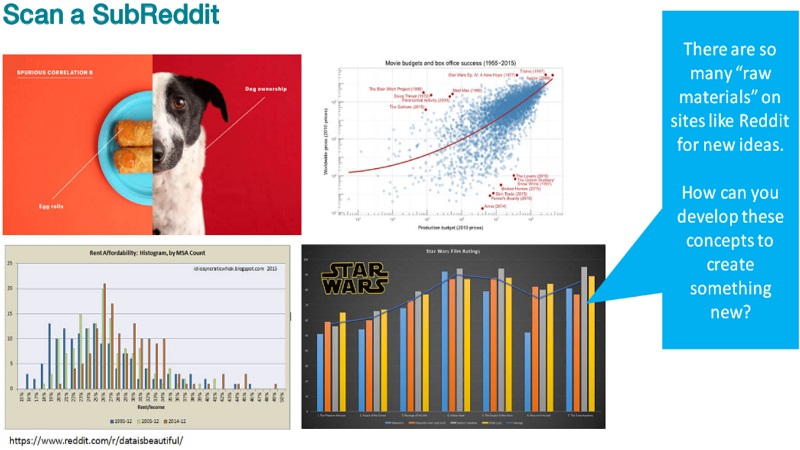 Notable Mentions from Day Two
Tim Grice gave a candid, eye-opening talk entitled 'We Tried Content Marketing and Failed' which shed some stark insight into some of the really bad ideas his (and all!) agencies have rolled out over the years, times where content marketing has simply fallen flat on its face. It was nice to see some self-deprecation and use of humour to ring home the point that we're all human and at the end of the day, humans simply get stuff wrong sometimes! Some great examples on how and why content pieces failed to meet their expected targets such as traffic, social shares or links, but also some great examples on how they've ensure the same mistakes aren't made twice and how to recover from what seem like unrecoverable reputation damage in the face of such adversity.
Fili Weise was great on the topic of crawl budget and aimed to put the importance of Page Load Speed front and centre of all that a modern Webmaster optimises for. Topics such as Critical Path Rendering, Progressive Enhancement and 'content first, not mobile first' will stick with me for a long time and you should definitely pull out this deck if looking to brush up on some cutting-edge mobile techniques. Fili, like me, is a little sceptical of wide scale AMP, and reckons that if you just build a fast site to begin with, AMP shouldn't necessarily be high on your list of concerns.
David Iwanow ran through a really practical, actionable deck on App Indexing. ASO is a pretty hot topic for us at the moment with a number of ongoing client projects focussed on ensuring their apps get indexed, found, and downloaded, but also the concern over how this effects organic traffic. Logically speaking, if a user has your app on their phone, then they're much less likely to search and click via organic results, so some cannibalisation can certainly occur. Definitely a topic I feel our team needs to dig deeper on in terms of embracing the overall marketing mix and how it can effect organic performance.
You Can Download all the Day Two Decks Right Here
The Wolfgang Verdict on SMX London
All-in-all, my time at SMX this year was a really enjoyable, highly informative and incredibly practical learning experience. It's always great to meet like-minded folk who share a similar passion for all-things-SEO and to witness some mind-blowing talks is a really important way of validating current practices and continuously learning from evolving best practices from the viewpoint of others.
We'd highly recommend attending this event in future, regardless of your skillset or experience; there's something for everyone here and you will leave a more enlightened digital marketer, guaranteed!
If you'd like any more info on any of the talks at SMX London or would like to discuss any of the topics covered in finer detail, please don't hesitate to drop us a line here at Wolfgang HQ and we'd be delighted to help!
Share This Article