By Luke Fitzgerald on 15 Jun 2018
Key Learnings from SearchLeeds 2018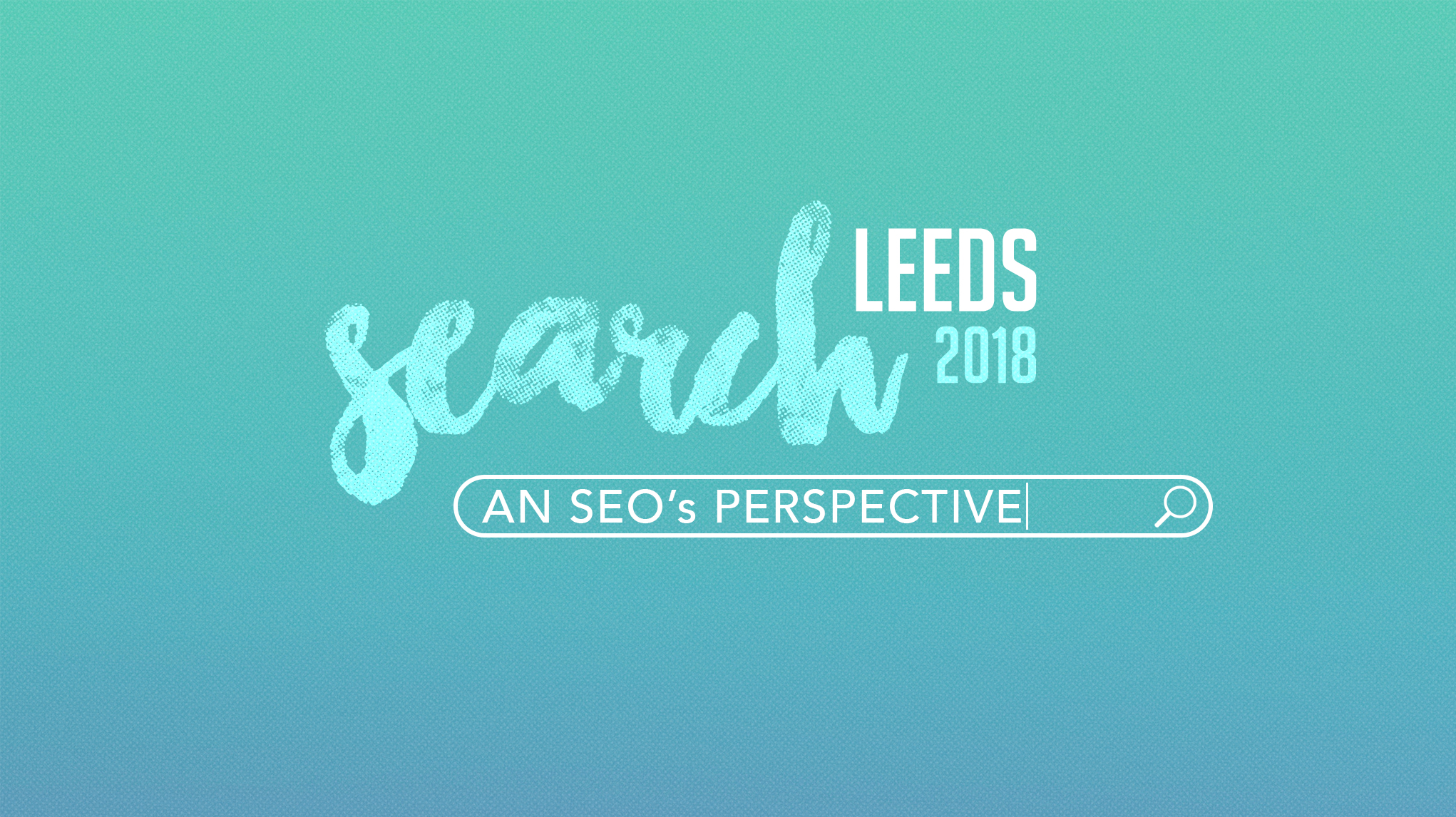 Thankfully back on terra ferma after a dodgy, propeller-engined Stobart flight from Dublin to Leeds on the windiest day of the year, I'm pleased to report that it was well worth the nightmarish turbulence and I'm thrilled to have made the trip over to the heart of Yorkshire for the excellent SearchLeeds event hosted by UK agency Branded3 in the First Direct Arena on June 14th.
Witnessing some of the cream of the crop from the international search community speaking on a range of topics close to my heart is something I enjoy and learn lots from and SearchLeeds certainly didn't disappoint.
Set across three main stages; The Main Stage, the Sistrix Stage and The Search Laboratory Stage, I found myself alternating between the mainly content and strategy-focussed main stage and the predominantly technical SEO and mobile optimisation-centric Sistrix stage for most of the day, whilst the sizeable chunk of PPC nerds among the crowd had the Search Laboratory Stage all to themselves!
Naturally, with the three tracks running concurrently, I couldn't make all the talks that I liked the look of on the mouth-watering agenda, but below are some of the ones I did catch and some of the key findings I took from each, with some key points and iffy-quality images captured using my weather-beaten Samsung Galaxy S6.
International site speed: Going for super speed around the globe
Speaker: Bastian Grimm - Peak Ace
Summary: A good, hard look at the basics of achieving pure page speed by following best practices and implementing clever design and file usage strategies to win favour on Google and other search engines. Bastian took us through some common client side/front end optimisation tasks such asynchronous requesting and image optimisation coupled with server-side/back-end tasks such as OCSP stapling and browser caching, with some great examples of site's he's easily made up to 30% faster with a few small tweaks.
He highlighted the importance of HTTPS and offered some great insights on why and how we should all be making the move to HTTP/2 as soon as possible to reap the associated speed improvements before jumping into some really insightful slides on WebP, which is Google's alternative to JPEGS, PNGs and GIFs and should be seriously considered by devs given they're losslessly compressed by default.
The comprehensive journey into Page Speed Optimisation then veered through CDNs and Custom Web Fonts with a mind-blowing stat that 70% of all websites use at least one non-standard font, which results in 114kB of additional data and an average of three additional HTTP requests, highlighting the importance of a well-planned CSS implementation from the get-go on a site design.
I also learnt that you can track a site's 'Time To First Paint' somewhat accurately within Google Analytics and combine with Google Tag Manager and Report in Data Studio, something I'm dying to try out for some of our clients and see where we can shave seconds off their load speeds.
Another metric Google look at is 'First Input Delay' (FID) and we, as SEOs, must consider the UX implications of things such as form boxes loading on a page but not yet being functional until a full page load occurs. Critical Path Rendering Optimisation was another term I hadn't heard used much but one which I expect to hear a lot more of in future as firms opt to either double down on pure page speed or consider the utilisation of AMP.
On the topic of Accelerated Mobile Pages, it seems given his experience of just making sites load faster naturally, that Bastian's firmly in the 'meh' camp on AMP and shared a really interesting viewpoint that it's not really worth the effort for many businesses as it's not actually any faster than a fully responsive site, citing the Guardian's site as a prime example. He does cede, however, that the carousel benefits are there for all who embrace AMP but that only its perceived speed is faster as it's pre-rendered by Google in the mobile SERPs (which is a decent enough case to consider AMP for many businesses in my view, although not at the behest of a fast website!)
Cool Tools/Resources:
https://developers.google.com/speed/webp/ - WebP 'A new image format for the Web' from Google
https://www.cdnperf.com/ - Get reliable CDN recommendations based on where your business is located and which regions/countries you're serving.
https://github.com/guess-js - Use Guess.js - Take existing GA data and make predictions on which internal links are most likely to be clicked by users and priories making those resources load as fast as possible.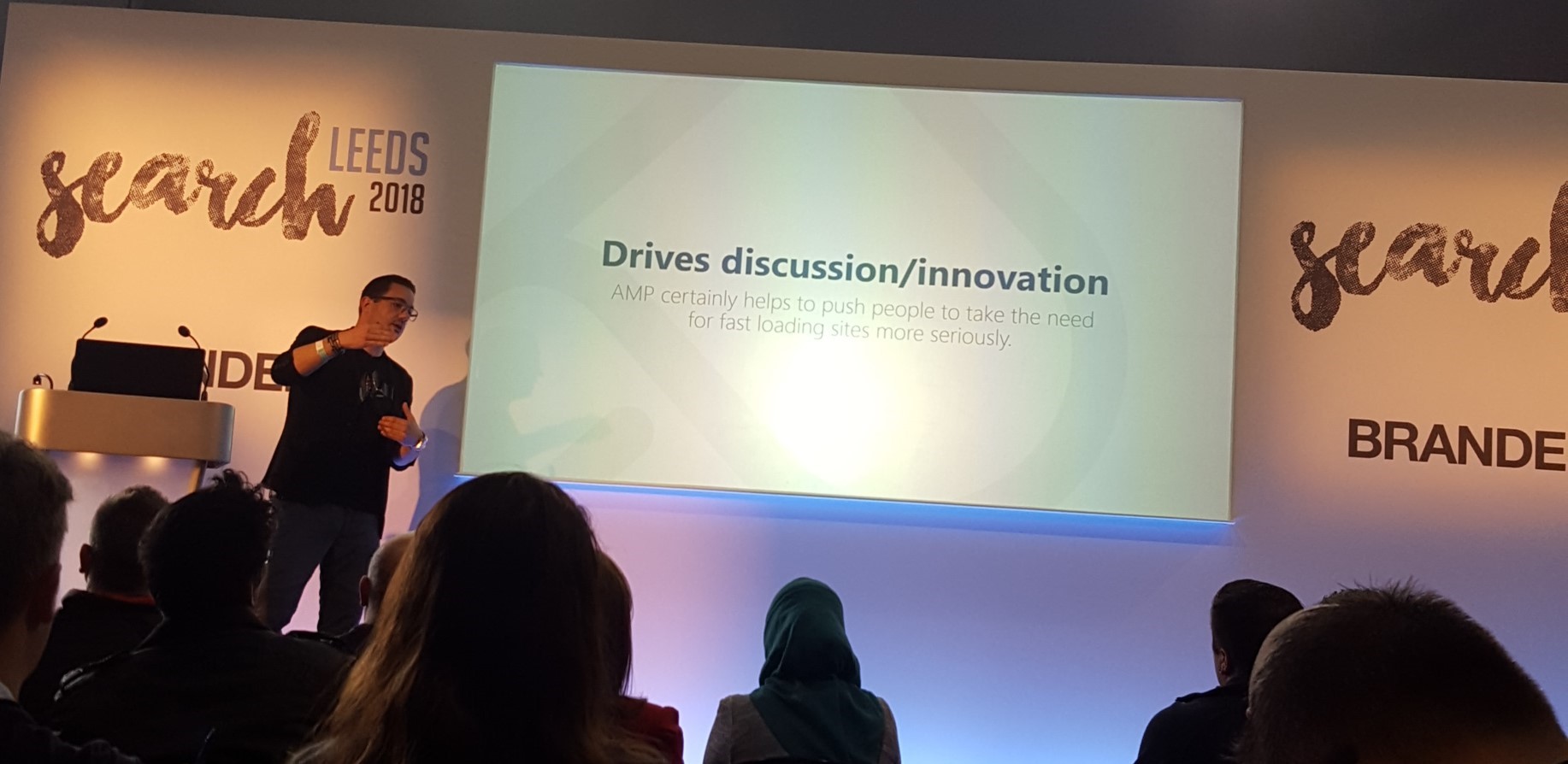 Check out Bastian's SearchLeeds 2018 deck
The past, the present and the future of Mobile
Speaker: Gerry White - Just Eat
Summary: As a friend of Wolfgang who've we've worked remotely with in recent years on our shared love of Just Eat Ireland, it was great to finally get to meet Gerry in person and gain some further insight into the wonderful mind of a true mobile-first advocate with a trip down memory lane via his funny and insightful evolution of the devices we simply cannot live without today.
Gerry's enthusiasm for all things mobile was palpable and he took us through some great insights around the JSON-LD manifest file for apps which essentially helps a designer choose what it looks as an app and the Service Worker which helps us choose what element of the app works offline.
The talk then touched upon the emerging prominence of voice search and we were shown some quick and easy examples to optimise for voice search such as implementing schema for a hotel site and more complex Alexa Skill and Google Action creation techniques, which I'd love to see us upskilling around and trilling here at Wolfgang.
A brief history of the still-untapped potential of Augmented Reality (AR) was then covered, along with TensorFlow which is coming soon to Android and a pretty scary Ted Talk by a guy called Bram Bonné which is worth a watch for anyone concerned about just how powerful and intrusive these things we carry around in our pockets all day long truly are, worth a watch:
Some great examples throughout the deck really resonated, particularly the fact that our kids' schools all have terrible websites – bar none – and it's really encouraging to learn that Gerry shares our Kevvie's passion for Progressive Web Apps (PWAs) and I'm really looking forward to seeing these two guys continue to do great things together for our common goal.
Cool Tools/Resources:
https://developers.google.com/web/showcase/2015/airhorner - Use the Air Horner to annoy colleagues and showcase the simplicity of a functional PWA
https://www.codecademy.com/courses/learn-alexa-skills-kit/lessons/intro-to-alexa/exercises/intro-to-alexa-skills?course_redirect=learn-alexa – Build an Alexa Skill with Code Academy
https://www.takeitoffline.co.uk/ - An eCommerce-themed Digital Marketing Roundtable that Gerry's set up to give like-minded attendees a forum to share their knowledge, experience and best practices on the evolving marketing issues, trends and developments.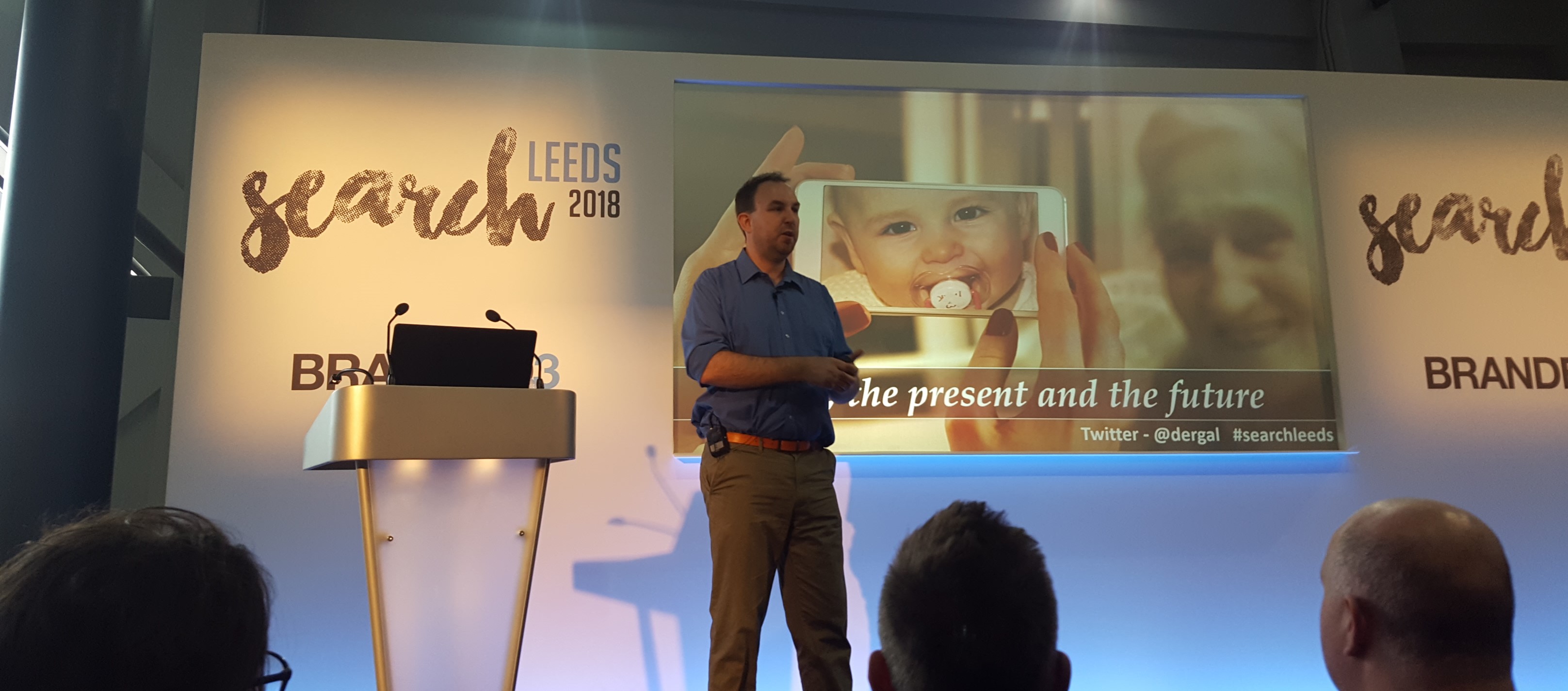 Check out Gerry's SearchLeeds 2018 deck
How not to f**k up a migration
Speaker: Steve Chambers - Stickyeyes
Summary: Another topic close to my heart, the highs, lows and challenges of a complex website migration are something we live and breathe here at Wolfgang and it was great to see Steve running us through a fundamental approach which is founded in all the right things to do when preparing for such a risky operation on a client's website.
What I liked most about Steve's talk was our shared vision that a migration should be seen as an opportunity to not just maintain all the important SEO metrics such as traffic, rankings and conversion performance with a migration, but to improve them; to trim away the fat and let the good times roll on a newly revitalised web entity!
Some of the planning processes were admirable, split into four main areas of Responsibilities, Resources, Project Planning and a Checklist - and we'll take some real, actionable insight from that. The gathering of server log files is something we've been doing somewhat intermittently for quite some time now using the awesome Screaming Frog, but baking this process into our migration strategy (where possible) makes perfect sense going forward to help unearth and stray URLs picking up bot and/or user hits.
The importance of legacy redirects was nicely underpinned by Steve, as was image redirects and the need to re-load any disavow files borne of any potentially naughty link building activities conducted in the past.
The importance of competitive landscape benchmarking both pre and post-migration was also covered by Steve in a truly comprehensive run-through of all things we need to keep an eye on as professional SEOs with our clients' performance and long-term prosperity front and centre of everything we do.
Cool Tools/Resources:
https://www.screamingfrog.co.uk/log-file-analyser/ - Screaming Frog Log File Analyzer
Stickyeyes themselves also offer some proprietary SEO tools Steve mentioned in his deck including a URL Monitoring Tool and an Organic Ranking Monitoring Tool which sound excellent but as they're not publicly accessible, I can't really vouch for (or, therefore, link to!) them.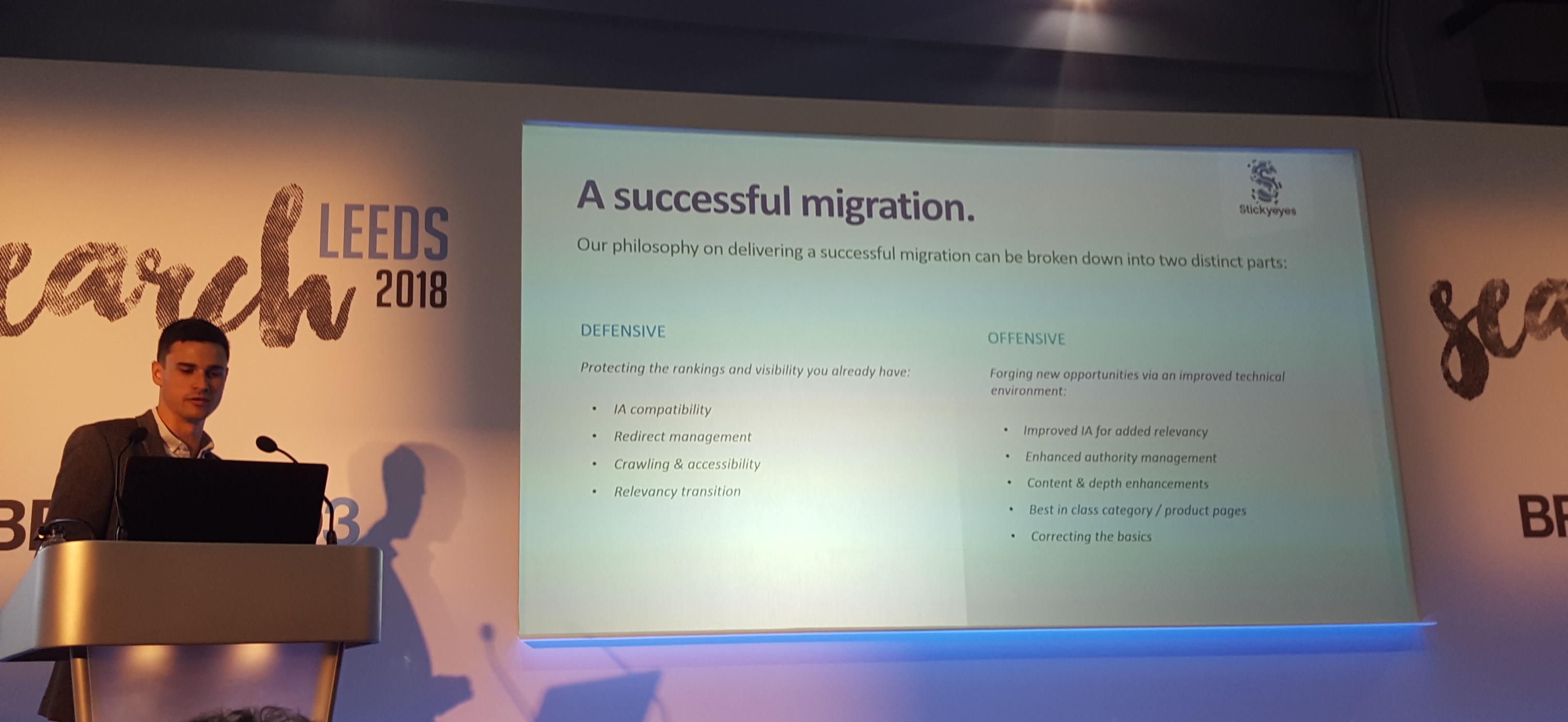 Check out Steve's SearchLeeds 2018 deck
Structured data explained
Speaker: Fili Wiese - Search Brothers
Summary: I was hugely impressed by a talk Fili gave at SMX a couple of years back and this time was no different. When a former Search Quality Googler, like our very own Francesco, speaks authoritatively on something they know Google really cares about, then it pays to listen up and Fili is a fountain of knowledge on many things SEO, this time imparting his wisdom on the topic of Structured Data.
Interestingly, Fili advised against the use of Schema.org items as not all of them are supported by Google and instead referred us to Google's own list of supported structured data properties, that was news to me and something I'm glad I'm now aware of!
Naturally, he covered all the key elements to mark up such as the obvious stuff like 'Website' and 'BreadcrumbList' to get keyword-rich links in the SERPs and we share his view that we should be working to mark up as much things as humanly possible, if there's a field to fill in, try to fill it in rather than leaving it blank, as this might just give you a competitive advantage over those who leave some fields blank and fail to fully utilise the benefits on offer. Fili also suggested some things to ignore the use of, such as 'WebPage' as this is redundant and borne of some ill-judged WordPress theme schema.
Using GTM and indeed the Data Highlighter within Search Console for schema is best used for testing purposes only, Fili informs us, and he offers better alternatives in the form of in-line HTML insertion or ideally, via JSON-LD - as Gerry touched upon earlier also. He took us through some examples of poorly formatted, mismatching and potentially spammy uses of Schema which certainly served as an eyeopener to many in the room, some solid lessons all round and a reminder that an experienced SEO is also best served by intuition rather relying solely on a tool to tell us something's correct or not.
The importance of regular audits and continual investment of time and resources into the upkeep, maintenance and indeed innovation around structured data is the key takeaway here and it's very much a theme I found common throughout the day across both SEO tracks.
Cool Tools/Resources:
https://developers.google.com/search/docs/guides/intro-structured-data - Google's Guide to Structured Data and supported formats
https://search.google.com/structured-data/testing-tool/u/0/ - Google's Structured Data Testing Tool
https://jsonlint.com/ - A simple, reliable JSON Validator Tool
(I just realised there's a random, sweaty SEO head obscuring my photo of Fili so here's a screenshot from one of his cool slides!)
Check out Fili's SearchLeeds 2018 deck
Entities, Search, and Rank Brain: How it works and why it matters
Speaker: Kristine Schachinger - Sites Without Walls
Summary: This was Kristine's first time speaking on this side of the Atlantic and despite her early nerves, she well and truly smashed it (we've heard American accents before, you've nothing to worry about!!).
A seasoned veteran of the search marketing community, she truly is an asset to our industry and I learnt a lot from some of her coverage of the evolution of search and how the early day theories and patents evolved into the multi-billion-dollar search behemoth which keeps us all in a job either directly or indirectly today.
Advanced technical concepts like Natural Language Processing (NLP) algorithms and Knowledge Graphs (not the Knowledge Graph us SEOs obsess over) are not new to me, but they're certainly something I've come to realise I should probably try to learn a lot more about following Kristine's in-depth overview of each which I can't even begin to describe in greater detail given the sheer scale and complexity of each.
It was amazing to learn how Google's Wonder Wheel, as cool as it was for visualising the embryonic core search engine algo, really was the building blocks of the semantic entity-based knowledge graph as we know it today. She told us how Google is now lightyears beyond text-based noun entities and into relation and context-driven 'strings-to-things' via Hummingbird and that RankBrain seeks to understand the meaning of unknown or ambiguous queries and that 'Google as an Answer Engine' really has come to pass and will continue to evolve as it utilises AI to determine user intent in the live SERPs.
Again, Kristine touched upon the vital role of structured data in 'helping Google help us' and bolstered the notion of JSON-LD being the implementation weapon of choice. She highlights how understanding searcher intent is the one thing Google's hellbent on getting on top of yet reminds us that there's no real 'optimising for RankBrain', as what works as a quick win today, is probably not the best use of your resources in the long term. Rather, just focussing on creating valuable, kick-ass content which delights not only your users but your potential users too is the way to success with RankBrain, which makes perfect sense to us and our team of SEO-minded content marketers here at Wolfgang!
Cool Tools/Resources:
https://cloud.google.com/natural-language/ - Google's Natural Language Cloud for understanding NLP
https://www.portent.com/blog/seo/json-ld-implementation-guide.htm - Portent's JSON-LD Implementation Guide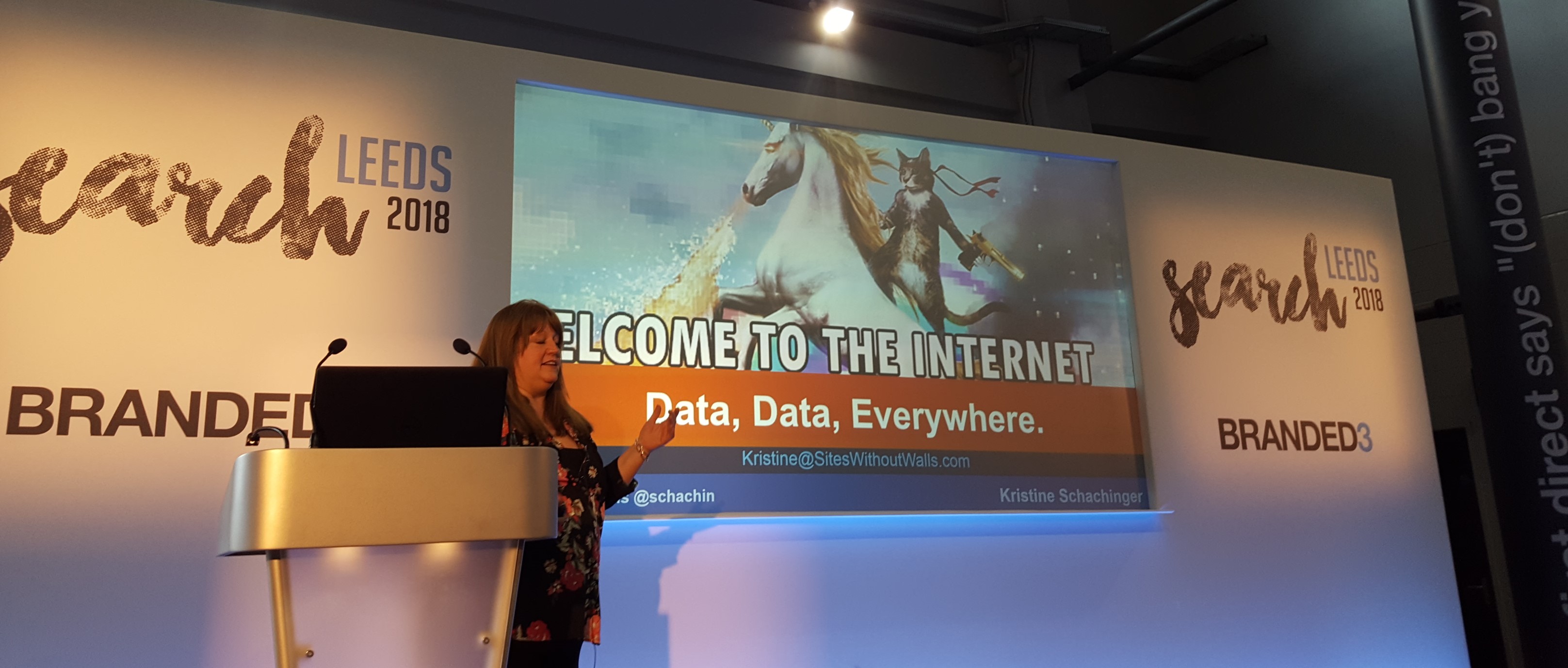 Check out Kristine's SearchLeeds 2018 deck
What lies beneath: The Iceberg Approach
Speaker: Dawn Anderson - Move it Marketing
Summary: As a long-time admirer of some of the fascinatingly detailed, often psychologically-themed theory and research Dawn's been steadily contributing to our community over the years, it came as no surprise to me how detailed and fundamentally intelligent this presentation was from start to finish. There was so much information to take in that I'm still digesting it today and it'll probably take a few more days for it all to sink in, to be honest, and I mean that in the most positive way imaginable!
A treasure trove of relational theory and underlying dimensions behind the mindset of the searcher and how that ties in with the artificial 'mind' of what a robot and what Google are trying to achieve with its algos, I was introduced to some entirely new concepts by dawn, such as Mizzaro's Framework for Relevance (covering information, resources, user problem, time and components) and how they apply to SEO – bonkers, brilliant stuff!
Dawn also highlighted the pioneering work of 'the Matt Cutts of Information Retrieval' Andrei Broder – someone the data nerds of Google hail as a forefather of all things AI. Broder is the driving force behind what's happening with machine learning at Big G and is the main responsible for coining the terms 'Informational, Transactional and Navigational' the three kinds of user search query which underpins much of what search-minded web developers, designers and marketers do with our sites on a daily basis, so it makes sense to listen to him when he's doling out the naming conventions!
As we're now in a period of ubiquitous, invasive computing whereby the Average Joe has more computing power in his jeans pocket than a government-funded science lab had on its campus a mere two decades ago, Dawn informs us that Broder's latest theory focuses on Assistive AI and how their core components are 'Subordinate Systems', Conducive Systems' and 'Decisive Systems'.
Again, I haven't quite fully grasped the complexity of this topic just yet, but I fully intend to nerd up on what these three stems entail as I suspect we'll be hearing a lot more about them over time, or at least living through their very real impact as they silently wrestle even more control over our lives in the form of Home Assistants and other AI-driven search recommender systems evolving and influencing consumer behaviours in the not-too-distant (increasingly dystopian) future!
To save me from delving deeper down a rabbit hole I fear I may not crawl out of on time for the weekend, Dawn hit us with the slide of the day with a quote (rightly) proclaiming that "nobody puts SEO in the corner" as our industry is very much at the forefront of bringing a better understanding of how Big G is manipulating our hearts and minds… and she's dead right!
Cool Tools/Resources:
http://www.psy.gla.ac.uk/~steve/stefano.html - Mizzaro's Framework for Relevance
https://dl.acm.org/citation.cfm?id=3160603&dl=ACM&coll=DL – Broder's 'Call To Arms for Embracing Assisting AI Systems'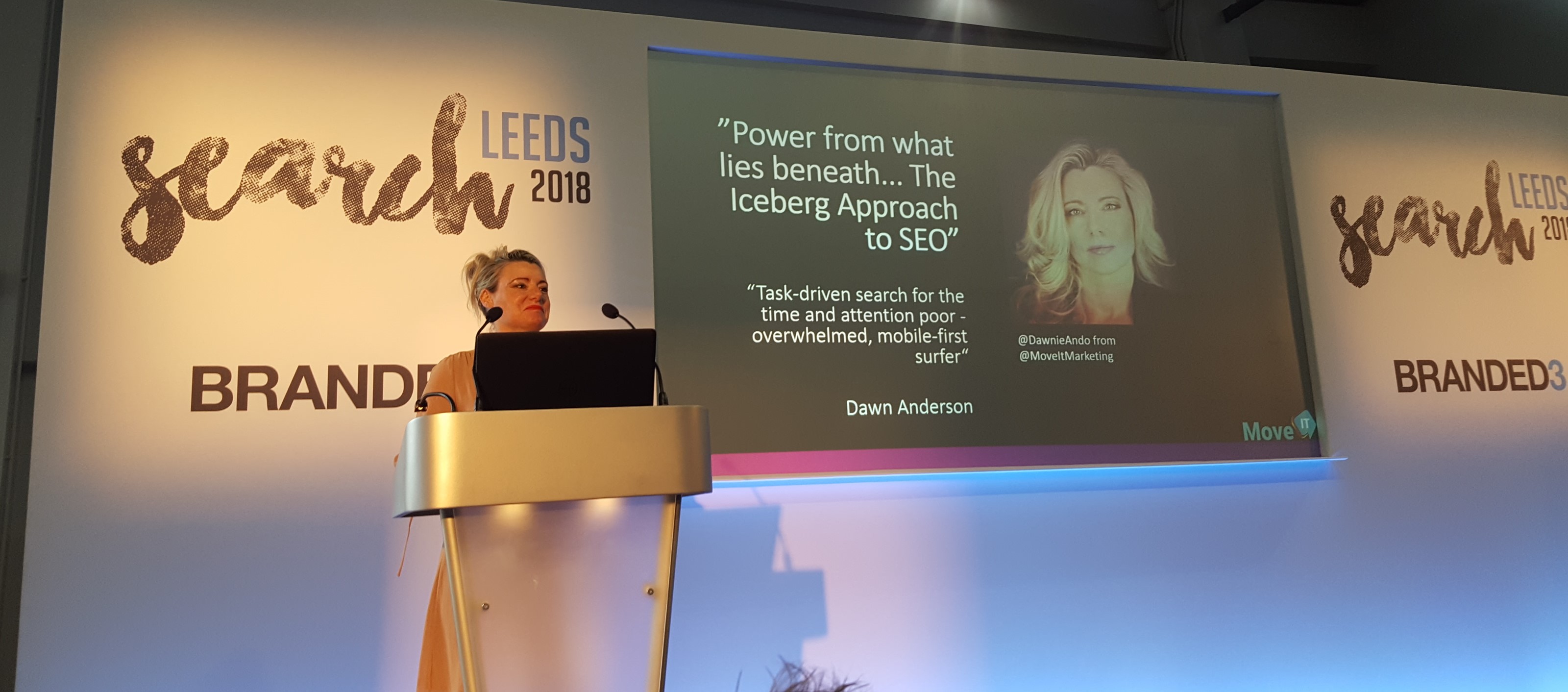 Check out Dawn's SearchLeeds 2018 deck
The Mobile First Index: What, why and, more importantly, when!
Speaker: Jon Myers - DeepCrawl
Summary: The notion that the mobile index is somehow a bad thing, or something for Webmasters and SEOs to worry about was quickly put to bed as Jon expertly took us through his take on how the mobile-first flip will affect us and walked us through some sensible advice on how to prepare and make the most of what'll ultimately be a phased approach which shouldn't signal a death knoll to sites who take heed of his – and Google's – recommendations sooner rather than later.
He took us on a trip down memory lane, very similar to Gerry's one I described above, with some grim-looking old-school devices we used to consider cool before getting down to the nuts and bolts of the three kinds of desktop/mobile website formats we're faced with nowadays; responsive, dynamic and separate (with alternate m.dot and canonical desktop site versions).
Jon spoke of the role of page parity and illustrated with some fine examples how vital factors such as content, meta data, structured data, hreflang tags, image handling and canonicalization will all still need to be handled correctly for site to thrive within a mobile-first world. He stressed use of log file analysis and crawl stats to see if and when Googlebot flips to GoogleBot Mobile from an 80/20 in favour of desktop to soon becoming the inverse and how we as SEOs must be ready for that to ensure our sites are crawlable, indexable and attractive to mobile searchers.
Internal linking will still be hugely important in a mobile-first world, yet Jon stresses the point that John Mueller made that 'it doesn't need to be the same, but it should be crawlable'. While I take that point onboard, we still strongly recommend that you strongly consider the impact of any major internal linking structures to commercial landing pages as this could have a catastrophic impact on your bottom line if not considered in full and executed correctly.
Structured data gain comes into play and it's refreshing to see its importance being resonated throughout the day. Another common theme that some speakers on the main stage are refencing (as I'd been at the Sistrix stage up until this point) is that they're not as convinced that Voice Search will have such a huge impact, something I agree with given lots of the results being churned out by voice assistants at present are largely inconsequential, non-monetisable responses… for now!
As expected, Jon was bang on the money with his observations around Page Speed and AMP and with a wealth of data at his disposal via the labyrinthic DeepCrawl database he has to pull from, we were treated to some mind-boggling stats and fancy graphs supporting his claims that well, websites need to be bloody fast to perform well on mobile!
Cool Tools/Resources:
http://deepcrawl.actonservice.com/acton/media/31628/mobile-first-indexing-whitepaper - DeepCrawl's Mobile-First Whitepaper (Lead Gen Wall Warning)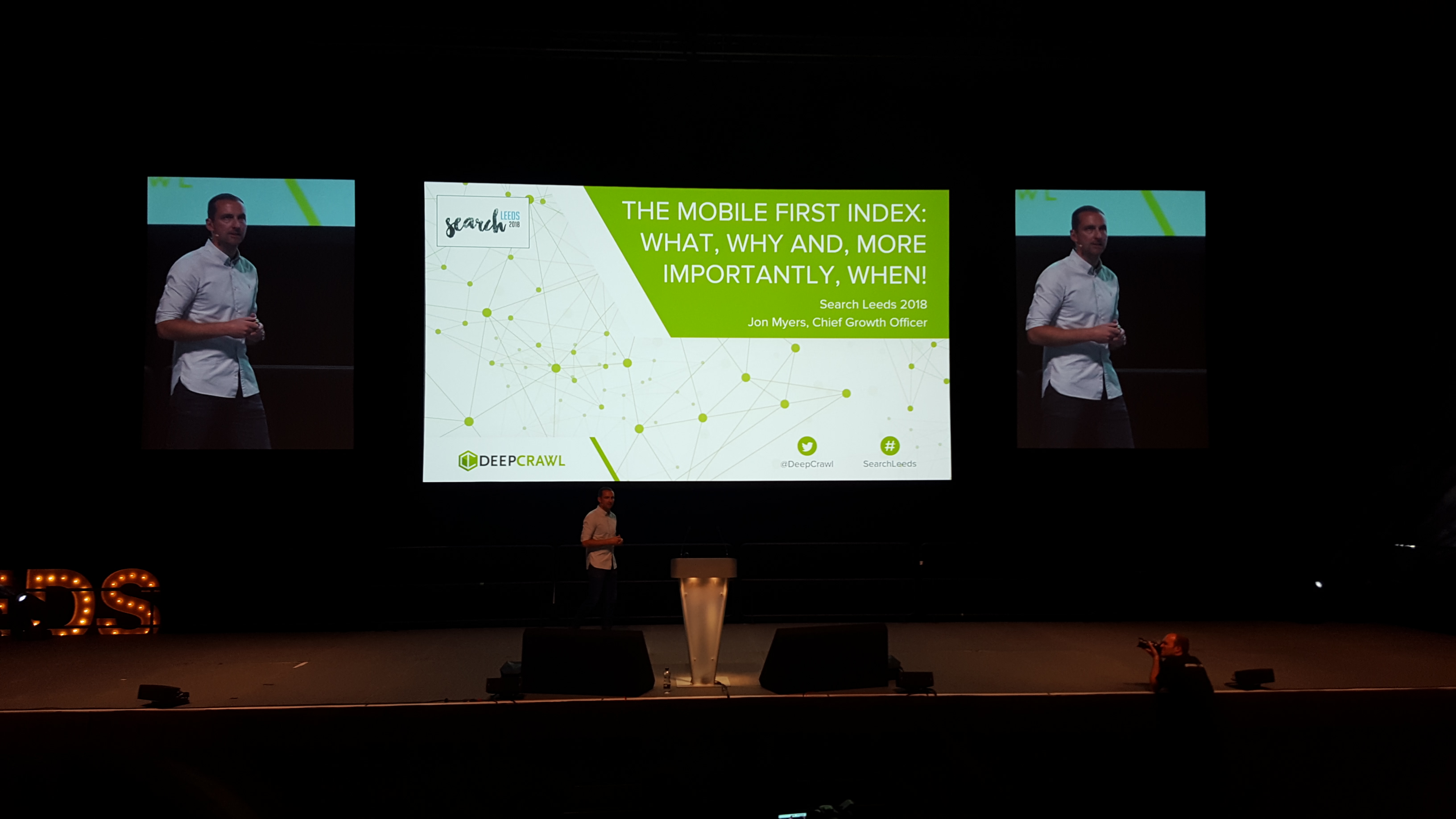 Check out Jon's SearchLeeds 2018 deck
How to audit your site for security
Speaker: Julia Logan - IrishWonder
Summary: Another SEO I've admired for a very long time, having learnt my trade following the IrishWonder Blog and never having had the chance to meet Julia in person, my one regret from the day is that I still haven't met her, as I had to run down to the main stage right after Julia's talk; there's always next time I guess, but let's not let that distract from my take on what was a truly excellent, really-well-delivered talk on another topic that's long been front of mind for the SEO team here at Wolfgang- website security and some of the myths and misconceptions around it.
The crucial role of website security as a cornerstone of any company's operations has been around for a long time, but it's reached fever pitch now that GDPR is well and truly here (for the greater good). Julia's deck brought us on a journey through all the reasons why it makes sense to take as many preventative measures as possible to safeguard against hacking, malware and the serving of insecure resources to our users, all tied in with Google Guidelines and supported with some prime examples of how not to handle your web security protocols.
The notion of hackers inserting parasite pages to leach traffic and the more recent trends of crypto mining hacks were both fascinating and alarming in equal measures, that really could happen to any of our websites, unless of course we're hoovering up Julia's' sage auditing measures to begin with!
Julia explained a common misconception many people have is that WordPress is more vulnerable than other CMS' out there, but that's not necessarily the case, it's just that with over half the (indexed) web's sites using it, it's the prime target with the most hacking resources committed to unearthing and exploiting any vulnerabilities, that's a great point I'd never really stopped to consider before, consider me educated!
She also reinforced the point that SSL alone does not make a site secure, there's so much more that needs to be done to pre-empt any breach attempts, including ensuring all resources are fully secure and that no one (external or without the relevant permissions) can access your database.
Finally, Julia stressed the crucial role of backing up your sites in the event of a need to roll back and to regularly conduct site security audits to ensure you're staying ahead of the bogeys out there who'd love to manipulate your sites to their advantage. I took a lot from this session and will continue watching and learning from this (relatively) unsung hero of our industry!
Cool Tools/Resources:
https://trendspro.builtwith.com/dashboard - Find what technologies any site is using - and much more - with BuiltWith.
https://wpscan.org/ - Scan any WordPress site to identify potential security weaknesses and fix hem to protect your website.
https://pentest-tools.com/home - Discover and validate vulnerabilities with PenTest's online penetration testing and 'ethical hacking' tools.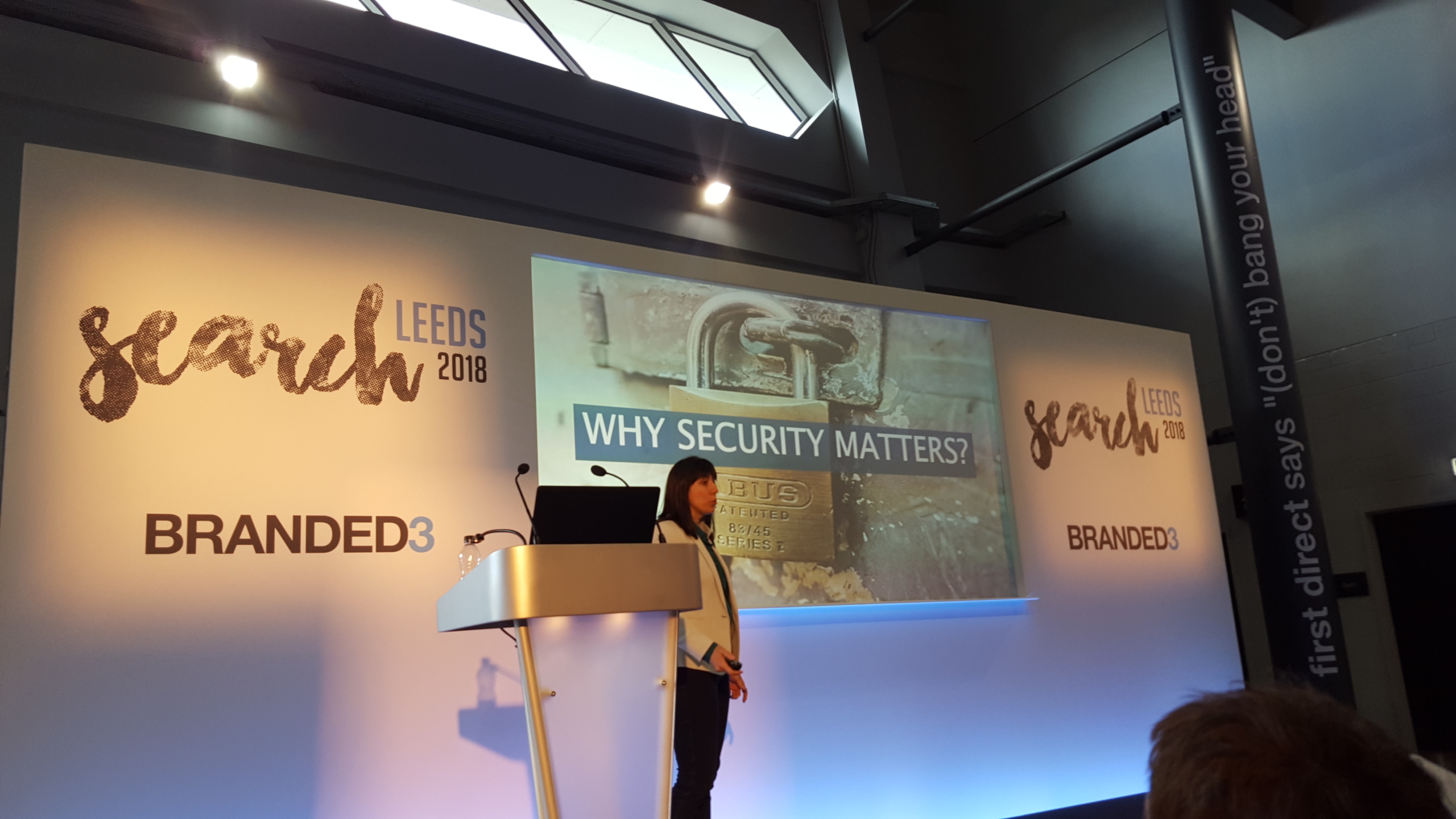 Check out Julia's SearchLeeds 2018 deck
Three practical (and inventive) ways of pinching keyword insight from your competitors
Speaker: Kelvin Newman - Rough Agenda
Summary: The enigmatic founder of one of the finest SEO conferences on Planet Earth, Brighton SEO's very own Kelvin graced the main stage for what was probably the most practical talk of the day and one which I've already shared with the team back here in Dublin to start thinking about and using on our client campaigns. He changed the title as his opening gambit and we were actually treated to 'six hacky' tips instead of the touted three, so we got double the value, which was nice!
These tactics go beyond the normal data-driven metrics experienced SEOs will turn to when scaling a campaign such as search volume, CPC, AdWords conversion metrics and competitiveness or 'keyword difficulty' to unearth some real gems which could well prove the difference when it comes to outfoxing competitors within some highly-competitive SERPs.
It's difficult to describe these smart keyword research tactics and techniques as well as Kelvin has without the aid of his awesome visuals, so I'd strongly suggest you simply visit his deck below and see for yourself, it's fairly self-explanatory within the slides and there's not much more I can add other than my words of pure admiration for this man whom, as I've watched him flourish as a composed and amazing event organiser in recent years, I'd almost forgotten is an equally-adept, super-intelligent SEO doing great things for his clients and our industry as a whole!
Cool Tools/Resources:
https://www.textise.net/ - Use Textise Tool to strip any web page down to raw text
https://answerthepublic.com/ - Get great visual keyword data with AnswerThePublic (and that weird Looker' fella!)
http://bioinfogp.cnb.csic.es/tools/venny/ - Create cool (free) Venn Diagrams with Venny
http://www.writewords.org.uk/word_count.asp - Count words and phrase usage frequency simply with WriteWords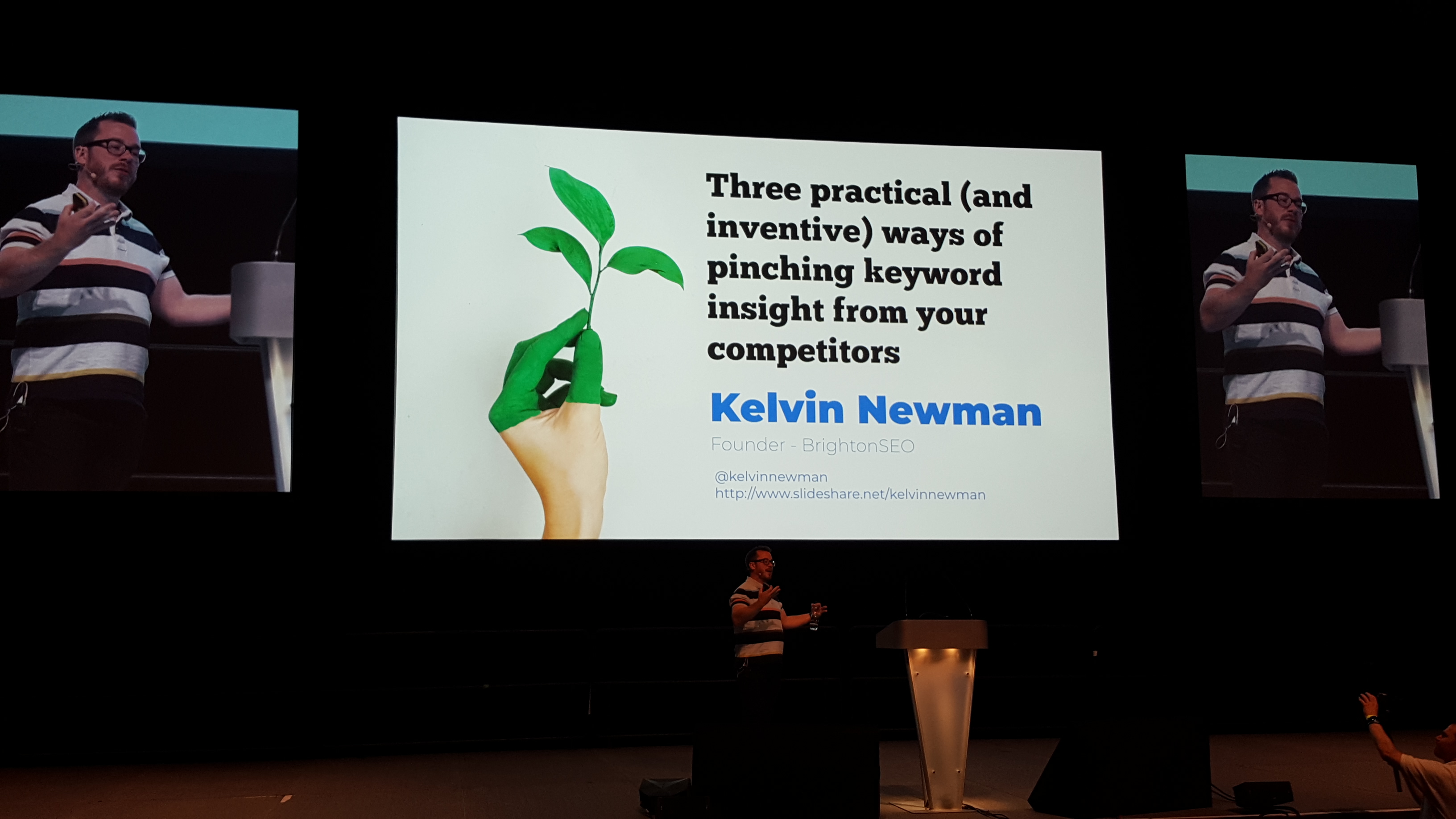 Check out Kelvin's SearchLeeds 2018 deck
Customer centric search: Serving people better for competitive advantage
Speaker: Stephen Kenwright - Branded3
Summary: Last, but by no means least, the brains behind this wonderful operation is another legendary SEO who regularly publishes some really useful digital marketing resources on his own personal site - https://www.stephenkenwright.co.uk/ and I've really liked the cut of his jib since seeing him speak at Learn Inbound a couple of years back.
Stephen stepped up as the final talk on the main stage and eloquently talked us through some really excellent topics such as the evolution of the 'Zero Moment of Truth' or ZMOT, which we saw Wil Reynolds discuss at our own client event last year, into a really insightful model of facilitators and drivers; facilitators being the traditional push channels such as TV, PR, Print, Radio, Social Media and Display and the facilitates being us in search doing SEO and PPC, along with Content, UX and CRO and how we in digital marketing couldn't really service as an industry without a healthy stimulus driving that search demand to begin with.
That probably seems really obvious to many a reader, but I found it fascinating how Stephen laid it bare with a visualisation of the 'sweet spots' in the form of a really clever Venn Diagram between 'what will make the business money', 'do people want it?' and 'does Google like it'? The deck must be seen to be believed and fully comprehended; it's exactly where our minds need to be at in terms of making efficient use of our finite time and resources and focusing on where we can drive real business value for our clients and deliver a bank for their buck in terms of ROI on what we're doing on a day-to-day basis.
Again, we saw common themes of site speed, structured data, security and the need for great content in Ste's presentation which I felt brought the entire day together nicely and wrapped it up in style. Job well done sir.
Cool Tools/Resources:
https://www.branded3.com/blog/relevant-linkbuilding-study/ - Branded3's relevant link building study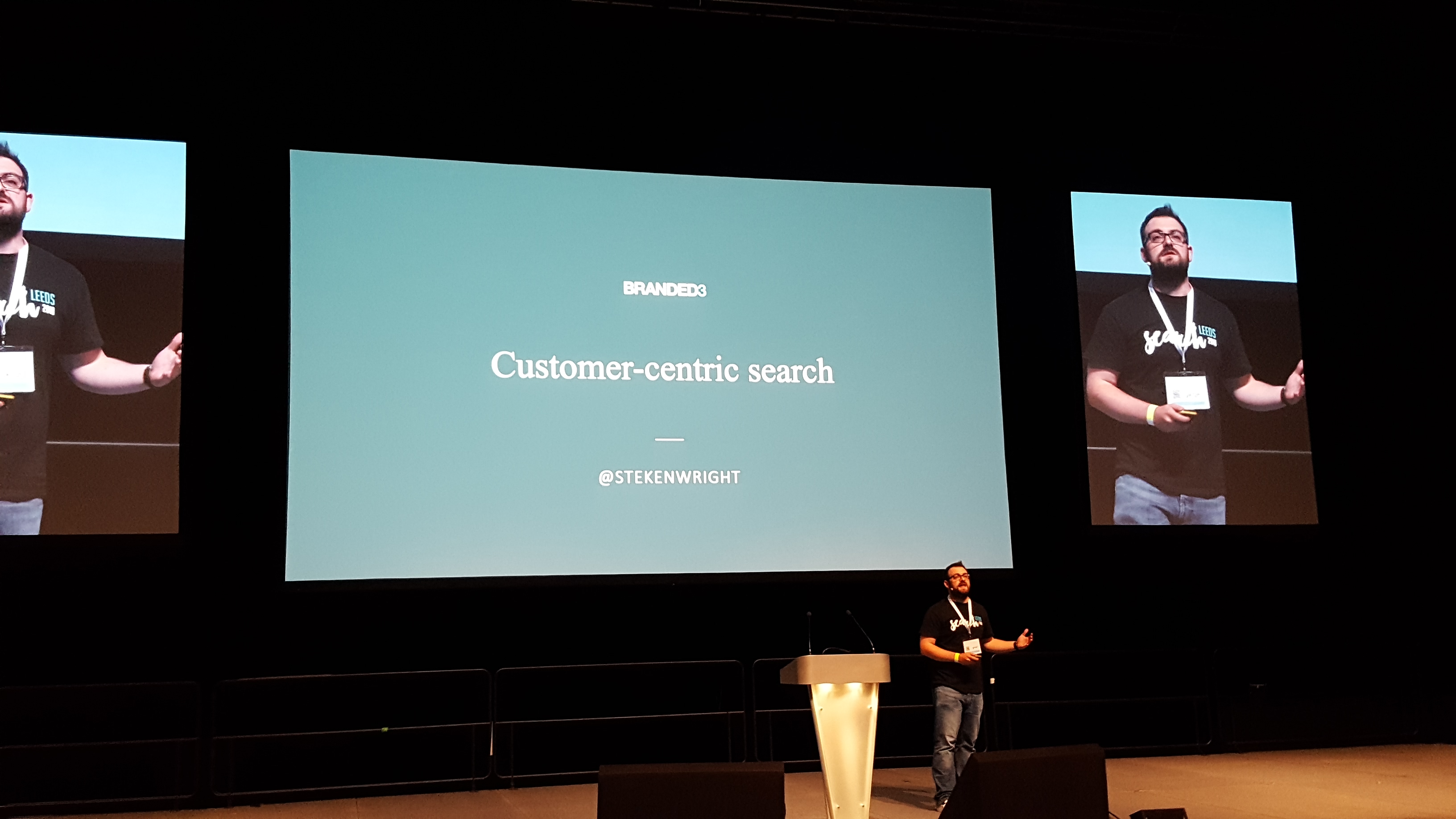 Check out Ste's SearchLeeds 2018 deck
The Wolfgang Essential Takeaway – We Need to Do More Structured Data Implementations!
All-in-all, there were some super-impressive takeaways from each of these sessions and there's certainly a lot of new and improved processes and actionable insight we can build upon here in the Wolfgang SEO team. I was a bit gutted to miss some of the other talks I wanted to see including another legendary Wolfgang Essentials speaker Lexi Mills, the excellent Purna Virji of Microsoft and Manyminds' Kirsty Hulse, but I'd seen them all speak excellently before so had to try n' mix it up a bit this time and witness some great new (to me) speakers for the first time.
I learnt that no matter how well I think I know something, there's always someone who can teach me even more and help broaden my understanding, or shine a light into a whole new realm for me, as per some of the cool technical and psychological elements Kristine and Dawn brought tingling to my prefrontal cortex! As touched upon above, I felt that the main themes running throughout many of these talks centered around a couple of topics we've been hammering home for quite a while now - which is encouraging - namely, the growing fundamental importance of Structured Data and the ongoing need for better, more user-centric content and an understanding of the systems that parse and index our very behaviours as Big G ups its game and its complex algos seize even more power and influence over our time-poor, choice-rich, device-obsessed, easily-distracted minds.
I'm confident that between our integrated blend of Search, Analytics, Content, Creative and Social teams here at Wolfgang that we'll take a lot from these resources as we absorb, trial and test them over the coming weeks and months and sure isn't that what it's all about – the continual quest for compelling, shared learning opportunities through open, collaborative communication channels and a commitment to getting great results for our clients through strong performance and ongoing innovation!
SearchLeeds 2018 ticked each of these boxes for me, now it's my job here to help disseminate this deadly information to all who will listen!
All the decks from the event can be found at https://www.slideshare.net/Branded3/presentations
Share This Article