By Luke Fitzgerald on 15 Dec 2017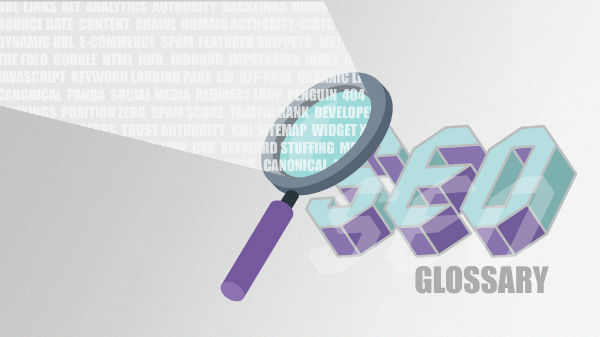 We recently published our SEO Glossary to the world, a list of key terms we often say to people who have a glazed over look in their eyes. SEO is packed full of words and terminologies that take some keeping up with. You can check out the full glossary as you need it, but in the meantime here are the most popular terms from the list according to Moz.
Voice Search
Believe it or not, Google's Voice Search is far from being a new concept and actually started way back in 2002. Talking to our devices to carry out tasks, set reminders and find out information has become much more commonplace thanks to Google Assistant apps and software. In 2016, Google announced that 20% of all Google searches were now carried out over voice search, but it doesn't end there.
Google Assistant is popular because it's present on Google's hardware like Android phones and smart speakers like the Google Home. The latter is facing a firm challenge from Amazon's hardware division in the Echo and Echo Dot. While the search capabilities of Amazon's assistant are a great distance from Google's, their hardware has proven more popular to date. Watch this space as one of 2018's hottest battles develops. Voice search will become even more common in early 2018 as we expect smart assistant powered speakers to be more accessible and affordable than ever before.
Widgets
The word widget might bring a few different thoughts to mind. For the Guinness aficionados out there, you'll know this to be the floating ping pong ball in cans of Guinness. Of course, that's not too relevant in terms of SEO terms. Widgets are also interactive features on web pages which usually compliment a brand service or offering and these are great for several reasons.
Used right, widgets can help customers better understand a complex product you offer. You'll usually see these deployed by banks in the form of a mortgage calculator or loan repayment planner. While great for helping customers understand products, SEOs love widgets for another reason; they encourage on-page interactions.
A page with engaging widgets will hold a user's attention, increasing on-page clicks, time-on-page and likely help customers through to a secondary page, reducing bounce rate and increasing pages per sessions. As a result, widgets send reams of positive SEO signals to Google for your site.
Spam
Spam is a brand of canned cooked meat made by Hormel Foods. First introduced in 1937, Spam gained worldwide popularity after its use in World War II.
Obviously, that has nothing to do with SEO. Spam is also the word we use to describe unsolicited messages. Spam started out as unwanted email marketing which is why your email account as a spam filter. Today, spam refers to any unwanted content deliberately designed to reach huge volumes of people without being helpful. For SEOs, spam is an incredibly important term. Just look how Wil Reynolds reacts to spammy search results.
404
SEOs and the wider online community have a love-hate relationship with 404 pages. First of all, 404s are a bad thing. If someone reaches a 404 on your website, a page or some content has gone missing and you've left that user feeling disappointed. You should always pay attention to 404s and try to replace broken content or links with new content or redirects.
The reason we all have a love-hate relationship with 404s is that many websites use 404 pages to express some creativity. Seer Interactive actually showcase the importance of 404s and how you can get creative with them through their 404 charity jar. For every visit to their 404 page, they donate a dollar to charity while also offering a path to content through a search widget.

Title
This is a staple term that you'd just have to expect in a list of popular SEO terms. All SEO-friendly content and landing pages should have well-optimised titles as it's titles that appear most prominently in SERPs following an organic search. Titles are also commonly believed to be one of the longest standing and strongest signals that Google's algorithm considers though they have been less emphasised in recent years.
Google Plus
Yes, Google Plus does still exist. This was Google's answer to Facebook and Twitter but unfortunately for Google, it was the answer to a question very few people were asking. With that said, having a business Google Plus page is a critical step in SEO. We've seen strong correlations between brands with company profiles on Google Plus and strong organic rankings in SERPs.
---
If you ever find yourself scratching your head when trying to work out what SEO terms mean, check out our full SEO Glossary.
Share This Article