By Luke Fitzgerald on 2 Apr 2019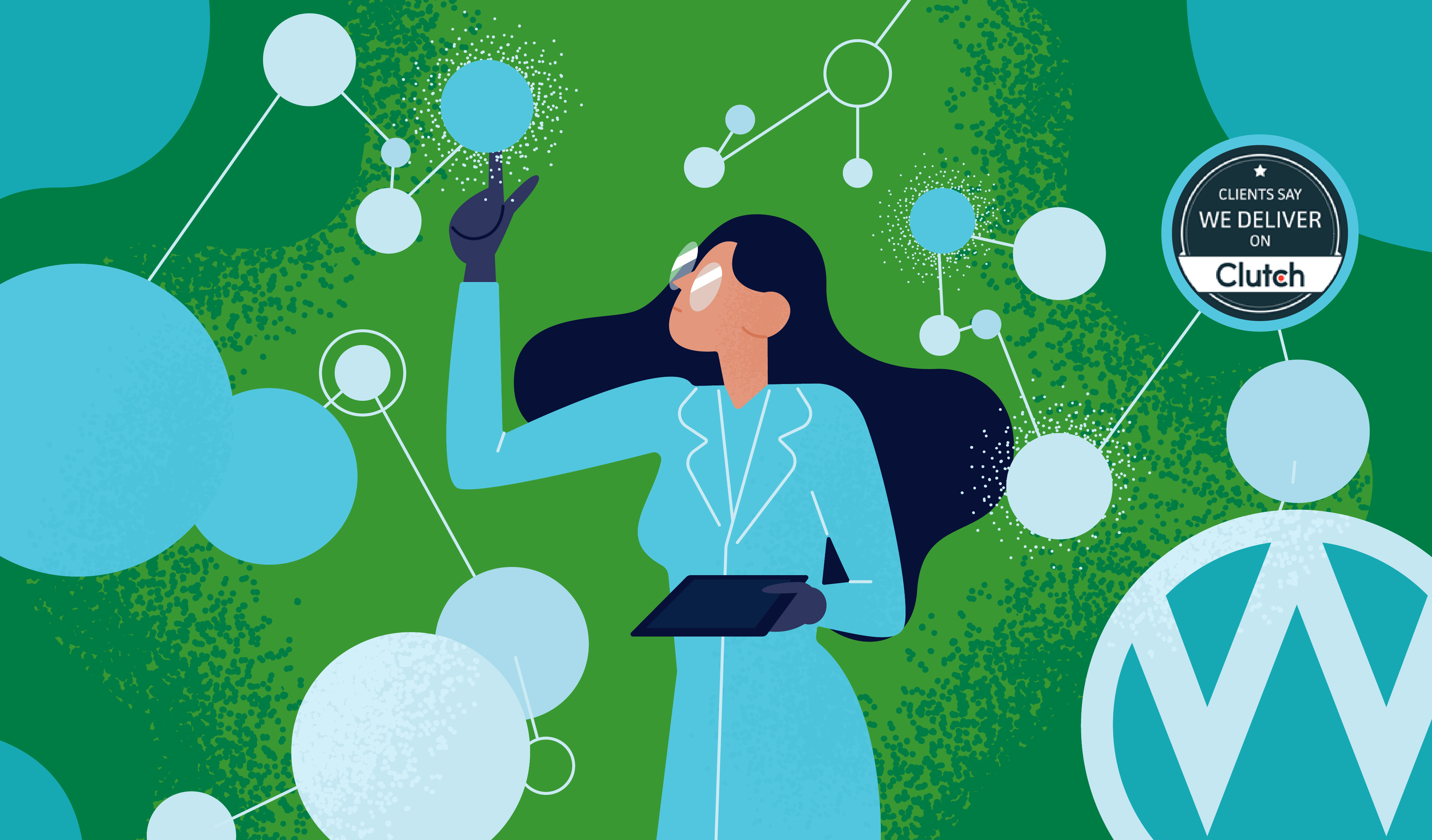 As a multi-award winning digital marketing agency, many of you will be familiar with the efforts made by the crew at Wolfgang Digital into honing our expertise in PPC, SEO, social media, analytics, CRO, creative and content marketing over the past decade. Our team understands that digital marketing is complex and a fast-paced industry, which is why we pride ourselves on staying one step ahead of the competition by embracing the latest Google, Facebook and industry changes by continually investing in innovation and research.
We've also nurtured a company structure that easily allows us to adapt to change. As an independent agency, unattached to any large holding companies, we remain nimble and have the resources to give our clients the personal attention and love they deserve and which their investment in us warrants.
Although other Irish firms offer services similar to ours, we hold fast to the belief that nobody offers them quite like us; and we're not alone in thinking so. Wolfgang Digital is ranked first among the top providers of SEO services in Dublin on ratings and reviews platform, Clutch.co. This accolade is the result of Clutch's proprietary evaluation process, based significantly on the strength of our client feedback.

How the Ratings Work
Dozens of the top SEO agencies in Dublin have been ranked on Clutch, judged based on their thought leadership within the industry, work portfolio, types of clientele, and above all, quality and number of client reviews. We're both delighted and honoured that our clients' direct feedback lies at the core of our success in this regard, with the below scoring matrix putting us in the 'proven' realm, if not quite market leaders (just yet!)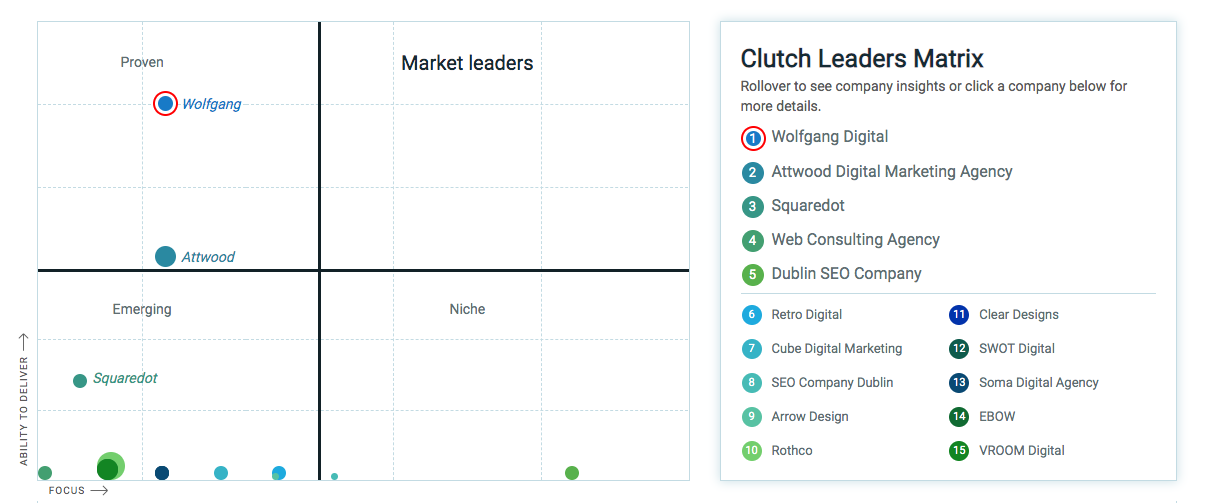 Many of our clients will be familiar with our strong advocacy of the benefits of striving to accrue good, honest Google reviews as a means of not only improving a firm's local SEO standing, but also in enhancing trust among your target audience and in this regard, Clutch has helped us massively. Getting great customer reviews is critical to the success of any online business nowadays, and it applies as much within a B2B realm as it does to traditional B2C review gathering, as these tactics from the DMI will attest to.
The Importance of Your Reviews to Us
Some of you may have heard from our lovely Client Services Team in recent months asking for your time in creating a review; whilst we know you're pretty much always busy and sometimes these can take a while to get over the line, it's evident why these are so important to us and your feedback is always appreciated. Once verified, it's added to the Clutch site for all to read and becomes a valuable reference point which is helping our own business succeed.

To illustrate the importance and value of your ongoing feedback, we'd like to take this opportunity to highlight some of the thoughtful comments some of you have left in our Clutch reviews:
"Wolfgang Digital is always looking for new ways to implement emerging tech and improve our project to maximize ROI."
---
"Ever since partnering with Wolfgang Digital, the online bookings through our own websites has increased by 1%–2%, year over year. They're helping reverse the trend of guests using online travel agencies."
This detailed client feedback helps us keep our finger on the pulse of our clients' needs and optimise our services accordingly. For example, the latter of the two reviews highlighted above had led to us bringing in our new Head of Conversion Rate Optimisation (CRO), Zonja Bailey, for an in-depth conversion growth roadmap audit to help identify how we can further improve conversion rates for this highly-valued client in the hospitality sector.
And it's not just the SEO side of things that Clutch is helping us build great reviews around. Beyond providing boons to our clients' search rankings, we specialise in a number of other digital marketing services.
"We've seen an increase in the efficiency of our PPC account – a reduction in cost per conversion. We've also seen an increase in organic traffic year on year. They've definitely helped us grow, especially on PPC side of things. In terms of a more efficient PPC spend, it's meant that we can reach more users."
There's scope for each of our services to be reviewed and evaluated within the platform, which is encouraging as we continue to grow as Europe's Best Large Integrated Agency in the years ahead.
Beyond Clutch
On Clutch's sister website, The Manifest, Wolfgang Digital is featured prominently as one of the top providers of PPC management services in the world. The Manifest serves as a business resource, offering insights and how-to guides for dozens of industries.
Our inclusion as a top agency is the result of several factors, including the size of our firm, our cost efficiency, and the quality of our work. This recognition solidifies our reputation as a trusted digital partner, both at home and beyond and helps drive real business value for us.
Check out the staggering 29%+ conversion rates from both Clutch and the Manifest we witness in Google Analytics this month alone; despite relatively low volumes of traffic, they dwarf the other 8 of our 'top 10 referrers' in terms of new business enquiries:

And finally, we can now also be found on Visual Objects, a platform that showcases the work of creatives, strategists, and other digital agencies. We are hopeful that our heightened visibility will inspire a whole new audience to invest in quality marketing efforts, and to partner with us on their marketing journey.
As much as we appreciate it, the praise we've received from industry authorities pales in comparison to feedback from our clients which Brendan, Rob, Beth and the entire Client Services Team have worked hard to build out a regular feedback mechanism around via your Quarterly Business Reviews and regular meetings and comms.
This is an opportunity to share some exciting news, but it is also a chance to express our sincere gratitude. Thank you to all of our clients, your support means a lot to us, and it has been a genuine pleasure working with you. The time we have spent growing together has shaped us as an agency, and we cannot wait to continue growing with you, our valued clients!
We hope you've enjoyed being a part of this exciting journey with us so far, whether you're a long-term client, new to Wolfgang or even considering giving us a shout to help with your future digital marketing strategy.
And sure while you're here, why not give us an auld review, the more the merrier!
Review Wolfgang Digital on Clutch -> https://clutch.co/review
Share This Article