By Luke Fitzgerald on 3 Oct 2016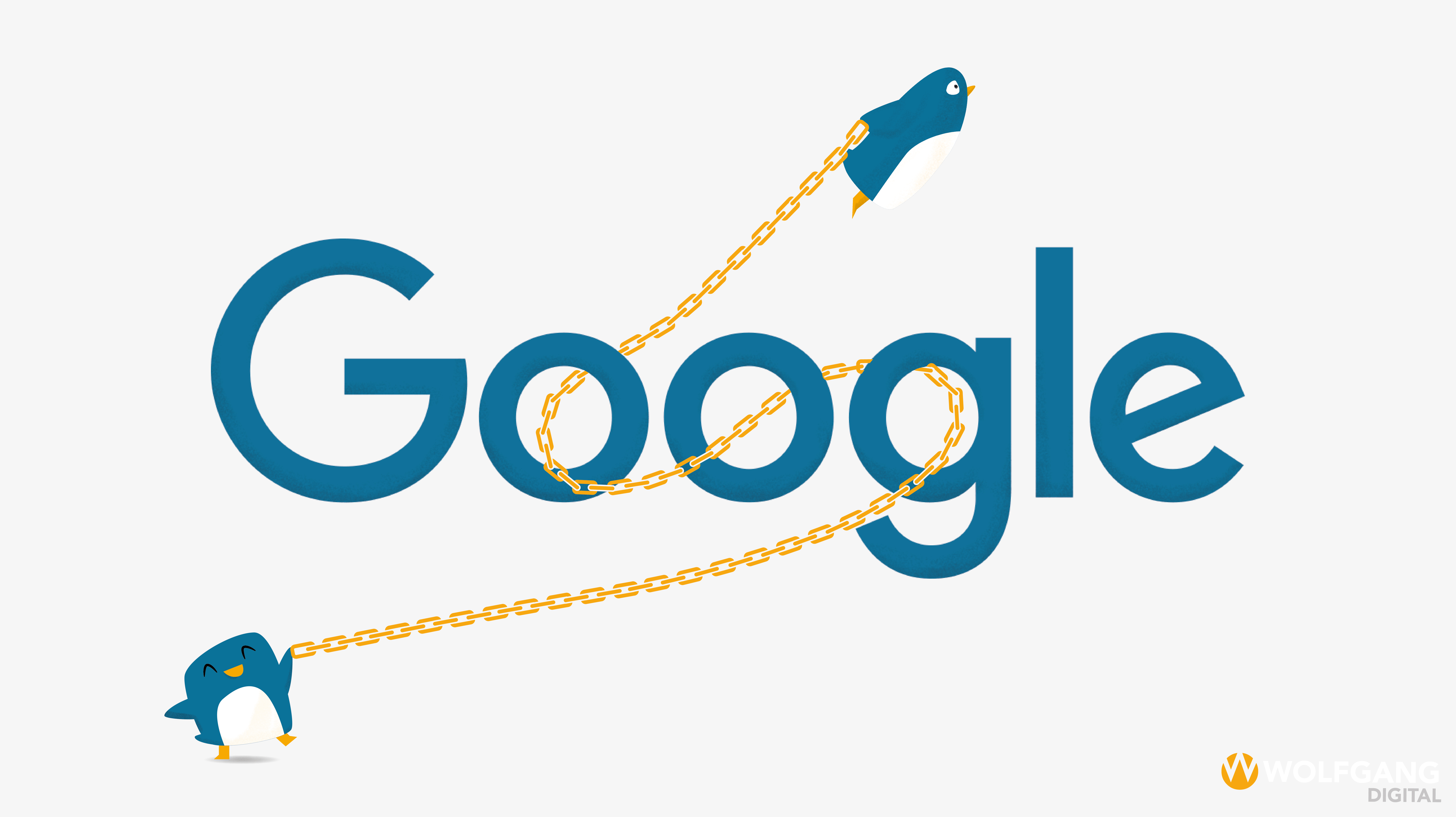 It's official, the impending spectre of 'Real-Time Penguin' has finally been baked into the core search algorithm on a permanent, ongoing basis with Google officially announcing this major update on September 23rd.
Being a 'core element' essentially means that the cause and effect methodology behind the concept of Penguin has been thoroughly tested and updated over time an that it now works to its full potential - link spam handling is no longer a separate entity; it can now run by itself as an automated cog within the main algorithm without much need for additional input or alteration.
This signifies the seventh and perhaps final link-related algo update from Big G, given the inherent real-time nature of the rollout and we don't expect to hear much more via official representatives on the topic from this point onwards, although ongoing tweaks are expected, as per all other core algorithm elements.
It's been a rollercoaster adventure for followers of this rare breed of flightless traffic-crippler, which hasn't seen much action over the past two years, but saw a flurry of updates in quick succession over a frenzied crackdown on link manipulation over a two-and-a-half-year period from April 2012 - October 2014: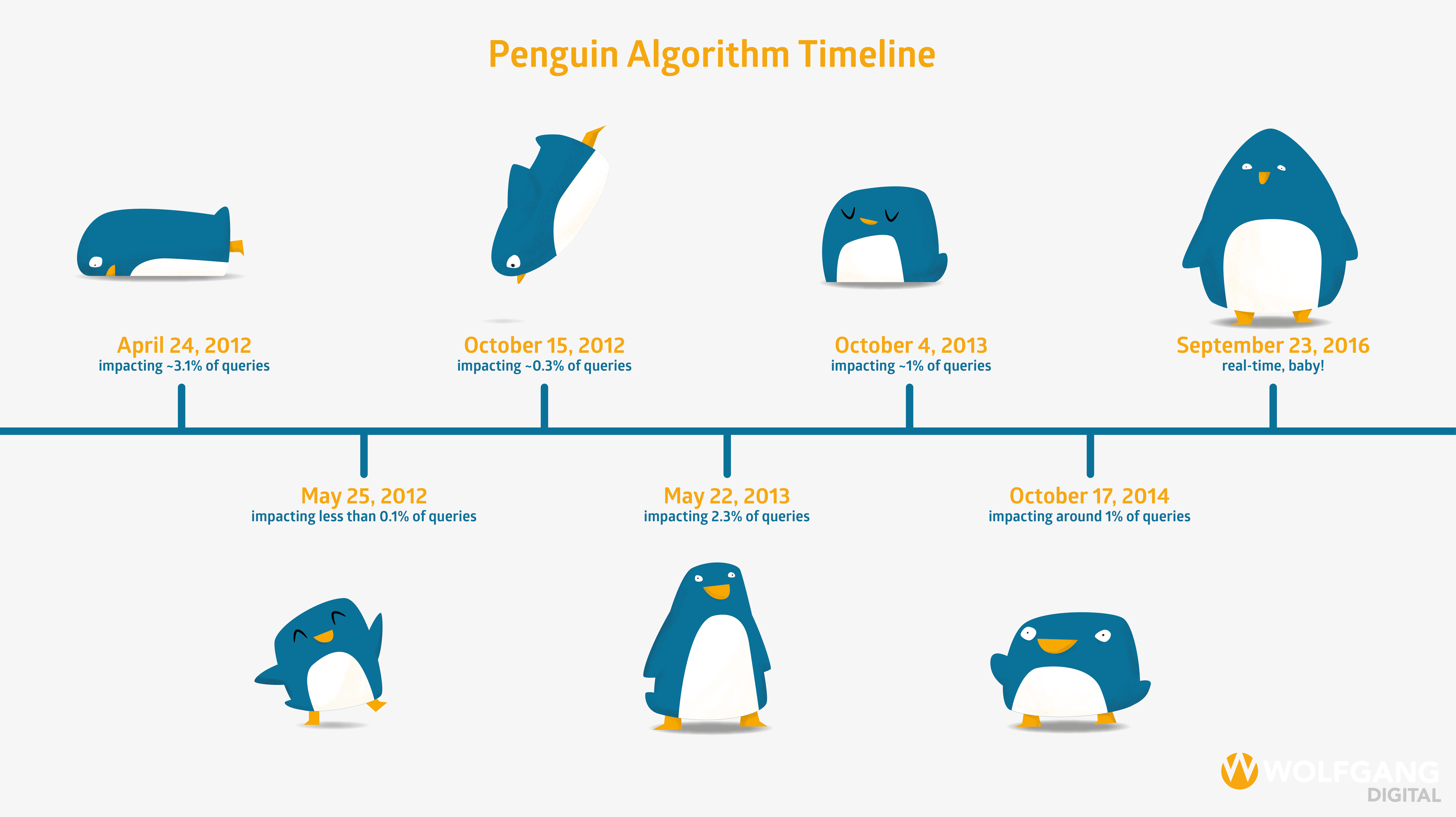 Needless to say, the Webmaster and SEO community are fervently scrambling for evidence of some kind of fallout from real-time Penguin but if the truth be told, there's been nothing too dramatic witnessed within an Irish context just yet – at least according to our own range of client Google Analytics and Search Console profiles, thankfully!
So what does this mean for SEOs?
Regardless of the time it takes for a major Irish or UK-based 'victim' of this significant anti-spam measure to emerge, we're very much of the view that this can only be a good thing for the greater good of the SEO industry, and the internet as a whole. If SEOs have been doing things by the book, they should have nothing to fear from this. In fact, they'll see their long-standing ethical approaches and hard work rewarded more than ever whilst the less reputable practitioners feel the wrath they've incurred via black-hat techniques.
The writing's been on the wall for quite some time, and those who haven't towed the line for their in-house or indeed agency SEO roles will soon be faced with the challenge of overcoming the challenges faced with overcoming a manual or algorithmic Penguin penalty. It's not all doom and gloom, however, with the real-time nature of the algo now making the scope for turnaround on the reconsideration process a lot more efficient also, rather than the somewhat ambiguous, 'hit and hope' periodic update and review process of old whereby a penalty removal could take months on end without progress.
In essence, it's easier to get burnt nowadays (and forever more), but it's also (theoretically, at least) easier to recover from a penalty and atone for whatever sins your SEO may have committed in the past!
One thing's for certain, the future is white-hat, the future is here, and we've got a comprehensive guide in store to help your business ensure it adheres to best practice and avoids any of the Penguin nonsense ever being an issue for your site!
Links Remain as Important as Ever
With Penguin leaving us in no uncertain terms on how bad links can now spell disaster for a website, it's important to stress that good links are still of huge benefit. The reason links are once again in the spotlight here at Wolfgang Digital is the simple fact that, done right, they're still one of the most effective ways to build authority for any aspiring web enterprise.
Our experiences support pretty much every other ranking correlation analysis to date – most notably the effervescent Moz Expert Surveys and the excellent, spearman-correlated brilliance of the annual Searchmetrics study - which strongly indicate that links remain high on the scale of over 200 signals that search engine algorithms consider when deciding who trumps who in the all-important and ever-dwindling organic SERP landscape.
We also learnt straight from the horses' mouth via Dublin-based Google engineer Andrey Lipattsev earlier this year that links are still one of the top three most important ranking factors along with content and RankBrain, as our very own Daniel reported at Wolfgang Essentials back in June.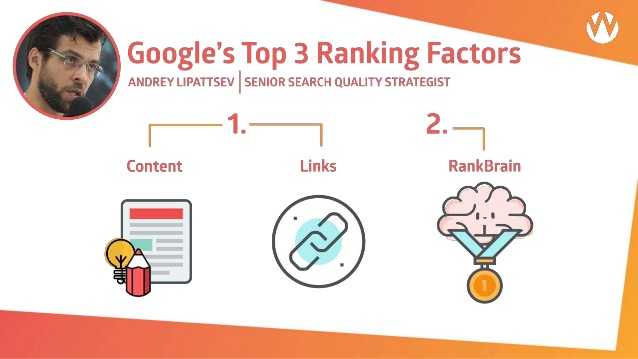 Armed with this information, it's vital that we as SEOs continually evolve to adhere to ever-changing best practices, but it's important to know that some of the fundamental facts we know about links are here to stay.
There are a shedload of facts and tips about link building out there, but three key link building principles that we always advise our clients to keep in mind when approaching this topic in detail remain vital. They are:
1. Not all Links are Born Equal
There was a time when Googlebot was merely a nipper, learning how to handle all that the big bad world of webspam it was tasked at crawling on a daily basis, that link building was purely a numbers game; the more links the better; quality over quantity. It was all about being the fustest with the mostest; to paraphrase the great Peter Drucker; a race to the top meant getting links en masse, no matter where the link came from nor the means by which they're obtained, no matter the relevance of the referrer or the geographic location.
Links, in their simplest form, were deemed as a 'vote', from one website for another, essentially meaning that Website A 'vouches for' Website B' and that resulted in artificial authority being created and ranking boosts being awarded by an emerging, somewhat naïve ranking algorithm that would soon come of age.
Naturally, this led to large-scale manipulation and action, in the form of Penguin 1 in 2012, was taken to put this notion to bed once and for all.
Poor quality links were no longer of value and offending 'vote buyers' were rightly penalised, just like they would (or at least should) be in any real-world democratic electoral process. Good links needed to be editorially-awarded and link-farming, buying links and other various schemes were dealt with mercilessly.
In the highly-acclaimed The Art of SEO, our fellow Landy-award-winning, SEO pioneer Eric Enge draws the analogy of inequality of the 'votes', likening it to the US general election process where votes from super delegates (high authority, industry leading websites) carry distinctly more weight than the average, ordinary voter (run of the mill, lower authority websites).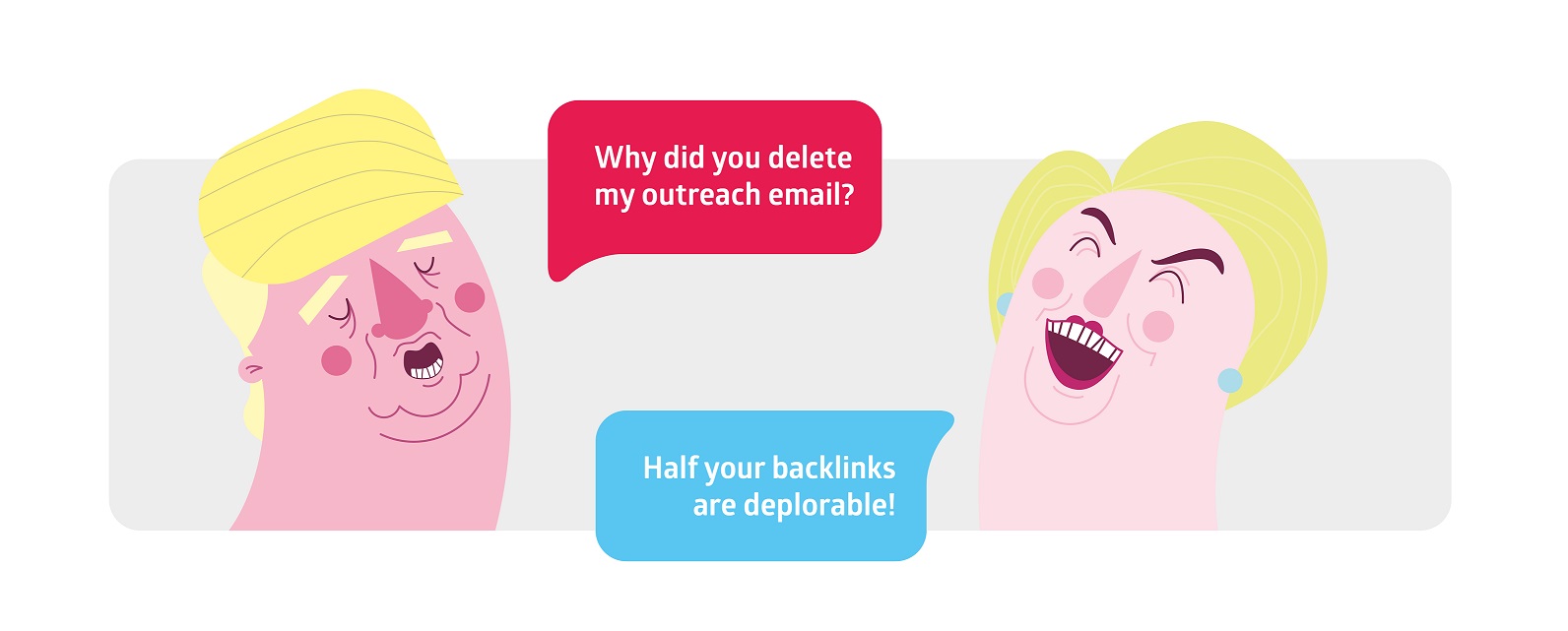 Of course, this is a highly simplified version of an incredibly complex algorithm, but the notion of 'high authority' and 'high trust' websites were forged on this concept and the task of link building was – and still remains – focussed on attracting the right kind of links and avoiding links which will either fail to have any impact or worse still, will land you in hot water over unnatural manipulation practices.
Over the years, the now-deprecated-for-public-consumption Google PageRank and later Moz Domain Authority and Majestic Trustflow have helped us determine what a 'good' website is and it's these sites, when relevant, that we need to aspire towards forging meaningful, mutually-beneficial and long-lasting relationships with.
2. Relationships Matter
Being a decent member of society usually works out well in all walks of life and there's no prizes for guessing that's pretty much the case with SEO outreach too! Love and respect is a two-way street and if you can bring value to those you wish to extract value from then mutual, lasting relationships can blossom.
'Asking' is still one of the most effective methods of getting links, but it helps when you're genuine in your approach, that you're bringing a unique value proposition to the recipient and that you've demonstrated an ability to avoid coming across as yet another irrelevant spammer!
Gone are the days when blasting vast swathes of impersonalised outreach mails had the desired effect of achieving a backlink to a website (even when written legibly!). We, like no doubt most of you reading this, still receive unsolicited, often hilarious spam on an hourly basis – heck, this just came in a few minutes ago:

Being called 'dear' by male spammers is becoming increasingly common; I'm not sure what my wife would make of it all. At least he got our COMPANY NAME right, but we probably won't be contextually, editorially linking to his Dubai-based healthcare website in a hurry, despite the intriguing flirtation.
Worse still, as an SEO provider, we get even wider spam diversity than your average blogger. With kind strangers relentlessly emerging with a 'dream package' offering to alleviate us of the work required to undertake these critical SEO services entirely: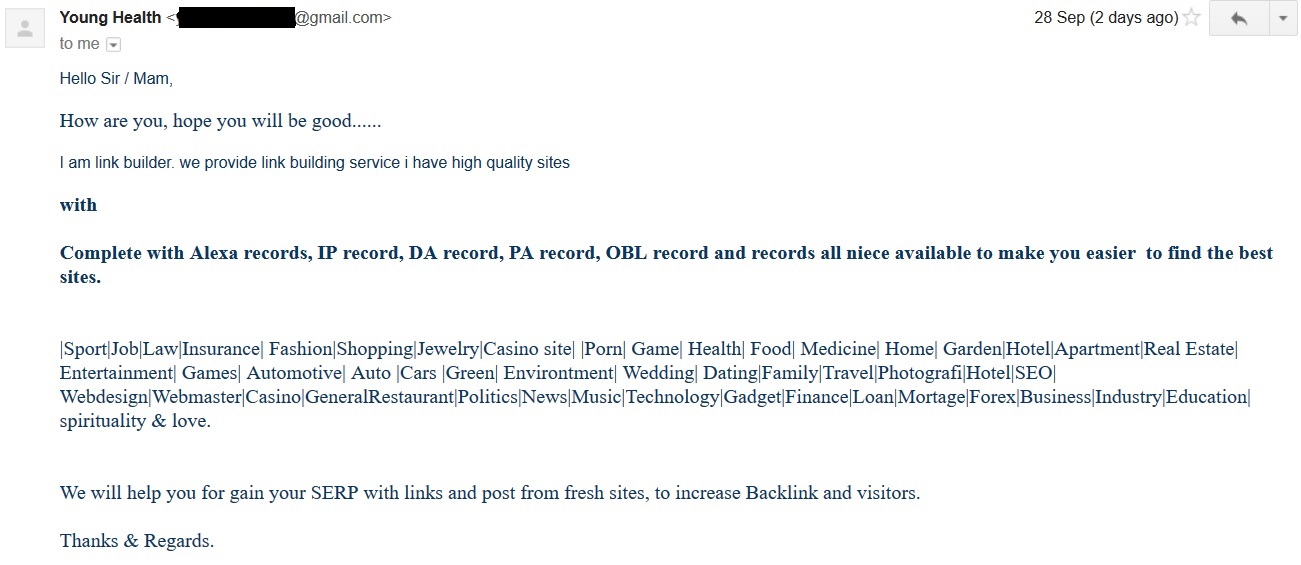 Yes, 'Young Health', I will be very good thanks, once I've flagged this as the abomination it is.
These are two pretty extreme examples of how not to do it, but our message here is that it takes time, effort and commitment to build a relationship with the person you're effectively asking for help to promote your brand and vouch for what you're writing about, so we always recommend offering something of genuine value in return, and not being so overtly committed to simply getting a link from the exchange.
Be it a journalist, a blogger or a small business owner within your local community, the tone and approach will need tweaking, but the human values remain the same; personalise your communication efforts and treat others how you would like to be treated and the likelihood of success is far greater.
3. Link Diversity Rules
Relevancy is important; ensuring that links are coming from not just authoritative sources, but from relevant sources. That's not to say that the odd link from an unrelated website will do you any harm, particularly if there's a valid reason for it. For example, if a commercial solar panels company were to receive a link from an educational institute, the 'link' - both figurative and literal – may not make sense to at first glance, or indeed to a crawler specifically tasked with examine such matters.
But if the link was editorially given in relation to a good news story that the energy firm had brought to the local community, or that a sponsorship agreement had been agreed between both entities, then the veracity of the link is now ratified. Context, or at least a path to illustrating genuine context, is important should the need to justify an individual link ever arise as it may well do in real-time Penguin land.
Having a nice blend of follow and no-follow links is also important. It's natural that some publications will no-follow your links in line with Google Webmaster Guidelines and that's perfectly fine. You should not aim to 'pursue' a particular kind of link; so long as it's editorially awarded (via some polite outreach along the way, if necessary) then it is perfectly natural and will enhance the diversity of your all-important backlink profile.
A variety of different link types referring to your domain is the sign of a well-functioning SEO strategy that is gaining popularity and building authority among the web community. Linkable assets such as infographics, blogposts, whitepapers, widgets, calculator tools, images, videos and datasets are all part of the mix and the more varied the form of assets that are attracting links, the more relevancy your site is building around the topics you specialise in.
Variety remains the spice of life; just make sure you're not getting bringing unnecessary heat to your domain by playing by the rules!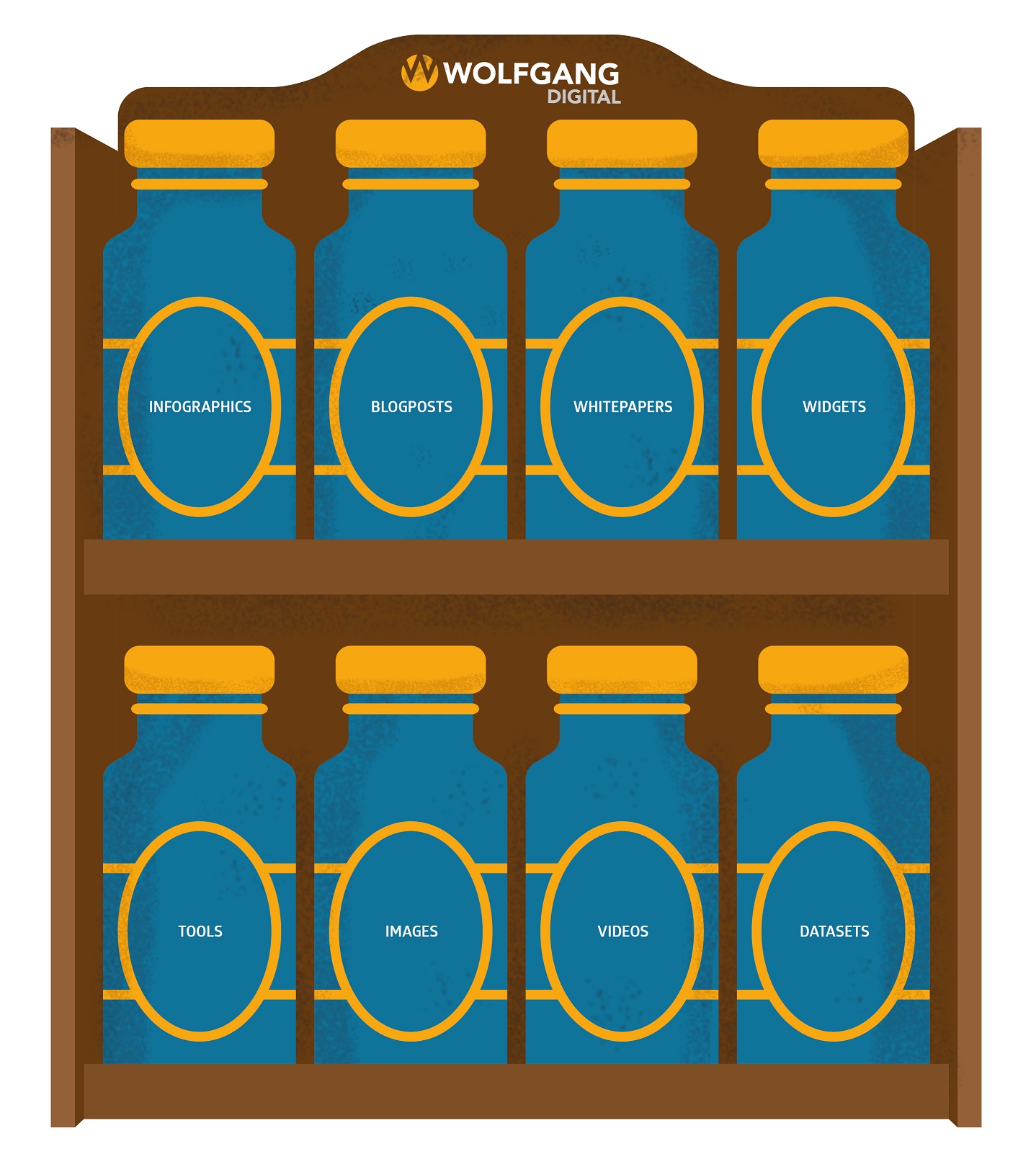 Link Building Methods
When deciding which approaches to adopt for a link building campaign, the marketer is faced with a reality-check which he or she must overcome. The question you must ask yourself is; "do I have valuable, link-worthy content from which to seed my outreach efforts?"
If the answer is 'yes', then the solution is quite straight-forward. If the answer is 'no', then the challenge is a little more daunting but fear not, the task is not impossible as we outline in more detail below.
Content-led Link Building
There's not a great deal of transparency around the concept of link building here in Ireland, with many SEO practitioners keen to keep their cards close to their chest when it comes to gaining those all-important links. And that's fair enough, as many processes are indeed proprietary and some are outright spammy, but there's too much information out there on the wider web and we've some great tools such as Moz, Majestic, SEM Rush and Link Research Tools which leave little to the imagination when we really want to see what other websites are up to in their link acquisition efforts, so there's no hiding from the truth nowadays!
Websites with a knack for churning out great content that appeals to the emotions and/or serves a practical use to their target audience are a link builder's dream. Sites that add value to the web via the sharing useful tools, practical demonstrations and engaging, funny or entertaining editorials are like manna for heaven to the SEOs tasked with ensuring this great content gets linked to.
We know from experience that's it's not simply the case of 'build it and they will come'. Even with the greatest of content, if there isn't someone behind the scenes asking for links, then oftentimes the links never come.
If, however, the client has gone to the effort of investing time and effort into creating a great body of work (or has commissioned our awesome content team to do it!) then the 'hard sell' is made a lot easier when it comes to reaching out to industry thought leaders, journalists, bloggers, etc. If there's something of value that they can see in the proposal, what reason is there for them not to at least consider your request?
Here's a couple of examples of content-led outreach in action:
Littlewoods Ireland – The Blog Awards
The LWI team have knack for throwing great events, and the Blog Awards are no different. The beauty of this event is that there's a ready-made industry relevance at play; they're literally awarding Irish bloggers for their compelling, innovative and stylish work throughout the year in the form of a big, snazzy circus-themed bash!

Through a series of engaging blogposts, LWI spread the word and helped generate interest in the upcoming event well in advance, inviting wordsmiths from all corners of the blogosphere to participate in the awards nomination and entry process.
This facilitated a simple, yet hugely effective outreach strategy to revolve around asking participants to mention the fact they were nominees and coupled with a constant social media push, #LWIBloggies was trending on Twitter and at the forefront of the blogging community's consciousness by the time award nights came.
Focussed domain-level backlink acquisition (via Majestic):

JUST EAT – Summer Festival Partnerships
If you were fortunate enough to have set foot at a music, arts or food festivals during the Summer, chances are you had a nibble from one of the many eateries on offer by this Irish food sector giant. With coverage at Taste Of Dublin, Sea Sessions, Interlude, City Spectacular, Beatyard, Big Grill, Body & Soul and Electric Picnic, their presense was immense.
With a range of excellent treats on offer such as vouchers, delicious treats and ticket giveaways coming thick and fast throughout the festival season, via their website and social media channels, JUST EAT created a veritable wonderland for their loyal foodie user base and made life a little more pleasant for all with a very human, appealing and simplistic approach to just being a sound organisation.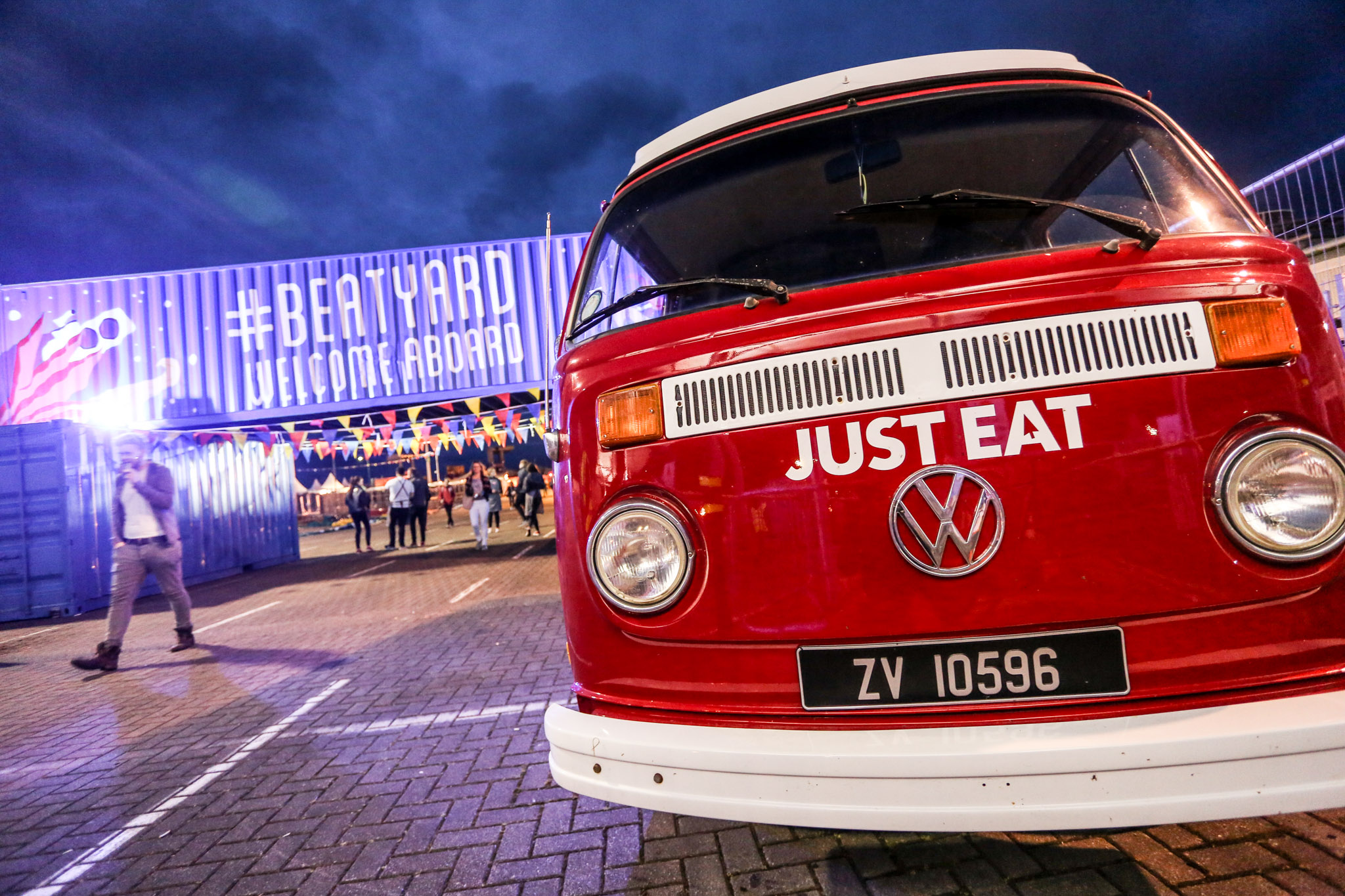 With the firm rarely out of the news with a series of big announcements, offers and user-generated campaigns the process of reaching out to relevant publishers was complimented wonderfully with the common theme of bringing great news; who doesn't like a bite and a bop of a warm Summer's eve?!
Focussed domain-level backlink acquisition (via Majestic):

Zurich Life – Cost of Education Campaign
A combination of in-depth market research, effective data visualisation, structured content delivery, social media integration and a targeted outreach initiative on a page-level basis contributed to ensure the client had carved out a niche for itself within an industry which it had previously not had much visibility within, yet now yields highly relevant organic search traffic each year when the frantic Back to School period dawns upon parents and students alike!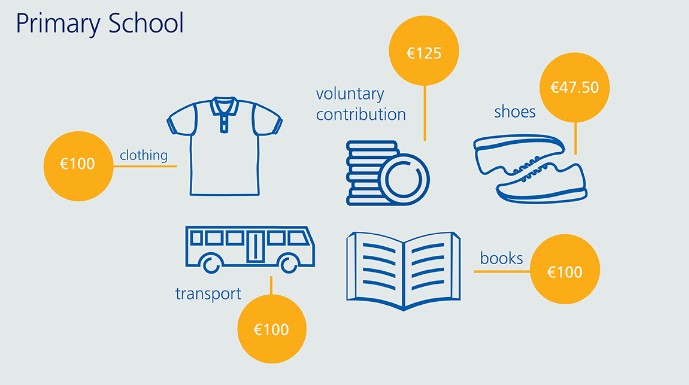 So what do you do with a highly informational resource that educates, informs and perhaps persuades members of the target niche to consider their costs and take action? You simply ask relevant stakeholders with access to your target readership to view and share the study. Some will, many won't, but it really is that simple when there's a tangible mutual benefit in doing so.
Focussed page-level backlink acquisition (via Majestic):

Despite the differing themes throughout these examples, it's clear that great content works and a strong brand certainly helps, but the fundamental outreach approach remains constant throughout; bring people something of value and they will appreciate it.
Link Building Without Content
Now that we've seen what it takes to build great links with great content, how can sites without such compelling content at its disposal – and let's face it, there are plenty! – go about getting the right kind of links which will help move the needle in their favour?
In a recent Inbound.org entry, Stephanie Casstevens offers some fantastic advice on how to make content marketing work for the more 'boring industries' which is something we've helped execute to great effect on topics ranging from mortgage protection insurance to thermal heating solutions, but there are a number of ways to build great links without the aid of content marketing; all that's required is time, effort, a few handy (free) tools and a little creativity.
Link building is, without doubt, becoming increasingly arduous in an increasingly cynical/sceptical world where publishers, journos and bloggers have reached 'peak spam' and are arbitrarily anything that even resembles a link request should it make it past their spam filters.
As such, it's important to employ a range of strategies and approaches to ensure your efforts and going to waste. A list of the typical Wolfgang processes for acquiring links looks a something like this:
Utilising press releases for SEO benefit
'Newsjacking' – gaining links from mentions in the press
Gaining insights from competitors' backlink profiles
Fixing broken backlinks
Guest Blogging
Image credit links
Influencer engagement / becoming 'influencers'
Competition Partnerships
Utilising Affiliates
Sponsorships (Events, commercial, charitable or good natured)
Making Use of Quality, Relevant Directories
Local Citations
Let us dig a little deeper into a couple of these concepts with the following practical takeaways outlining five strategies for getting links without the aid of compelling content or large budgets.
Local Citations and Directories
Despite their poor rep in recent years, there are still many directories worth submitting to in 2016. The important things to look out for when selecting which ones to use are industry/local relevance and whether or not there is a moderated entry procedure for having your listing approved. If any old site is accepted, chances are it's worth avoiding as it'll essentially be deemed a link drop haven for every spammer and his dog.
It's important not to automate the directory submission process (or indeed any link building process, we would argue) as it's vital that there are unique submissions, preferably employing latent-semantic keyword usage (check out this great tool from LSI Graph for help with that) across a range of complimentary web entities, rather than the same generic blurb being plastered across the net.
Moz guru Rand Fishkin supports the notion that all business should invest in local links and citations in this cracker of a Whiteboard Friday which we'd highly recommend watching. The key takeaway here is that is makes sense to engage in local SEO not only if you've got a bricks-and-mortar presence, but also for online-only or indeed local-only businesses.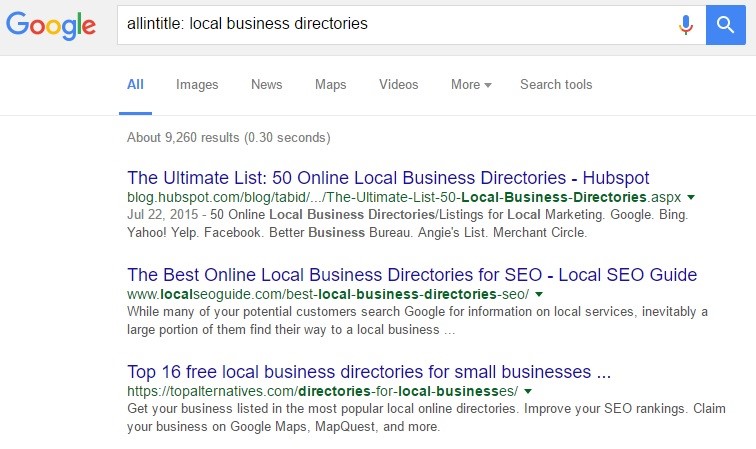 On the topic of local links, another great angle here is using local authority or reference pages for outreach. Trawling through local community sites, it's possible to find reference pages on local authority or council websites that share relevant local business details with the general public for informational purposes.
These pseudo-governmental websites often possess high authority in terms of DA and Trust metrics and can prove just the tonic for enhancing a well-diversified link portfolio! These citations will naturally link to your business and add value in the form of relevant traffic; an added bonus and a testament to the legitimacy of this particular practice.
Try advanced Google Operators for unearthing some gems with 'inurl', 'allintitle' and much, much more!
Newsjacking a.k.a. Mention Chasing
Converting online mentions to links is an approach taken by many SEOs as it is one of the most realistically-achievable request formats going. If your company has been mentioned in the news or is the topic of conversation within another website's community, it's a logical approach to apply some ethical outreach etiquette and reach out to those publications with a simple request for assistance.
Chances are, the publisher will add the link and with the right approach, a relationship of mutual sharing and assistance can be forged. For example, we've received some excellent press over the past couple of weeks in light of the publication and subsequent findings from our 2016 eCommerce KPI study:

All it takes to turn these web mentions into an SEO-friendly campaign is reaching out to the relevant publishers, thanking them for their right up and kindly asking for a link. You can also go one step further by offering them some additional information or even offering some suggestions on how they can improve their own website or learn more on how they can contribute to future studies or projects.
We use BuzzSumo for this mention-chasing exercise as it's great for social listening as well as web mentions, but Google Alerts is just as effective on a shoestring.
Link Reclamation a.k.a. Broken Link Building
The general aim of this technique is to locate broken links on websites and to:
a) let the webmasters of those sites know that they're linking to a dead page (which is bad for their own site's internal crawl efficiency) and;
b) get them to replace the broken link to a new destination URL, preferably the one that you're providing them with, which is better than the original and just so happens to benefit your / your client's website in return.
Again, for this approach to prove successful, it must be firmly grounded on a principle of forging and communicating a scenario of mutual benefit via outreach.
In order to build up a resource of broken links for a website, it's important to have access to tools; we use the excellent Screaming Frog SEO Spider which is free for websites up to 500 URLs (but well worth the £99 annual license fee for larger sites) or you can use http://www.brokenlinkcheck.com/ to help find a limited number of broken links on any domain and the Link Miner Chrome extension is another excellent resource which will set you well on the way to successfully weeding out such opportunities.
Once you've compiled a list of broken links on a domain, you could start with a competitor to ensure there's relevancy (plus it comes with the added satisfaction of trying swoop some all-important link juice from their clutches!)
Seeing as we've used Moz on plenty of occasions throughout this piece, why not use them for this specific challenge! Despite their cutting edge insight and vast array of tools, tips and tricks that have both educated and illuminated our world-view on all things SEO over the years, the Moz website itself - somewhat surprisingly - isn't the shining beacon of light we'd expect it to be (we'll draw the line at that, for fear of encroaching on stone/glass houses territory!)
At just 14% crawl completion on Moz.com, we're already seeing a number of 404 response codes (along with 403s and 410s) within the site's IA:

Now, instead of just sorting these response codes as they appear above, we'd like to go one step further and find out which pages on the Moz site are actually linking to these broken links. To do that, we need to use the reports function within Screaming Frog (licensed version only) as follows: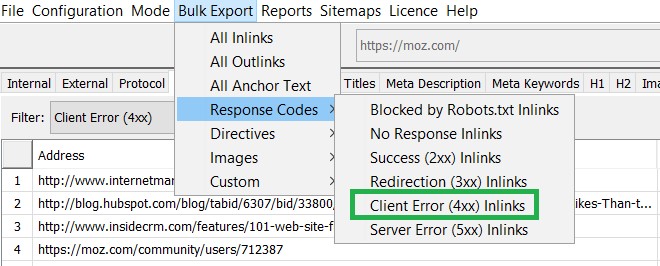 This now gives us more granular information on where to locate the broken link which will serve to more effectively communicate the solution and provide an alternative to the website's webmaster.
Filtering the data from the above exercise, we can see that Moz is linking to a now-defunct website called Enquisite, and we can locate the exact URLs where these links are found on the Moz site, by checking the Source (column B, below) which will make life easier for the person tasked with fixing this issue: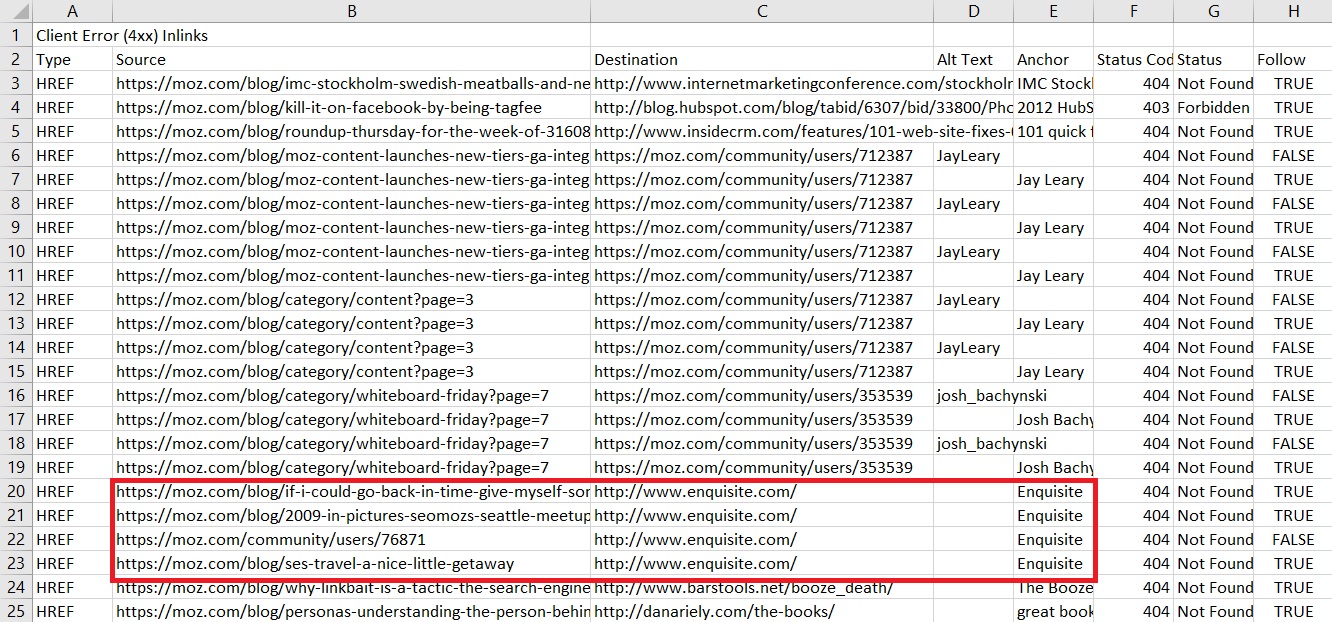 The next step is to suggest a viable alternative to the broken link.
If you take the URL from cell B20 above, you'll find https://moz.com/blog/if-i-could-go-back-in-time-give-myself-some-advice-this-would-be-it and within the closing section of this great article by Rand, you'll notice he pings his friend Richard Zwicky from Enquisite for an opinion. So this all seems a perfectly valid reason for there being a 404 on the site. On deeper investigation, it's clear that Enquisite is no longer in operation, so it's natural the links to the site are now 404ing. But wouldn't it be better for Moz if their site wasn't leading spiders down a dead end with these 404s? Of course!
That's where we'd like to formally replace this line and kindly refer to 'Alan Coleman of Wolfgang Digital' - he is beaming in to chat with us this Wednesday evening after all!

There are, of course, more practical examples of when, why and how to ask for a link replacement; instances where genuine value is being added work best, rather than opportunistic, tongue-in-cheek efforts such as this one!
By the way, if you too would like to attend this event, simply fill in this form letting us know you want to attend and we'll get you on the list!
Help a Reporter Out a.k.a. HARO
A really handy element to include in your link building arsenal, HARO offers both publishers and sources the opportunity to build mutually-beneficial 'information-for-promotion' exchanges. The concept revolves around journalists posting pitches for new content ideas, research topics or opinion pieces and putting it out there to the HARO community to chip in and contribute. If successful, the contributor often receives a credit for their input in the form of a quote, a bio or a link being published for their efforts.
The beauty of HARO that it's completely free to use. On the downside, however, this means that the journalists undoubtedly receive tonnes of applications from businesses, individuals and of course SEOs with varying degrees of quality and contextual input to their cause!
So, if you're going to invest time and effort into this process, it's important to ensure your submissions stand out; again this done via three main principles:
Personalisation - trying to find out the journalist's name is always a good start! Also, replying to the query with the topic of the query with subject line within the email is always more effective than simply using the job number and helps it stand out to the countless other submissions.
Context – illustrating how your contribution is fitting and relevant to the request is always important; if someone's asking for help with a finance topic, don't go pitching your Christmas jumpers website! Try to answer the query in as succinct a manner as possible, rather than sending through general content which is copied and pasted from your FAQ section or elsewhere.
The Extra Mile – always offer to go that little further than perhaps some other candidates are offering; rather than simply providing the information requested, leave a phone number or an email address and inform the journalist that you're on hand to help out on similar topics in future. If your contribution is good enough, they may no longer need to post on HARO and could start coming to you directly as a reliable source on the topic in which you've demonstrated unrivalled expertise in.
With multiple daily alerts configured for a super-targeted niche, you should be well on your way to becoming a thought leader and respected contributor in no time! We find the general queries (morning, afternoon and evening editions) are great from an agency perspective as they cover a wide range of topics. Take this morning's inbox screengrab below for example: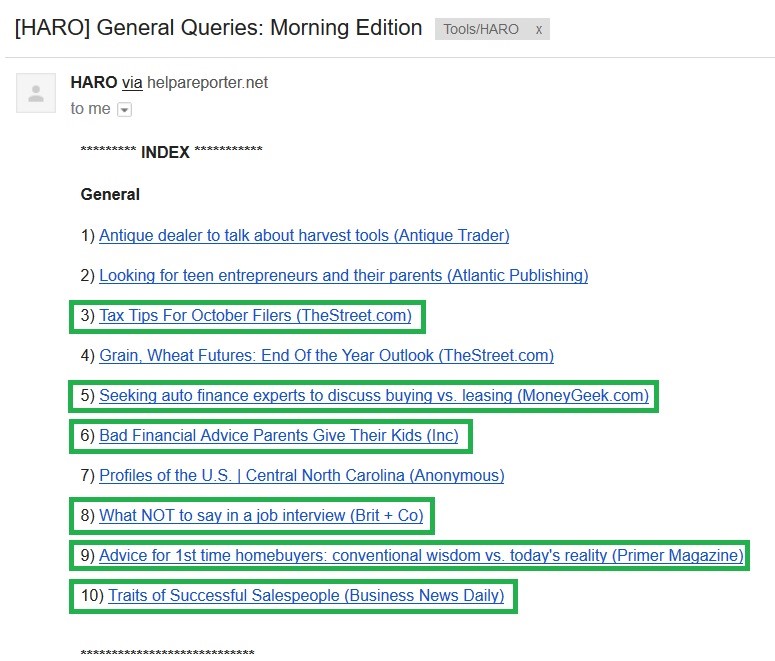 We can see that of the 10 help requests, there's potentially 6 that we'd be interested in progressing for a couple of clients within the finance, HR and sales sectors. Better still, in some instances, we can actually see the websites for which the contributions are being sought.
Analysing the above 6 opportunities in greater detail using Moz Opensite Explorer, we can see that the first highlighted example, TheStreet.com has a Domain Authority of 90, which is excellent:

However, we're a little wary that there's a 'spam score' of 3 via the same tool, so while we'd still love to pursue this opportunity, we'd be keen to ensure that any backlinks posted on this site use a 'nofollow' tag, which isn't currently the default link posting configuration on TheStreet.
Going down through the above list using Opensite Explorer, we learn that MoneyGeek boasts a DA of 63 with no spam score, Inc has a DA of 92 with no spam score, Brit+Co has a DA of 77 with no spam score, Primer Magazine has a DA of 54 with a spam score of 1 and Business News Daily has a DA of 83 with a spam score of 2 so we're left, in no uncertain terms, that there are six really great opportunities for a highly contextual backlink to be awarded entirely on editorial merit up for grabs here. The strength of our submission effort and the journalists view of our contribution are all that stand in the way of success.
This is just one way in which we use HARO in conjunction with an array of other insightful SEO tools to ensure we're doing things 'by the book' and achieving great results from our link building efforts. If you're going to get involved in using HARO, the one caveat would be prepared for a lot of emails; setting up a rule to direct HARO mails to a dedicated folder is a must!
While it's certainly time consuming to set aside the effort required to address these queries individually without any guarantee that your submission will be published, if approached in the right manner, the results are definitely worth it.
Go forth and build links!
For the novice SEO, link building can be a daunting task. We've touched upon just a couple of important aspects of link building above but now, more than ever, it's vital that websites start paying closer attention to what can be a blessing or a threat to your backlink profile.
With Penguin here to stay and the task of getting the 'right kind of links' more challenging than ever before, the stakes are as high as they've ever been but with clearly defined penalty recovery processes now in place, it's not all doom and gloom. If you're creating great content, the benefits of the same tried and trusted processes have, for the most part, stood the test of time.
Squeaky-clean, white-hat SEO remains the way forward and with the right frame of mind and a can-do attitude towards making the web a better place and treating those we interact with like the decent human beings they (usually!) are, it's a challenge that all good SEOs should relish.
Please do feel free to try out some of the tools and techniques we've outlined within this article and let us know how you get on; we'd love to get your feedback and opinions on how Wolfgang Digital, or the SEO community in general, can build upon and improve our processes so that organic search traffic continues to thrive for many years to come.
Share This Article