By Michaela Simpson on 25 Jul 2019
The 5 Easiest SEO Wins You Can Make With Your E-Commerce Blog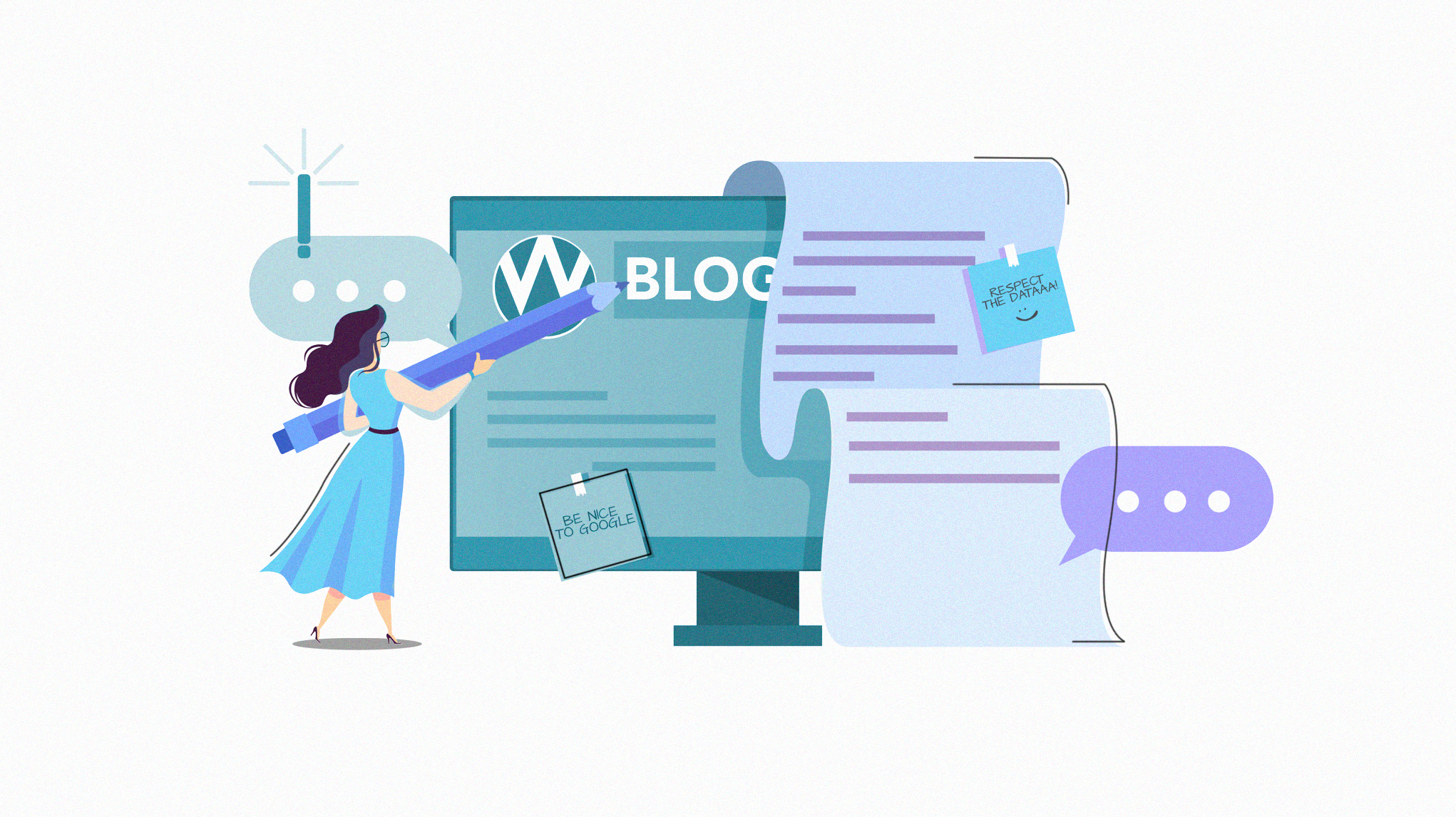 Lots of e-commerce retailers pay lip service to their blog, writing thin, uninspired pieces to "keep it fresh and ticking over". This is a big mistake and a colossal waste of time...
For a few years now, myself and my colleagues have pointed the finger at the poor efforts on display from some of the biggest e-commerce brands in the world when it comes to their blogging and SEO. It appears that so many e-commerce retailers continue to underestimate or underappreciate the impact that their blogs can have on their commercial pages and their bottom line.
Earlier this summer we got the opportunity to work with Littlewoods Ireland to run a little experiment and demonstrate this impact.
The E-Commerce Blogging Experiment
The best content marketing results come from having a strategy and being dedicated to its execution for the long-term.
I'll show you why that is a bit later.
However, in order to try and demonstrate a very simple, isolated, cause-and-effect relationship, we set up this experiment by simply:
Identifying a target commercial category landing page for impact.
Creating one long-form content piece related to that category.
Garden furniture was selected as the target category. It was just coming into the summer months, so the timing would be ideal if this page were to receive a bump in its organic visibility.
The Results
Within just one week of going live, the 'experiment' had returned:
A featured snippet for the blog article
8 garden-furniture related keywords improved their organic position
Organic traffic to the commercial garden furniture landing page increased 18% YoY
Organic revenue increased 66%
The Biggest Mistakes E-Commerce Websites Make With Their Blogs
There's no secret sauce to achieving results like this for your e-commerce blog. It's purely a case of respecting your readers enough to create a truly useful piece of content, knowing your SEO and staying dedicated to doing all the basics right.
As the real inspiration for all of this came from a horror show of e-commerce blogs out there, I'll take you through the biggest e-commerce blogging mistakes we see and show you how to correct them.
1. Your titles aren't optimised for SEO
The most basic element on on-page optimisation is your post title. While the aim here isn't to rank for the high-intent, bottom-of-the-funnel keywords, i.e. 'garden furniture' (that's what your category page is for), you absolutely want to make sure you've got a shot at ranking for long-tail, top-of-funnel queries your audience is likely to search for.
In the example below from ASOS, you can see that while this title may benefit from some nice alliteration, no-one is searching for 'hot weather heroes' (I checked).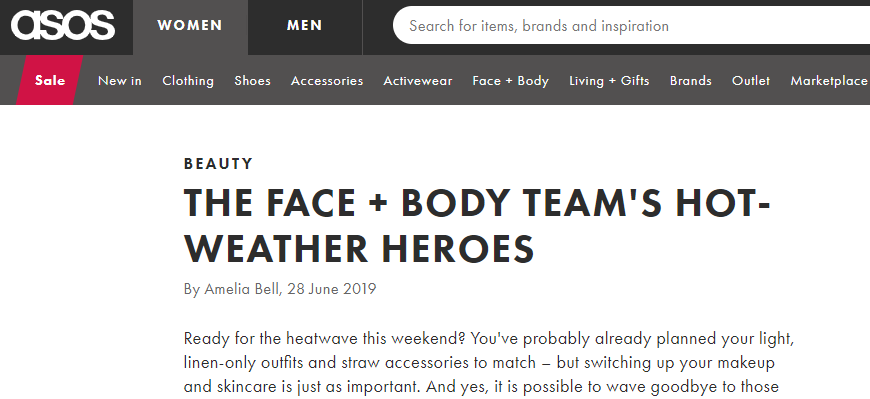 'Makeup for hot weather', on the other hand…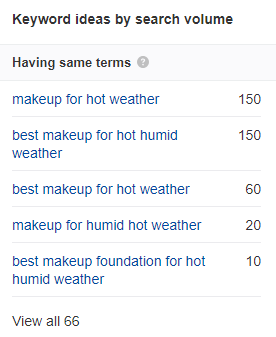 In the experiment for Littlewoods Ireland we opted for a garden furniture buying guide.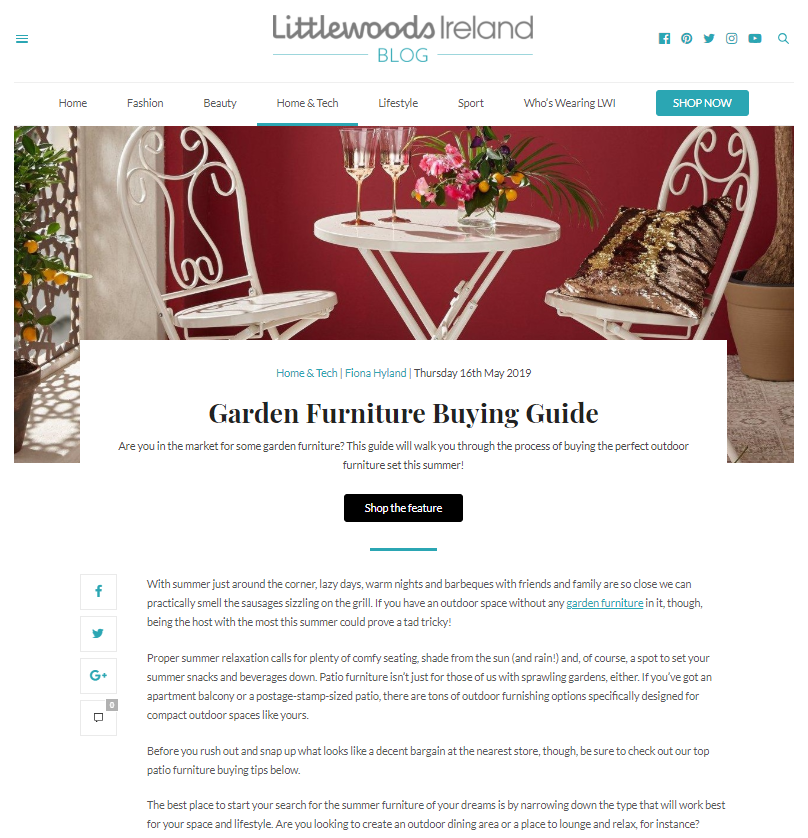 2. You're not writing the in-depth content pieces that Google LOVES
E-commerce blog writers are divils for creating masses of thin content. Check out this outdoor furniture guide from Overstock.com, for example.
Meanwhile, data repeatedly shows that when it comes to organic rankings, bigger is better.
How long is long enough? The best way to answer this question is to check out your competition. Once you have your title and the related keywords you're also aiming to rank for, check out what's currently ranking and how detailed the content is. That's the benchmark you need to surpass. Play it smart. Is there really a need to 10x it when 2x would do it?
For the Littlewoods Garden Furniture guide, we created a mammoth piece of 2,571 words; by far the most detailed article on the blog.
3. You're not making the most of internal linking opportunities
Use of linking (both internally and externally) is probably the most underrated and perhaps, misunderstood blogging and SEO tactic I know of.
Some common linking mistakes we see from e-commerce blogs are;
Linking to individual products
Not linking at all to anything at all
Not linking to quality external sites
Linking to individual products should be avoided if possible. The reason for this is that in most cases, your products aren't going to be available forever and as time goes by, you'll be left with a blog full of 404 links. It's important to make linking to your core category pages your top priority.
There are 4 links in the copy of this blog post from ASOS below. All four of them link to other blog articles. While interlinking your articles is definitely a good thing from an SEO and user experience point of view (if your motivation for including the links is to help your reader), ASOS has missed key opportunities here to link to its core category pages, spreading authority through to those money makers.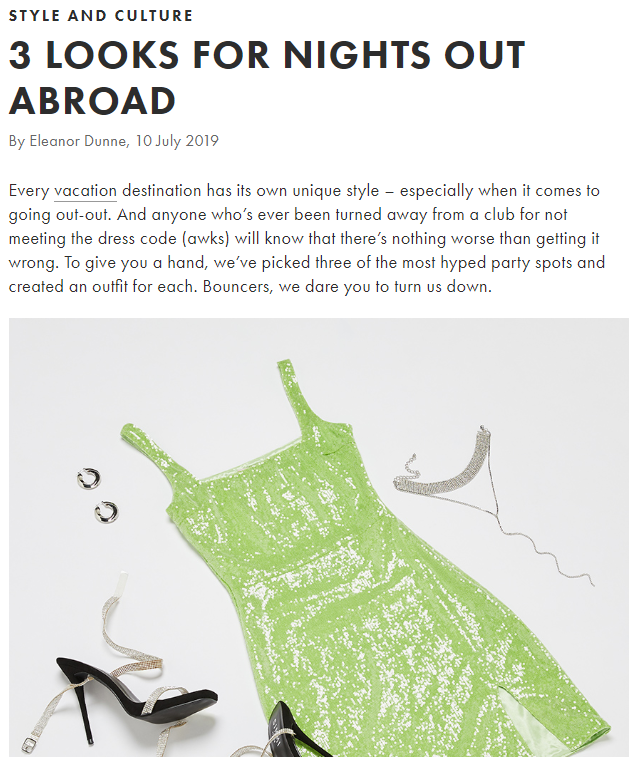 Some writers also get concerned about linking externally to other websites when in fact, this is good practice to get used to. The important thing is to make sure you're linking to a high quality source. Doing so only strengthens the authority of your content.
Internal linking was a critical element of the Littlewoods experiment. The key points are;
Linking to the category page in the first paragraph
Linking to sub category pages with relevant alt text, e.g. garden benches
4. You're not respecting structured data
Up there with blog titles, not optimising your structured data such as your H1s and H2s is criminal… And you wouldn't like to get banged up in SEO jail now would you?
In this same example from ASOS, '3 Looks for Nights Out Abroad', H2s used are,
'Ibiza rocks'
'Dubai fly'
'Berlin wins'


These are neither optimised for any queries related to what to wear on a night out abroad, nor provide any answers that Google might be tempted to use in a featured snippet.
Featured snippets are an important consideration. A recent analysis of Google clickstream data by Rand Fishkin revealed that 49% of all Google searches are no-click, or in other words, Google's SERP has provided the answer, through the likes of featured snippets, without the user needing to click through to any other website.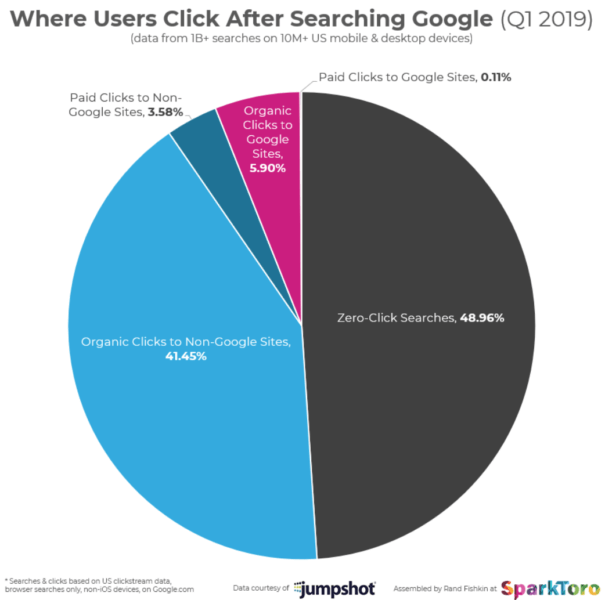 The presence of featured snippets appears to be growing (and tends to have a big influence on what is returned as the voice search result), therefore, it'll be important to take any opportunity you can to give yourself the best chance of winning this spot.
In the Littlewoods experiment, structuring the content with informative H2s made the content more easily consumable by readers and resulted in a Featured Snippet on Google searches for the term 'outdoor furniture buying guide', essentially ranking in 'Position 0' for the term:
↓
This allowed Littlewoods Ireland to essentially 'jump the queue' in the rankings, as normally it would be in position #5: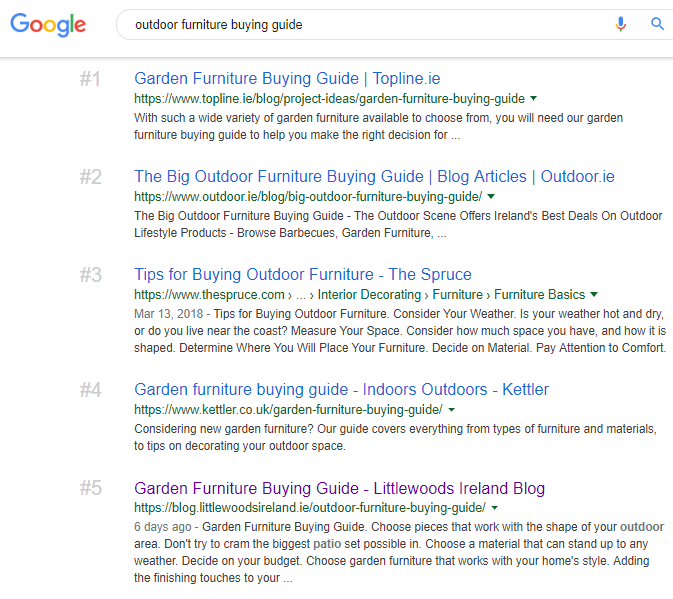 5. You're underestimating the value of top-of-funnel searches
For e-commerce SEOs the number one focus is on ensuring key commercial category pages are ranking and that makes sense. When searchers are in 'buy mode' and they want to "buy rattan garden furniture", you need your brand to be there to pick up those searches.
But neglecting top-of-funnel queries and a blog strategy will likely be the most lucrative SEO opportunity you'll ever miss.
We've seen the value investing in blog strategies for e-commerce again and again. In fact, our client, Arctic Adventures has been recognised with numerous awards this year for their strategic use of blog content in their SEO strategy resulting in;
YoY organic revenue up 118%
40% of organic traffic entering through the blog
Blog readers spending 25% more money than non-blog readers.
Using the blog to capture top-of-funnel, 'research' phase searches, such as blog posts about prices in Iceland or where to eat etc., freed us up to optimise main category pages for specific 'buy' terms. Focusing on high search volume, research phase content in the blog, allowed us to bring in very high numbers of new site visitors (more than half of all visitors) who had never been to Adventures.is before and would probably not have found the website if this content did not exist.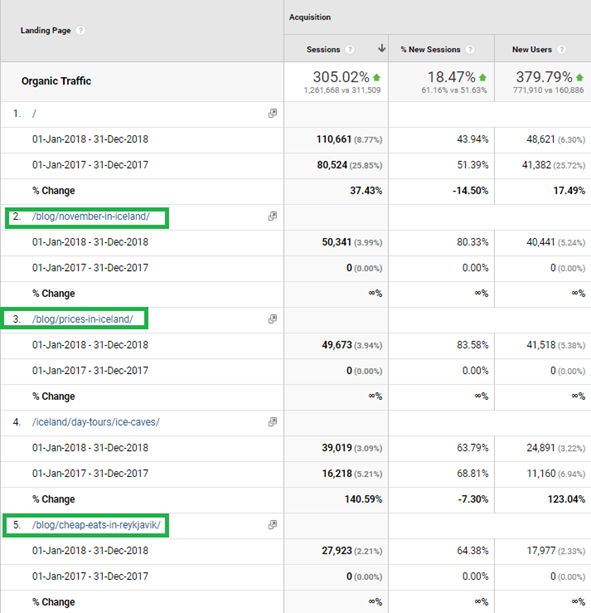 This strategy resulted in ~40% of Adventures.is' organic traffic coming through the blog in 2018 and 3 of the site's top 5 most visited pages being blog posts. In fact, the Arctic campaign has just recently won Best Conversion Response from a Content Marketing Program at the global 2019 Content Marketing Awards.
SEO Is A Funny Beast
While the Littlewoods experiment was a success and made for a neat case study, I have a confession to make. We tried this same experiment with another Littlewoods category… and it didn't work.
This is a really important point. SEO is a funny beast and it can't be tamed. All we can do is ensure we're religiously keeping up to date on all the big, and all the little developments that happen in this industry. We need to keep following best practices, keep learning from past experiences and keep consistent. That last point is crucial.
While the Garden Furniture experiment is a good illustration of how specific good practices can deliver SEO wins for e-commerce, the Arctic Adventures long-term approach shows the real business impact of committing to it for the long-term.
In isolation, some things you try will work, some things won't. But to use the age-old saying, Content and SEO is a marathon, not a sprint. As long as you're committed to doing all the right things consistently, you're going to come out on top.
Share This Article