By Michaela Simpson on 3 Nov 2023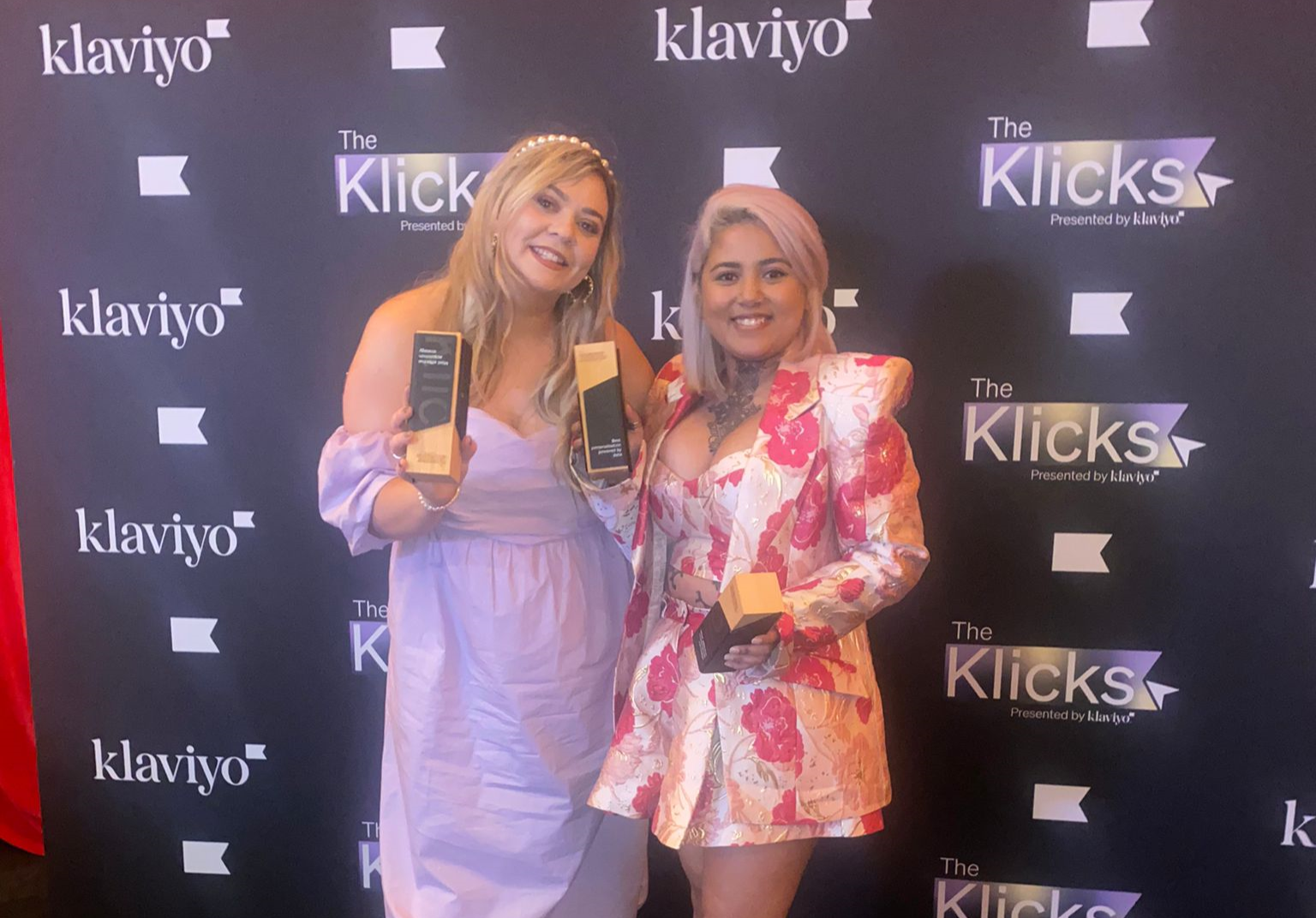 In our first year entering, Wolfgang Digital had an outstanding night at the Klicks Klaviyo Awards last night in London, winning all three categories we were shortlisted in. Kate O'Mahony and Shreya Barua (pictured above) were in attendance to celebrate!
The Klicks, which celebrate the very best in ecommerce marketing, recognised exceptional work over the last year and awarded the team with:
'Most effective acquisition strategy' for Petstop
'Best personalisation powered by data' for Innopharma Education and
'Most effective omnichannel campaign' also with Innopharma Education.
The Klicks Klaviyo Awards are the latest and most prestigious accolades designed to honour creativity, results-driven and strategic marketing within the ecommerce sector. Open to all Klaviyo EMEA customers, the competition was intense with hundreds of entries, all vying for recognition of their contributions to the $14 billion revenue generated through Klaviyo email and SMS in 2022.
Wolfgang's CRM and marketing automation campaign strategies were evaluated against stringent criteria by a panel of Klaviyo executives, ultimately outperforming the competition in creative approach, demonstrable results, and strategic implementation.
"I'm thrilled by our CRM & Marketing Automation team's exceptional performance and their well-deserved recognition in the Klicks Klaviyo Awards, said Anna Spyridopoulou, Head of Social Integration at Wolfgang Digital. "I'm particularly excited about these awards as they reflect our team's dedication this year in delivering the most effective CRM strategies for forward-thinking clients, like Innopharma Education and Petstop. In today's landscape, a robust CRM marketing strategy is crucial. Our team's focus on channel integration, personalisation and automation allows us to maximise our impact on our clients' business through innovative campaigns that span the entire customer lifecycle, ultimately earning us these fantastic awards!"
As always, we're delighted to share more detail with the wider industry on our team's best work. You can find a case study about Innopharma Education's award winning, personalised campaigns here, with the Petstop story coming soon - watch this space!
Subscribe to our newsletter to be the first to receive our newest case studies as they're published.
Huge congratulations to our clients, Innopharma Education and Petstop on these significant wins. They wouldn't be possible without your partnership.
The full list of Klicks Klaviyo Award winners can be found here.
Share This Article